Putin meets Trump's national security pointman to discuss nuclear arms treaty
By Andrew Osborn and Vladimir Soldatkin MOSCOW (Reuters) - Russia's Vladimir Putin met U.S. President Donald Trump's national security advisor on Tuesday after the Kremlin said that Trump's talk of quitting a landmark arms treaty that scrapped nuclear missiles in Europe was dangerous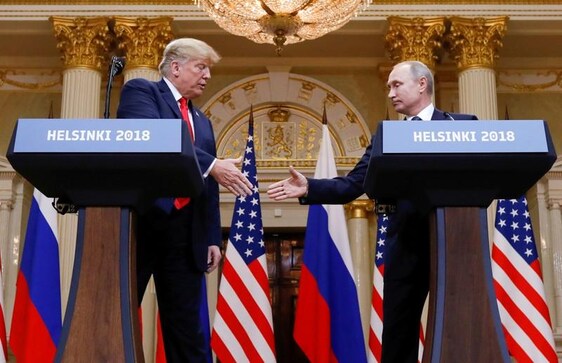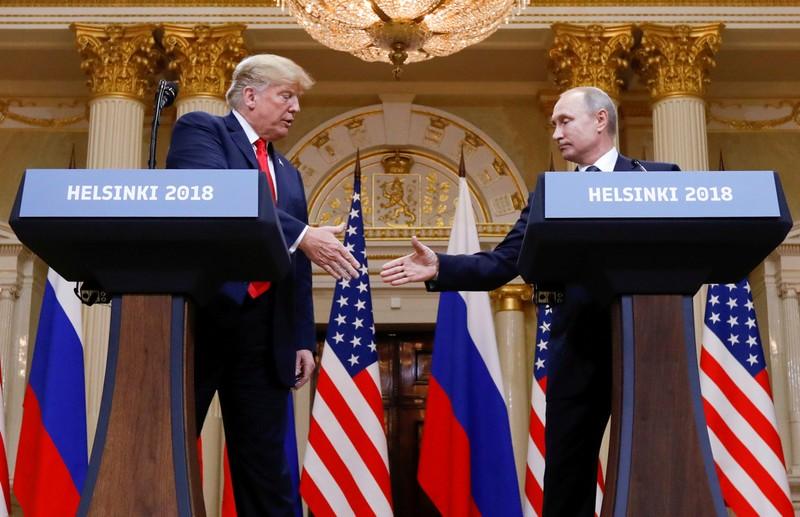 By Andrew Osborn and Vladimir Soldatkin
MOSCOW (Reuters) - Russia's Vladimir Putin met U.S. President Donald Trump's national security advisor on Tuesday after the Kremlin said that Trump's talk of quitting a landmark arms treaty that scrapped nuclear missiles in Europe was dangerous.
In opening remarks, Putin told John Bolton that Russia was sometimes surprised by what he said were unprovoked steps that Washington took against Moscow.
But he said he wanted to hold new talks with Trump, possibly in Paris next month - a meeting which Bolton said he thought Trump would welcome.
"We barely respond to any of your steps but they keep on coming," Putin told Bolton.
"On the coat of the arms of the United States there's an eagle holding 13 arrows in one talon and an olive branch in the other. My question is whether your eagle has gobbled up all the olives leaving only the arrows?"
Bolton, who told Putin he hoped to be able to address some of Putin's concerns about the troubled state of U.S.-Russia relations, quipped that he hadn't brought any olives.
Bolton's visit to Moscow comes a day after Russia said it would be forced to respond in kind to restore the military balance with the United States if Trump followed through on his threat to quit the 1987 Intermediate-range Nuclear Forces Treaty and began developing new missiles.
Before the talks began, a Kremlin spokesman said the landmark INF treaty had its weak points, but the U.S. approach of talking about leaving it without proposing a replacement was dangerous.
The spokesman, Dmitry Peskov, said he expected Bolton to explain the U.S. stance to Putin.
"Of course there are weak points (in the treaty), but tearing up the agreement without plans for anything new is what we don't welcome," Peskov told reporters.
"To first reject the document and then (talk of) ephemeral possibilities to conclude a new one is a dangerous stance."
Signed by then-U.S. President Ronald Reagan and reformist Soviet leader Mikhail Gorbachev in 1987, the INF required elimination of all short- and intermediate-range land-based nuclear and conventional missiles held by both countries in Europe.
Its demise could raise the prospect of a new arms race and of Europe once again hosting U.S. land-based ballistic and cruise missiles.
Gorbachev, now 87, has warned that unravelling it could have catastrophic consequences. Countries such as Poland have, however, backed Trump's move.
Bolton has said he thinks the treaty is outdated because it does not cover countries such as China, Iran and North Korea which he says remain free to make intermediate-range ballistic missiles and cruise missiles.
EUROPEAN ALARM
Russia and the United States have long accused each other of violating the terms of the treaty, something they both deny.
Trump's withdrawal announcement is causing particular concern in Europe which was the main beneficiary of the INF treaty as a result of the removal of Pershing and U.S. cruise missiles from Europe and of Soviet SS-20 missiles from the European part of the then Soviet Union.
Without the treaty, some European countries fear that Washington might deploy intermediate-range nuclear missiles in Europe again and that Russia might move to deploy such missiles in its exclave of Kaliningrad which would once again turn Europe into a potential nuclear battlefield.
German lawmakers, who are keenly aware that Berlin would be within strike-range of any such missiles deployed in Kaliningrad, are among those worried.
Foreign Minister Heiko Maas said on Tuesday that Germany would seek NATO's help to maintain the treaty between Russia and the United States, and was ready to take action to force Moscow to comply with the pact.
Others, such as Poland, were supportive of Trump's stance.
"If this treaty doesn't work because it has already been broken, there's a clear question about whether or not it should be kept," said Poland's Foreign Minister Jacek Czaputowicz on Monday, according to Polish Radio.
Polish President Andrzey Duda said in Berlin that his country had not discussed the possibility of hosting U.S. intermediate-range missiles, but said Trump's stance made "a certain amount of sense."
Trump's withdrawal statement puts the rest of NATO in a difficult position however as the alliance has always sought the political high ground on the issue and NATO leaders said in July they were committed to preserving the landmark pact.
(Additional reporting by Polina Nikolskaya, Katya Golubkova and Polina Devitt in Moscow, Paul Carrel and Hans-Edzard Busemann in Berlin, Joanna Plucinska and Pawel Sobczak in Warsaw, and by Robin Emmott in Brussels; Writing by Andrew Osborn; Editing by Richard Balmforth)
This story has not been edited by Firstpost staff and is generated by auto-feed.
Find latest and upcoming tech gadgets online on Tech2 Gadgets. Get technology news, gadgets reviews & ratings. Popular gadgets including laptop, tablet and mobile specifications, features, prices, comparison.
World
By Crispin Kyala KAMITUGA, Democratic Republic of Congo (Reuters) - Kinyenye Furaha passed out from shock when he realised a mine collapse in eastern Congo had buried more than 50 fellow miners including his brother, he said on Sunday, as the hunt continued for bodies two days after the disaster. Miners searching the site near the town of Kamituga in Democratic Republic of Congo have so far recovered 18 bodies, after heavy rains on Friday caused the artisanal gold mine to cave in, burying those working below ground.
World
By Tom Balmforth and Maria Tsvetkova MOSCOW/TOMSK (Reuters) - The ruling United Russia party looked set for an array of local election wins on Sunday, but was also on course for some setbacks as stricken Kremlin critic Alexei Navalny's supporters made rare gains in city politics in Siberia. The local elections were closely watched for signs of protest voting against the ruling party that backs President Vladimir Putin amid frustrations over years of falling wages and the government's handling of the pandemic. The votes also followed the suspected poisoning by a rare nerve agent of opposition politician Navalny who had promoted a tactical voting strategy to hurt United Russia and fielded dozens of candidates for city councils in Siberia
World
By Linda Sieg TOKYO (Reuters) - Japanese Chief Cabinet Secretary Yoshihide Suga, a longtime loyal aide of outgoing Prime Minister Shinzo Abe, was poised to win a ruling party leadership election on Monday, virtually ensuring that he replaces Abe this week in the nation's top job. Suga, 71, who has said he would pursue Abe's key economic and foreign policies, is expected to get the bulk of votes from 394 Liberal Democratic Party (LDP) lawmakers and is likely to win a majority of 141 votes from the party's local chapters.