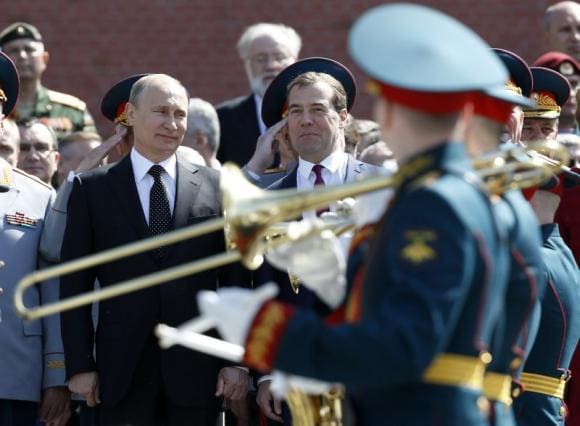 MOSCOW (Reuters) - One of Vladimir Putin's most influential supporters was up early on Thursday explaining to puzzled Russians why the president has softened his stance on Ukraine.
Vladimir Solovyov, the outspoken host of a popular radio call-in, enthusiastically portrayed Putin's unexpected appeal to separatists in east Ukraine to suspend a planned autonomy referendum as a masterstroke.
"This is a very clever and strong move in the game of chess over Ukraine," he told listeners. "Putin has again become peacemaker number one."
Dismissing a caller's concerns that it might seen be as a sign of weakness, he said: "Putin has forced the Ukrainian authorities into a dialogue ... He's massively raised his support in Europe."
When another listener dissented, the acid-tongued host told him he was listening to the wrong channel and, inventing a name, told him to "go and listen to 'Voice of the Enemy'."
If ever Putin needed supporters like Solovyov, it may be now.
Hours after the radio show, the separatists rejected Putin's call and decided to press ahead with the referendum on Sunday in the regions of Luhansk and Donetsk.
He also said on Wednesday he had pulled troops back from the border with Ukraine - despite Western denials - and that a previously much criticised plan to hold a presidential election on May 25 would be a "step in the right direction" by Ukraine.
Many people were left scratching their heads, even in a country where aides acknowledge the president listens only to his "inner voice" when taking major decisions.
This particular one could take a lot of explaining.
If the Kremlin did not coordinate Thursday's decision by the rebels in east Ukraine to pursue the referendum, Putin risks losing their trust and, with it, the ability to influence them.
Such a public snub, pre-arranged or not, could easily backfire on him, raising doubts about his ability to ensure Russia comes out on top in the worst East-West standoff since the Cold War.
Some observers rule out the possibility that the former KGB spy risked so much without consulting the rebels.
"I think it is unlikely that, while making this request to delay the secession referendum, Putin did not know what the answer would be," said Maria Lipman, a Russian analyst at the Moscow Carnegie Center think tank.
"This can be used to show that the people in Ukraine's east are not Russians, take no orders from Russia, that Russia exercises no control over them because they only do what they want to do. Putin wanted to get this message across."
RISKY STRATEGY
If this is Putin's strategy, it comes with many risks.
His cautious approval of the presidential election in Ukraine not only came out of the blue but contradicted what other Russian officials have been saying.
Earlier this week, Foreign Minister Sergei Lavrov questioned whether the vote should go ahead while Ukraine's armed forces were on the streets trying to quell unrest.
Moscow seemed until then to be doing all it could to ensure the election does not go ahead or is flawed, so that Russia can continue to deny the legitimacy of Kiev's pro-Western rulers.
Putin appears to have ripped up the script, as well as pushing the possibility of a Russian military invasion to protect "threatened compatriots" into the distance.
Whatever the aim, or however well planned his move was, it risks leaving him out of step with the narrative followed until now by Russia's loyal state media.
State television's portrayal of the leaders in Kiev as fascists, and its warnings of pogroms and genocide, appeared designed to pave the way for an invasion or annexation of parts of Ukraine - from which Putin has now backed away.
"I don't think it is all that easy for Putin now to act in a measured way. He's now more measured than the majority of the people," said former Kremlin spin doctor Gleb Pavlovsky.
"He needed the majority to 'move ahead' and annexe Crimea (on March 21). Now the majority want to go further and Putin doesn't. That leaves him facing a problem. The patriotism is turning into demands for annexation and whether the authorities can respond to them is not clear."
Putin may have decided he has achieved all he can in Ukraine, that he must settle for regaining Crimea - handed to Ukraine by Soviet leader Nikita Khrushchev in 1954 - and that conditions are not right for annexing parts of east Ukraine.
The surge of violence in recent weeks, including a fire after clashes in the port city of Odessa which killed more than 40, may have convinced him Russia can no longer control events.
A civil war on its border would risk fuelling violence and instability in Russia itself with unpredictable consequences for the Kremlin and the likelihood of more damage to the already faltering economy.
GENIE OUT OF THE BOTTLE
The problem for Putin was always going to be how to put the genie back in the bottle once he had let it out by stirring national pride and annexing Crimea.
His chance to do so may come from the Organization for Security and Cooperation in Europe which has prepared a "road map" for ending the crisis, and this may explain why Putin made his surprise announcement after meeting the Swiss president who currently heads the rights and security body.
The OSCE may be a more acceptable vehicle than any other for Russia to make compromises with the West over the future of a country it regards as the cradle of Russian civilisation and has long dominated.
"It is clear that there are some talks going on between Russia and other powers behind closed doors. It is unthinkable that the Swiss president would just come by and clinch a deal with Putin," Lipman said.
The OSCE could provide the cover for Putin to secure a deal that hides, as best he can, the growing impact of U.S. and European Union sanctions on Russia's economy. A direct deal with the United States or the EU would be harder for Russia to sell to the public after Moscow's criticisms of the last few weeks.
Opposition leader and former chess champion Garry Kasparov was quick to hint at the economic background to the softening of Putin's stance.
"Putin announces troop pullback & endorses UKR elections right after meeting the Swiss president. Looks like banks are mightier than tanks!" he wrote on Twitter.
Russian officials are sure to keep up their rhetoric against the West, hostility to the Kiev leadership will remain part of Kremlin policy, and Putin will continue to vow to defend the interests of compatriots in Ukraine.
But for people such as Solovyov, winning people over to Putin's policies may have just become a little bit harder.
(Editing by Giles Elgood)
This story has not been edited by Firstpost staff and is generated by auto-feed.
Updated Date: May 09, 2014 01:45 AM