Puerto Rico braces for flash floods after Hurricane Maria batters island, destroys homes
Puerto Rico braced for potentially calamitous flash flooding on Thursday after being pummeled by Hurricane Maria which devastated the island and knocked out the entire electricity grid.
San Juan: Puerto Rico braced for potentially calamitous flash flooding on Thursday after being pummeled by Hurricane Maria which devastated the island and knocked out the entire electricity grid.
The hurricane, which Puerto Rico governor Ricardo Rossello called "the most devastating storm in a century," had battered the island of 3.4 million people after roaring ashore early Wednesday with deadly winds and heavy rain.
The storm was blamed for 10 deaths in the Caribbean, including a man in northern Puerto Rico's Bayamon who died after being struck by a board he had used to cover his windows, government spokeswoman Yennifer Alvarez told AFP.
Though the storm had moved back out to sea, authorities early Thursday declared a flash flood warning for all of Puerto Rico as "torrential" rains continued to lash the island.
"If possible, move to higher ground NOW!" the National Weather Service station in San Juan said in a tweet, calling the flooding "catastrophic."
Puerto Rico is now completely under a Flash Flood Warning. If possible, move to higher ground NOW! #prwx pic.twitter.com/TOrVnXaKOR

— NWS San Juan (@NWSSanJuan) September 21, 2017
Puerto Rico was expected to receive 20 to 30 inches (51 to 76 centimeters) of rain through Saturday, with some isolated areas receiving 35 inches, the US National Hurricane Center said.
The rain had turned some roads in the US territory into muddy brown rivers.
As of 5:00 am (2.30 pm IST), Maria was a Category three storm on the five-point Saffir-Simpson scale with winds of 115 miles per hour (185 kilometers per hour.) It was churning in the Caribbean Sea about 70 miles north of Punta Cana in the Dominican Republic.
Maria was expected to pass north of the Dominican Republic on Thursday as it moved toward the Turks and Caicos Islands.
'Disconnected'
In Puerto Rico, Maria delivered "a lot of flooding, a lot of infrastructure damage, telecommunication system is partially down, energy infrastructure is completely down," Rossello told CNN.
Authorities did not have much information from the island's southeast, which was "virtually disconnected" after taking a direct hit from Maria when it made landfall as a Category four storm with winds of more than 150 mph.
Tens of thousands had fled to shelters.
San Juan Mayor Carmen Yulin Cruz broke down in tears as she spoke of the utter devastation she had witnessed.
"Many parts of San Juan are completely flooded," Yulin Cruz told reporters in one of the shelters, its roof swaying while she spoke.
"Our life as we know it has changed."
Curfew
Rossello imposed a 6:00 pm to 6:00 am curfew until Saturday and warned of flooding and mudslides.
"I urge the people of Puerto Rico to commit to peace, understanding, and good judgment during these difficult times for our island," he said.
As night fell Wednesday, there were reports of looting and authorities said 10 people had been arrested.
Puerto Rico's most catastrophic hurricane was in 1928 when Hurricane Okeechobee – also known as San Felipe Segundo – killed 300 people.
Although engineers had managed to restore power to most of the island after the recent Hurricane Irma, Maria caused a new black-out across the island.
Rossello's assessment for when the lights might come back on was grim.
"It depends on the damage to the infrastructure," he told CNN. "I'm afraid it's probably going to be severe. If it is... we're looking at months as opposed to weeks or days."
Dominica devastation
The US and British Virgin Islands – still struggling to recover from the devastation of Irma – are also on alert, along with the Turks and Caicos Islands and parts of the Dominican Republic.
Maria has already torn through several Caribbean islands, leaving at least seven people dead on Dominica.
Communications to Dominica have been largely cut, and its airports and ports have been closed.
But an advisor to Prime Minister Roosevelt Skerrit, who spoke to the premier by satellite phone, painted a picture of devastation on the island, where around 73,000 people live.
"It's difficult to determine the level of fatalities but so far seven are confirmed, as a direct result of the hurricane," Hartley Henry said in a statement.
Reports from rural communities spoke of a "total destruction of homes, some roadways and crops," added Henry.
"The country is in a daze – no electricity, no running water –as a result of uprooted pipes in most communities and definitely no landline or cellphone services on island, and that will be for quite a while."
In the French territory of Guadeloupe, one person was killed by a falling tree as Maria hit, while another died on the seafront.
At least two are missing after their boat sank off the French territory, while 40 percent of households were without power.
There were fears that Maria could wreak fresh havoc on islands that were already flattened by Category five Hurricane Irma earlier in the month.
Reports suggested St Martin, a French-Dutch island that was among the most severely hit by Irma with 14 dead, had escaped the worst this time around.
Subscribe to Moneycontrol Pro at ₹499 for the first year. Use code PRO499. Limited period offer. *T&C apply
Sports
Seth Jahn spoke against repeal of what was known as Policy 604-1, put in place in response to US women's team star Megan Rapinoe kneeling in support of Colin Kaepernick.
World
The suspect was taken to a juvenile detention centre and prosecutors have not yet decided whether charges will be filed in juvenile or adult court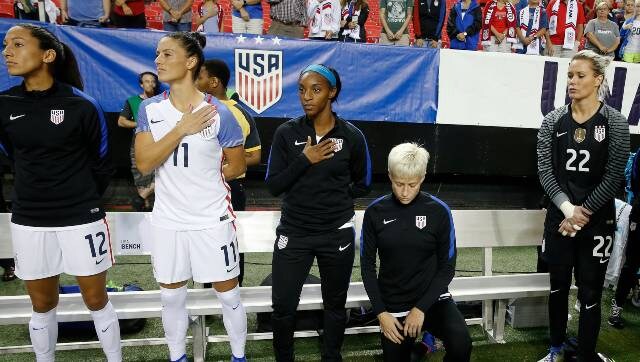 Sports
US Soccer's board of directors repealed the policy last year but the decision required confirmation by the full membership of the ruling body.