Protests outside Chinese embassy in London over Balochistan: How China is involved in the row
Balochistan and Sindhi leaders held a protest outside the Chinese embassy in London against the China-Pakistan Economic corridor (CPEC) in Balochistan.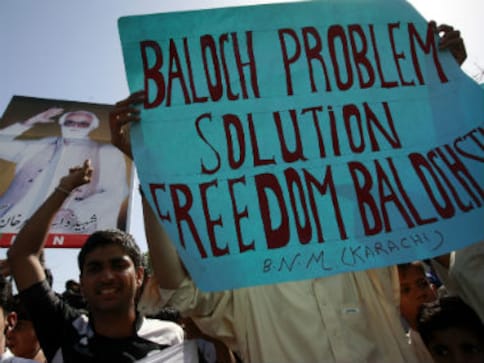 Balochistan and Sindh leaders on Monday held a protest outside the Chinese embassy in London against the China-Pakistan Economic corridor (CPEC) in Balochistan.
The protesters raised slogans like "PM Modi for Balochistan" and "Kadam badhao Modiji, hum tumhare saath hain (Move forward Modiji, we are with you)," reported ANI.
"We want to tell Pakistan and China that they can do nothing in Balochistan without the consent of the Baloch people," Baloch leader Noordin Mengal said. "Jo cheez cheen sakte ho wo cheeno, yahi in dono (China and Pakitan) ki koshish rehti hai (Snatch away whatever you can: This is the effort of both China and Pakistan)," ANI further quoted him as saying.
Moreover, after protests in Gilgit, Pakistan-occupied Kashmir and Balochistan, 'azadi' slogans were also raised in Sindh in Pakistan, demanding creation of a separate 'Sindhudesh'.
These protests and support for Modi come after the Prime Minister, in his Independence Day speech on 15 August, had talked about the situation in PoK, Gilgit and Balochistan and said that people from there have thanked him for raising their issues.
"Pakistan forgets that it bombs its own citizens using fighter planes. The time has come when Pakistan will have to answer to the world for the atrocities committed by it against people in Balochistan and Pakistan-occupied Kashmir," Modi had also said at an all-party meet.
In fact, cases had been registered against separatist Baloch leaders Brahamdagh Bugti, Harbiyar Marri and Banuk Karima Baloch for supporting Modi's statements on Balochistan.
How is China involved in Balochistan?
China's interests in Balochistan are due to the $46 billion CPEC, an ongoing project which will connect China's largest province, Xinjiang, with Pakistan's Gwadar port in Balochistan.
The project has witnessed strong protests by rebels and separatists. In fact, a Chinese engineer was injured in a roadside blast in Karachi on 30 May claimed by a little-known separatist group that vowed to derail the ambitious project.
In a pamphlet recovered from the blast site the group, 'Sindhudesh Revolutionary Party' warned China against looting Sindh's resources.
The daily said that "the attack on Chinese engineers is just a beginning, which China and Pakistan should take seriously."
India has strongly opposed the corridor as it will pass through Gilgit-Baltistan and Pakistan-occupied Kashmir, which it claims as its own.
Islamabad has long accused India of fomenting trouble in this region — a charge denied by New Delhi.
According to an influential Chinese think tank, China will have "to get involved" if any Indian "plot" disrupts the CPEC. Modi's reference to Balochistan is the "latest concern" for China and among its scholars, Hu Shisheng, the Director of the Institute of South and Southeast Asian and Oceanian Studies at the China Institute of Contemporary International Relations (CICIR), told IANS in an interview.
The researcher, at the think tanks, which is affiliated with the Ministry of State Security, also said India's growing military ties with the US and its changed attitude on the disputed South China Sea are ringing alarm bells for China.
"The latest concern for China is Prime Minister Narendra Modi's speech from the Red Fort in which he referred to the issues like Kashmir (occupied by Pakistan) and Balochistan," Hu said.
"It could be regarded as a watershed moment in India's policy towards Pakistan. Why Chinese scholars are concerned is because this is for the first time India has mentioned it," he added.
Hu said China fears India may use "anti-government" elements in Pakistan's restive Balochistan where Beijing is building the $46 billion CPEC — a key to the success of its ambitious 'One Road One Belt' project.
"There is concern that India may take the same approach, which is believed by the Indian side Pakistan is taking, asymmetrically using anti-government factors in Pakistan," Hu said on the expansive and leafy campus of CICIR.
"If this kind of plot causes damage to the CPEC, China will have to get involved," he said, referring to the alleged involvement of India in backing separatists in Balochistan, Gilgit-Baltistan and Pakistan-occupied Kashmir.
India ups involvement in Balochistan after PM's remarks
After Modi's statement, there has been a lot of discussion in the Indian media on the Balochistan issue.
In fact, Doordarshan News, for the first time, sent a team to Geneva to film an interview with Baloch leader Brahamdagh Bugti.
According to a report in The Telegraph, DD News sources said that even though the channel's editorial staff had proposed the interview, the approval came from the ministries of information and broadcasting and external affairs.
"When Modi raised the issue, it got highlighted and people started talking about it internationally. Everybody has come to know what is happening there and what Pakistan is doing," the report had quoted Bugti as saying.
With inputs from agencies
India
Yashoda Hospitals Group has acquired space on Decentraland — a metaverse platform where users can buy and sell property and engage in other life-like activities — to set up a virtual clinic it hopes will be operational for patients by next year
World
Lithuania is a member of NATO and is thus subject to its protections under Article 5 which states that an attack on one member is an attack on all members
World
Born into a modest family on Colombia's Caribbean coast, Petro embraced leftist politics as a teenager after the 1973 coup d'etat in Chile that unseated Marxist president Salvador Allende. A father of six, Gustavo Petro is seen as a good orator, though not necessarily charismatic