Protesters denounce gentrification in Lisbon as housing prices soar
By Catarina Demony and Goncalo Almeida LISBON (Reuters) - Anti-gentrification groups from across Europe joined hundreds of Portuguese activists on Saturday in a rally against soaring rent prices in Lisbon as the city experiences the biggest tourism boom in its history. 'The housing market in Portugal is focused on foreign purchasing power', Rita Silva, one of the protest organisers, told Reuters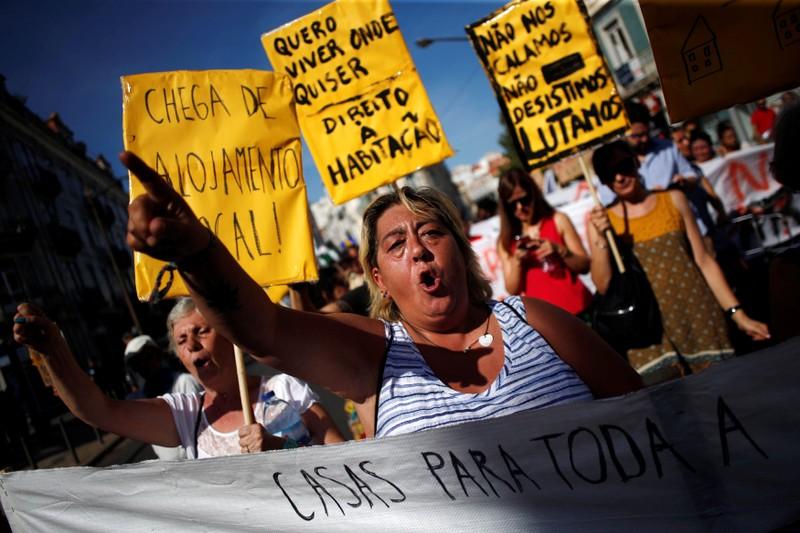 By Catarina Demony and Goncalo Almeida
LISBON (Reuters) - Anti-gentrification groups from across Europe joined hundreds of Portuguese activists on Saturday in a rally against soaring rent prices in Lisbon as the city experiences the biggest tourism boom in its history.
"The housing market in Portugal is focused on foreign purchasing power", Rita Silva, one of the protest organisers, told Reuters. "This is not a xenophobic view but a concern with those who have lived here for many years and are now at risk of losing everything."
Lisbon's tourism boom has made headlines abroad, but it has also been heavily criticised by locals who say they are being pushed out of their city as private developers transform houses into hotels and luxury flats. Numerous other cities across the continent have experienced similar problems, including Berlin, Paris and London.
Portuguese house prices rose 11 percent in the second quarter from a year earlier, National Statistics Institute data show on Friday, taking them to new highs in a run-up in house prices that began in 2014. [nL8N1W72PO]
Tourist accommodation already accounts for at least 34 percent of houses in the city centre, according to an article published by Jornal de Negocios last week.
"The cities are built for rich people, and there are fewer and fewer spaces for people without a lot of money," said a spokesman for European Action Coalition, one of the largest groups fighting for housing rights in Europe. "The fight of the people in Lisbon is also our fight."
It was the first demonstration in Portugal for housing rights since 2007, when the country was on the edge of a severe economic and debt crisis.
(Reporting by Catarina Demony and Gonçalo Almeida; Editing by Hugh Lawson)
This story has not been edited by Firstpost staff and is generated by auto-feed.
India
The Pulitzer prize winner, who was in Kandahar covering operations against Taliban, was killed when he was riding along with the Afghan Special Forces
India
Siddiqui had also covered the 2020 Delhi riots, COVID-19 pandemic, Nepal earthquake in 2015 and the protests in Hong Kong
India
Danish's photographs were not just documentation, but the work of someone who went down to eye-level, as they say in photographic parlance.