Prosecutors ask judge to jail Giuliani associate
By Brendan Pierson NEW YORK (Reuters) - Federal prosecutors on Wednesday asked a judge to jail Lev Parnas, an associate of U.S. President Donald Trump's personal lawyer Rudy Giuliani, while he awaits trial on campaign finance charges. In a motion filed in federal court in Manhattan, the prosecutors said Parnas had lied about his assets and posed an 'extreme risk of flight.' Parnas was released on bail after his arrest in October and has been living under house arrest in Florida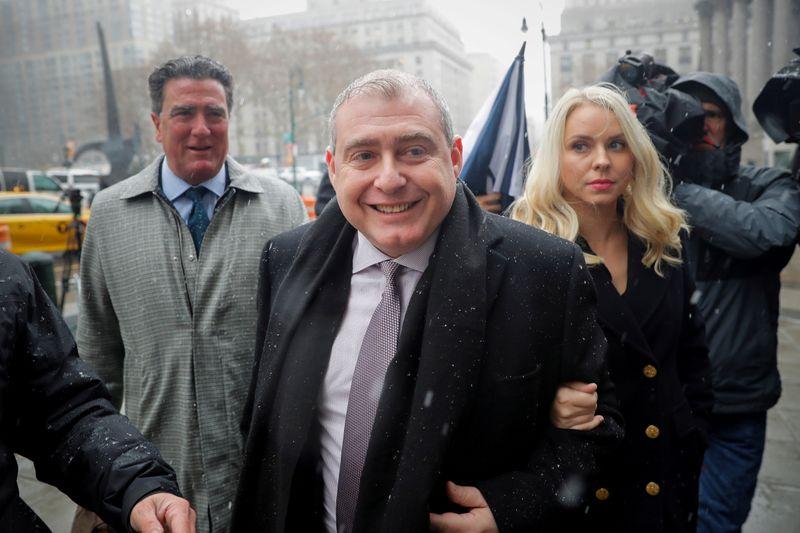 By Brendan Pierson
NEW YORK (Reuters) - Federal prosecutors on Wednesday asked a judge to jail Lev Parnas, an associate of U.S. President Donald Trump's personal lawyer Rudy Giuliani, while he awaits trial on campaign finance charges.
In a motion filed in federal court in Manhattan, the prosecutors said Parnas had lied about his assets and posed an "extreme risk of flight."
Parnas was released on bail after his arrest in October and has been living under house arrest in Florida. His lawyers could not immediately be reached for comment.
Ukraine-born Parnas was charged alongside another Florida businessman, Belarus-born Igor Fruman, with illegally funnelling money to a pro-Trump election committee and other politicians. Both men have pleaded not guilty.
Prosecutors accused Parnas and Fruman of using a shell company to donate $325,000 to a pro-Trump election committee and of raising money for former U.S. Representative Pete Sessions of Texas as part of an effort, that was ultimately successful, to have the president remove Marie Yovanovitch as ambassador to Ukraine.
(Reporting by Brendan Pierson; Editing by Bill Berkrot)
This story has not been edited by Firstpost staff and is generated by auto-feed.
Find latest and upcoming tech gadgets online on Tech2 Gadgets. Get technology news, gadgets reviews & ratings. Popular gadgets including laptop, tablet and mobile specifications, features, prices, comparison.
World
JAKARTA (Reuters) - An investigator with Indonesia's National Transportation Safety Committee (KNKT) said the Sriwijaya Air jet that crashed into the Java Sea with 62 people on board over the weekend possibly broke apart when it hit waters based on debris found so far. "We don't know for sure, but if we look at the debris, they're scattered in an area that is not too wide," Nurcahyo Utomo told Reuters on Monday. "It possibly ruptured when it hit waters because if it had exploded midair, the debris would be distributed more widely," he added
World
By Aziz El Yaakoubi, Jonathan Landay and Matt Spetalnick RIYADH/WASHINGTON (Reuters) - The United States plans to designate Yemen's Houthi movement as a foreign terrorist organization, three sources familiar with the matter said, a move that diplomats and aid groups worry could threaten peace talks and complicate efforts to combat the world's largest humanitarian crisis. The decision to blacklist the Iran-aligned group, which could be announced as soon as Monday according to two of the sources, comes as the administration of President-elect Joe Biden prepares to take over from the Trump administration on Jan. 20
World
JAKARTA (Reuters) - Indonesian divers on Monday will try to retrieve the data recorders of a Sriwijaya Air jet that plunged into the sea two days ago with 62 people on board minutes after take off from Jakarta's main airport. The SJ 182 was headed on a domestic flight to Pontianak on Borneo island, about 740 km (460 miles) from Jakarta, on Saturday before it disappeared from radar screens four minutes after take-off and crashed into the Java sea