Editor's Note: This three part series looks at the complexity of 'Islamist terrorism' in the context of the recent terror attacks by the Islamic State, targeting Dhaka, Baghdad, Istanbul and Saudi Arabia. The series explores the dangers of defining terrorism in terms of either 'religious' violence or 'political' violence; terrorism is more complicated than we think it is. In part one, read about why labelling terrorists as psychopaths or criminals is an untenable argument.
This year, the Holy Month of Ramzan saw an apocalyptic display of what terrorism is capable of.
On 28 June, three gunmen armed with automatic weapons and explosive belts launched a coordinated attack on Istanbul's Kemal Ataturk International Airport, killing 45 civilians and injuring 238 others. Three days later, terror struck at a separate corner of the world when gunmen stormed into a cafe in Dhaka, Bangladesh and killed 20 civilians after taking them hostage. Two days later, Iraq saw its deadliest single bomb blast since 2007 when a massive truck bomb exploded in a busy commercial district of Baghdad killing more than 200 and injuring 225 others.
Two days hence, a triple suicide bombing attack hit three different Saudi cities, including the burial place of Prophet Mohammad in the holy city Medina, killing four. Four days later, on the day of Eid-ul-Fitr, another bomb exploded outside a large congregation in Dhaka, injuring more than five people. While the first four attacks have been linked, directly or by conjecture, to the Islamic State (IS), the perpetrator of the fifth one remains yet uncertain. The radical Sunni extremist group straightaway claimed responsibility for the assaults in the Dhaka Café and Baghdad, not doing so directly for Istanbul and Saudi Arabia. But, all rationally-collated evidence points towards IS' involvement in the latter two instances too.
This recent tirade of radical 'Islamist violence' (which I define as a hybrid between theological and political aggression by Islamic entities) against a predominantly Muslim target pool, as opposed to 'culturally diametric' Western societies, has baffled many. As always, the counter-narrative on social media has been fierce and relentless, and quite diversified in the least. The last week saw Facebook and Twitter feeds turn into sordid carousels of tummy-tickling memes about fused-out politicians and gut wrenching images of bloodied bodies at the same time.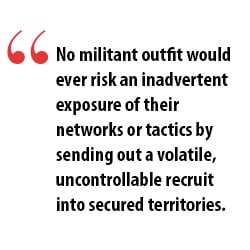 Unsurprisingly, the dramatic show of violence against innocents has regurgitated two interlinked pop-culture narratives (or perhaps 'counter-narratives') that have found strong currency in the past as 'valid counters to Islamophobia' – "terrorism has no religion"; and "these are not Muslims, they are psychopaths/criminals". While they serve to immediately offset wholesale, irrational hatred against the global Muslim community after attacks by Islamist aggressors, the arguments are massively untenable in their own right.
Islamophobic monologues are generally premised upon a superficial understanding of terrorism, but what worries me is that the above counter-narrative too is a rabbit in rhino's skin. Is this 'pop culture' discourse against Islamist terrorism (and the resultant cultural hatred) a propagation of the same old reductive public discourse that is devoid of nuance and heavy on emotions?
If the Kalashnikov-toting, vest-wearing, dagger-donning men who blew themselves up in Istanbul or butchered innocent civilians in cold blood in Dhaka 'were not Muslims', then we must legitimately inquire as to what they really were, or even better 'who' they really were. Three popular answers that I have personally come across are – 'they are terrorists', 'they are criminals', and 'they are psychopaths'. Well, they are most certainly 'terrorists'. But, they are neither criminals nor psychopaths. Terrorism is an intricate recipe for targeted violence that is composed of a whole range of ingredients, and 'criminality' or 'psychosis' aren't one of them.
Terrorists are not psychopaths or mental retards for a very unsophisticated reason. Extensive studies and interviews of militant recruits/leaders have validated that terrorist groups would never hire a psychopath, simply because a mentally unstable individual is an unpredictable unit of operation. She or he is not expected to think rationally under pressure, judiciously follow (or remember) orders, commiserate with a certain ideological cause, or inflict calculated and targeted destruction – all of which are absolutely vital for a blueprint of terror.
Psychopathology is intrinsically linked to a sense of apathy or cognitive dissonance, and hence, could be counterproductive for terrorist groups who are way more rationally-thinking than we would like to believe. No militant outfit would ever risk an inadvertent exposure of their networks or tactics by sending out a volatile, uncontrollable recruit into secured territories. If we were to completely disengage from the emotional narratives of anger, we would realise that terrorism isn't madness. It is, in fact, the very opposite of insanity – a meticulous process of tactical decision-making and strategic action.
Secondly, terrorists are not criminals. No study has ever ensconced 'criminality' as a common trait of terrorist groups. Let us not veer too far to understand this, and stick to the common perpetrator (or alleged perpetrator) of all the recent attacks: the Islamic State (IS). This Middle East-based extremist group that invented and lucratively sold a cross-cultural 'imaginative discourse' of a Caliphate to many is anything but a 'criminal gang'. It is not a non-ideological force or a purely utilitarian mercenary group in its operational policy.
In fact, it has a solid and distinctly identifiable religious-cultural locus – Wahhabi-Salafi doctrine, an ultraorthodox variant within Sunni Islam that also happens to be the state doctrine of Saudi Arabia. On the other hand, criminal gangs completely lack any sense of 'ideology', are purely utilitarian in their approach, and are (generally) devoid of theosophical, doctrinaire motivations. While profit-making is usually the prime prerogative for criminal gangs, it is only a complementary element in the matrix of motivations for terrorist groups.
The author is a research officer in the Southeast Asia Research Program (SEARP) at the Institute of Peace and Conflict Studies (IPCS), New Delhi.
Updated Date: Jul 09, 2016 16:19:37 IST