Pro-EU candidate Sandu leads Moldova presidential run-off, incumbent digs in
By Alexander Tanas CHISINAU (Reuters) - Opposition candidate Maia Sandu, who favours closer ties with the European Union, held a narrow lead over pro-Moscow incumbent Igor Dodon in a presidential election run-off in Moldova on Sunday.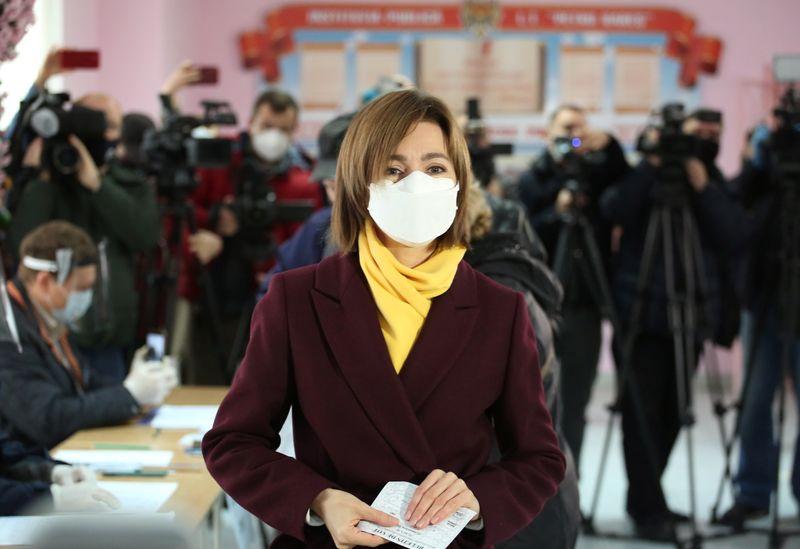 By Alexander Tanas
CHISINAU (Reuters) - Opposition candidate Maia Sandu, who favours closer ties with the European Union, held a narrow lead over pro-Moscow incumbent Igor Dodon in a presidential election run-off in Moldova on Sunday.
Dodon said he remained optimistic of victory, despite partial results which showed Sandu on 51.3% of votes compared to 48.67 for Dodon, with 91.6% of ballots counted.
An exit poll had put Sandu on 54.8% of votes compared to 45.2% for Dodon.
The West and Russia vie for influence in the former Soviet republic of 3.5 million, which is one of Europe's poorest nations and has suffered a sharp economic downturn during the COVID-19
pandemic.
Dodon, who on Friday had called on supporters to take to the streets if he felt the election was stolen from him, said his team's data suggested he had won by a wide margin within the country but did not show results from voters abroad.
"I'm pretty optimistic about the results," Dodon said.
Opinion polls had put the rivals neck-and-neck before the election run-off. Sandu finished ahead in the first round two weeks ago with a late surge in support from diaspora voters, but failed to secure enough votes for outright victory.
A former World Bank economist who takes a tough stance on corruption, Sandu led a short-lived government last year that was felled by a no-confidence vote.
"Today you have the power to punish those who cheated you, who stole from you, who made you beggars or sent you far from your homes," Sandu said after casting her vote in the morning.
Sandu, 48, has said she would secure more financial support from the EU as president. Dodon, 45, has been in power since 2016 and has said he will roll out a settlement next year for the breakaway Russian-speaking region of Transdniestria.
"I voted for the development of the economy, for a balanced foreign policy," Dodon said after casting his ballot. "I don't want Moldova to be used in geopolitical games."
POLITICAL INSTABILITY
If Sandu wins, she is likely to seek a snap parliamentary election to consolidate power because parliament is controlled by the Socialists, Dodon's former party.
Moldova, squeezed between Ukraine and EU-member Romania, has suffered political instability in the past decade.
"A victory in the second round by Maia Sandu would mean a period of tough political confrontation for Moldova," said independent analyst Corneliu Ciurea.
The EU forged a deal on closer trade and political ties with Moldova in 2014, but became increasingly critical of its record on reforms.
Sandu has received messages of support from German Defence Minister Annegret Kramp-Karrenbauer and former European Council President Donald Tusk. Some of Dodon's supporters denounced such support as an attempt to destabilise Moldova.
Sergei Naryshkin, the head of Russia's SVR Foreign Intelligence Service, accused the United States last month of plotting to instigate mass protests against Dodon as punishment for him fostering good relations with Moscow.
(Writing by Matthias Williams; Editing by Timothy Heritage)
This story has not been edited by Firstpost staff and is generated by auto-feed.
Find latest and upcoming tech gadgets online on Tech2 Gadgets. Get technology news, gadgets reviews & ratings. Popular gadgets including laptop, tablet and mobile specifications, features, prices, comparison.
World
VIENNA (Reuters) - The U.N. nuclear watchdog and the United States pressured Iran on Wednesday to finally explain the origin of uranium particles found almost two years ago at an old but undeclared site that Israel has called a "secret atomic warehouse". Israeli Prime Minister Benjamin Netanyahu drew attention to the Turqazabad site in Tehran in a speech to the United Nations in September 2018, urging the International Atomic Energy Agency to visit it
World
NEW DELHI (Reuters) - Sri Lankan President Gotabaya Rajapaksa said on Wednesday he had delivered on a key election promise to rebuild the island nation's intelligence network in the year since assuming office.
World
WARSAW (Reuters) - Polish authorities said on Wednesday a former secret service agent and a Chinese citizen who worked for a telecommunications company have been charged with spying for China. Reuters previously reported on the allegations against an employee of Huawei and a former Polish domestic intelligence operative who were being investigated by the Warsaw government for suspected espionage