Prince Harry tells Oprah he worried history would repeat itself
LOS ANGELES (Reuters) - Prince Harry, who shocked Britain last year when he and his wife Meghan stepped back from royal duties, told U.S. interviewer Oprah Winfrey that he had worried about history repeating itself, according to excerpts released on Sunday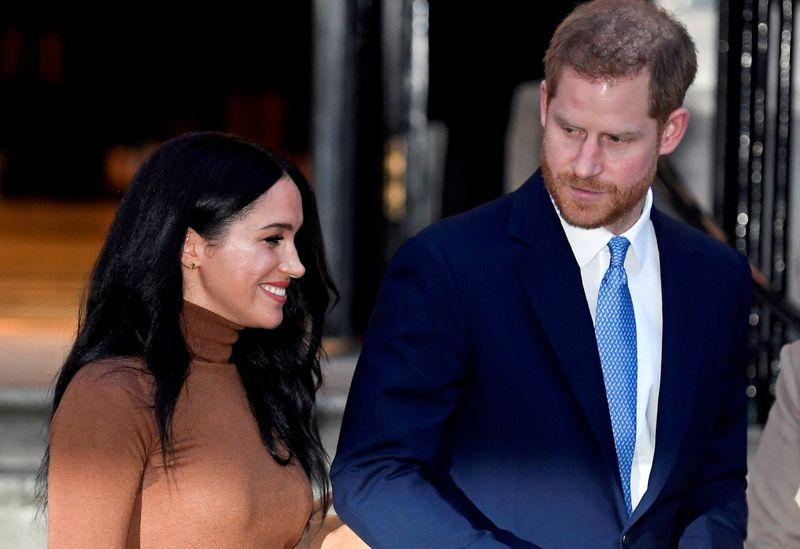 LOS ANGELES (Reuters) - Prince Harry, who shocked Britain last year when he and his wife Meghan stepped back from royal duties, told U.S. interviewer Oprah Winfrey that he had worried about history repeating itself, according to excerpts released on Sunday.
The CBS broadcast network released two brief clips from Winfrey's interview of the couple, which is scheduled to air on March 7. It is the first TV interview the couple, formally known as the Duke and Duchess of Sussex, have given since making their homes in California last year.
"My biggest concern was history repeating itself," Harry said, apparently referring to his mother Princess Diana, who was hounded by the British press and died at age 36 in a car crash in Paris after her divorce from Prince Charles.
Harry, 36, was seated next to Meghan, 39, and holding her hand. The couple announced this month that they are expecting their second child.
"I'm just really relieved and happy to be sitting her talking to you with my wife by my side," Harry said. "Because I can't imagine what it must have been like for her (Diana), going through this process by herself all those years ago.
"It's been unbelievably tough for the two of us, but at least we had each other," Harry added.
In the clips, Winfrey said that no subject was off limits and at one point tells the couple "you have said some pretty shocking things here," including that their situation had been "almost unsurvivable."
Before they moved to California, the couple had complained about the British tabloids' treatment of Meghan, whose father is white and mother is African-American, some of which they said amounted to bullying or racism.
Earlier this month, Buckingham Palace announced that the couple would not be returning to their lives as working members of the royal family.
(Reporting by Lisa Richwine; editing by Jonathan Oatis)
This story has not been edited by Firstpost staff and is generated by auto-feed.
World
CARACAS (Reuters) - Human rights groups from Venezuela and Colombia on Wednesday called on the United Nations to appoint a special envoy to address the humanitarian crisis caused by clashes between Venezuelan troops and Colombian armed groups near the countries' border. Colombian officials estimate that some 4,000 people have fled Venezuela for Colombia since March 21 following a military offensive in Venezuela's Apure state.
World
By Anton Zverev and Andrew Osborn MOSCOW (Reuters) - Jailed Kremlin critic Alexei Navalny went on hunger strike on Wednesday in an attempt to force the prison holding him outside Moscow to provide him with proper medical care for what he said was acute pain in his back and legs. The fate of Navalny, one of President Vladimir Putin's most prominent critics, is in focus after he said last week that being woken up by a guard every hour during the night amounted to torture and that his appeals for medical treatment had been ignored. In a handwritten letter addressed to the governor of his prison which was posted to social media by his team on Wednesday, Navalny said daily requests for a doctor of his choice to examine him and for proper medicine had been ignored
World
By Stephanie van den Berg THE HAGUE (Reuters) - The International Criminal Court on Wednesday upheld its 2019 acquittal of former Ivory Coast President Laurent Gbagbo on charges of crimes against humanity during post-election violence and ordered all conditions of his release be removed. The decision may open the way for Gbagbo, 75, who has been living in Belgium, to return to Ivory Coast