Prince Harry and Meghan welcomed to New Zealand for final leg of Pacific tour
WELLINGTON (Reuters) - Britain's Prince Harry and wife Meghan were treated to a ceremonial welcome in New Zealand on Sunday where they arrived for the final leg of their Pacific tour, their first international royal tour since marrying in May. The royal couple, who have already visited Australia, Fiji and Tonga, were received at Wellington airport by Prime Minister Jacinda Ardern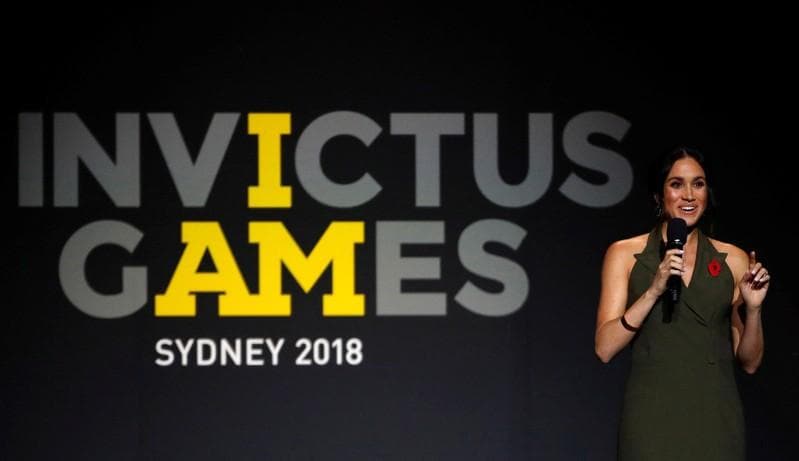 WELLINGTON (Reuters) - Britain's Prince Harry and wife Meghan were treated to a ceremonial welcome in New Zealand on Sunday where they arrived for the final leg of their Pacific tour, their first international royal tour since marrying in May.
The royal couple, who have already visited Australia, Fiji and Tonga, were received at Wellington airport by Prime Minister Jacinda Ardern.
The official welcome ceremony took place on the lawns of Government House - the residence of the Governor-General Dame Patsy Reddy.
Harry and Meghan rubbed noses with Maori leaders in a traditional "hongi" greeting and were welcomed by a "haka", a centuries-old tribal war dance, to salute and honour them. A 21-gun salute was also sounded.
Meghan wore a brown chequered coat and a simple black dress, while Harry was in a dark grey suit. Both had remembrance poppy pins on their chests.
Later, Harry and Meghan visited Pukeahu National War Memorial Park to lay a wreath at the Tomb of the Unknown Warrior and visited the UK Memorial.
A large crowed gathered to catch a glimpse Queen Elizabeth's grandson and his wife and the couple spent time meeting and shaking hands with cheering fans before leaving.
The pair flew from Australia on Sunday after closing the Invictus Games in Sydney last night and were accompanied by several Invictus Games athletes from New Zealand.
The Invictus Games are an international paralympic-style competition for military personnel wounded in action that was founded by Harry.
On Sunday evening, the couple will attend a reception celebrating the 125th anniversary of women's suffrage. New Zealand became the first country in the world where women could vote in parliamentary elections in 1893.
(Reporting by Will Ziebell; Editing by Michael Perry)
This story has not been edited by Firstpost staff and is generated by auto-feed.
Find latest and upcoming tech gadgets online on Tech2 Gadgets. Get technology news, gadgets reviews & ratings. Popular gadgets including laptop, tablet and mobile specifications, features, prices, comparison.
World
ISTANBUL (Reuters) - Turkish President Tayyip Erdogan and European Council President Charles Michel discussed developments in the Eastern Mediterranean on Sunday, CNN Turk reported. NATO allies Turkey and Greece have been locked in a row over hydrocarbon exploration in the sea's disputed waters and the extent of their continental shelves. There was no official confirmation of the talks.
World
LONDON (Reuters) - The sharp rise in COVID-19 cases in Britain of 2,988 recorded on Sunday, the highest jump since May, was "concerning", Health Secretary Matt Hancock said, although he added that the majority were younger people. "The rise in the number of cases that we've seen today is concerning," he said. "The cases are predominately among younger people, but we've seen in other countries across the world and in Europe this sort of rise in the cases amongst younger people leading to a rise across the population as a whole." He said everybody had to follow social distancing rules to prevent the spread of infections.
Business
(Reuters) - Amazon.com Inc said it has banned foreign sales of seeds in the United States after thousands of Americans received unsolicited packages of seeds in their mailboxes, mostly postmarked from China. The U.S. Department of Agriculture (USDA) in July identified more than a dozen plant species ranging from morning glories to mustard in the bags of unsolicited seeds