Modi's Afghan outreach compromised by Delhi's bureaucratic hurdles
India's bureaucrats need to take a relook at the new visa restrictions which don't match with Modi's foreign policy vision and could do harm in the long run
On 4 June, Prime Minister Narendra Modi will travel to Afghanistan's Herat province to dedicate the India-built Salma Dam to water-starved and electricity-deprived people of the region. This trip will come days after Modi signed the agreement in Tehran that commits India to develop the Chabahar port, a project that is viewed by the people of Afghanistan as one that will help reduce their dependence on Pakistan, whose military generals control the land-locked country's trade with the global community.
The enormous goodwill for India among the people of Afghanistan, however, is threatened by bureaucratic hurdles created in the recent weeks with new visa restrictions imposed by New Delhi.
Following new visa restrictions put into place by the governments of US and UAE on Afghan nationals, the ministry of external affairs announced new guidelines that will create unnecessary hurdles for people from the war-torn country who come to India for medical treatment, studies or to just save their lives from Taliban militants.
India's imposition of new visa restrictions in early May sent out negative signals to Afghan people — coming months after the new Parliament building was inaugurated by Modi in Kabul, the Chabahar port agreement that was to be signed between India-Iran and Afghanistan and just before the prime minister's second visit within six months, and this time to dedicate yet another India-built asset, Salma Dam. The Dam destroyed during the war has been rebuilt by India and is expected to produce 42 MW of electricity and nearly 80,000 hectares of farmland, giving a fillip to agriculture in Afghanistan.
Such was the sense of unease among Afghan people after new visa rules were announced that their foreign minister Salahuddin Rabbani was summoned to the Senate to explain new restrictions. The Indian argument for new rules is to ensure that Pakistanis do not travel to India on Afghan passports.
Visa applicants are now required to submit their personal bank account statements demonstrating financial ability to pay all costs of the trip. Minor applicants (aged 15 or below) and dependents who do not have individual bank accounts can submit bank statements of their parents/spouse/children. For those who travel to India for medical reasons it is now mandatory to get a letter from a local Afghan doctor clearly stating that treatment for the particular illness or disease is not available in Afghanistan.
Such restrictions are seen as more of a hurdle for people whose country is at war with Taliban and where local people face daily threat to survival. Unlike India, large parts of Afghanistan have little or no rule of government and more often than not, local people have to run away from their homes to protect themselves from Taliban.
Given the grim ground reality, Afghans look to India for medical treatment or to pursue university education. Hundreds of them travel to hospitals in Delhi and surrounding areas for treatment with little or no medical intervention back home.
These bureaucratic hurdles are bound to create a setback for Modi's recent initiatives and efforts to reassure the government and people of Afghanistan about India's investment in their future.
India has tremendous brand equity among the people of Afghanistan. Historic ties apart, Bollywood movies and songs have culturally tied them with us as much as their belief that, unlike Pakistan, India seeks a stable and independent Afghanistan.
News of the Chabahar agreement signed by Modi with Iranian president Rouhani and Afghanistan's president Ghani was applauded by the local Afghan media. Comments by people on the Indian embassy's Facebook site offer ample indication of the positive atmosphere generated with the signing of the Chabahar Port Project.
Salma Dam is another such project. In fact, last year when the concrete pouring ceremony of the dam took place, hundreds of Afghans walked to the Indian consulate in Herat and stood outside with flowers singing the famous 1970 Bollywood number of Amitabh Bachchan film titled Yamma, Yamma.
These new rules seem to have been made by a ministry bureaucrat, who is either unaware of the situation in Afghanistan or does not understand the significance of India-Afghan relations, observed a retired diplomat who didn't want to be named.
One has to only read quotes of Afghan women who escaped with their children to Delhi, in The Indian Express' Sunday magazine section (dated 29 May) to fathom the ground situation in Afghanistan.
These restrictions don't seem to be an isolated development. Recent efforts at back channel diplomacy initiated by a think-tank faced a setback when the Indian Embassy in Kabul failed to process visa applications of senior Afghan politicians on time. Delay in processing of applications led to their failure to reach Delhi in time for discussions.
While the Modi government works towards extending India's footprint in Pakistan's neighbours such Afghanistan and Iran, a section of bureaucracy is working at cross purposes.
Most Afghans hate Pakistan and hold it responsible for their current problems. They firmly believe that Rawalpindi's generals will do everything they can to derail any effort by India to deepen its engagement with Afghanistan and help its people. At the same time, they have complete faith in India and are convinced that New Delhi has their best interest in mind.
India's bureaucrats need to take a relook at the new visa restrictions which don't seem to be in consonance with Modi's foreign policy vision, and could do more harm in the long run.
India
The 20-day mega campaign titled 'Seva aur Samarpan Abhiyan' will begin tomorrow (17 September) and will conclude on 7 October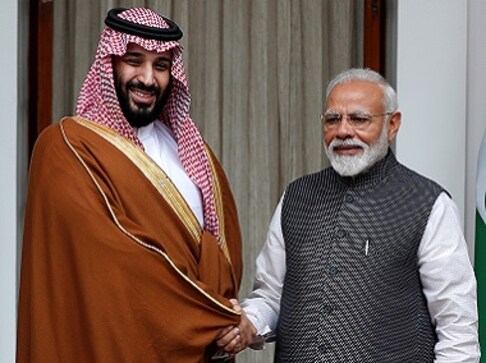 World
India's ties with Saudi Arabia, one of the world's leading oil producers and host to nearly three million Indians, have generally been on an upswing
India
The buildings will provide modern, secure and functional working spaces, the Prime Minister's Office said