'Pressing need' for US, China to communicate on economic issues: Yellen
A US official confirmed Tuesday that Secretary of State Antony Blinken would visit Beijing in early February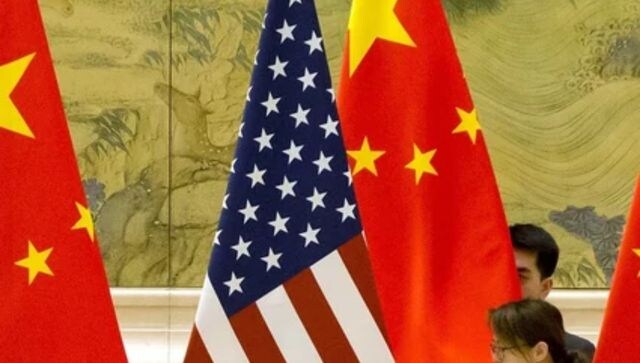 Zurich: Close communication between the United States and China on economic issues is vital, US Treasury Secretary Janet Yellen said Wednesday ahead of a meeting with a top Chinese official in Zurich.
"Amid a complicated global economic outlook, there is a pressing need for the two largest economies in the world to closely communicate on global macroeconomics and financial conditions," Yellen said at the start of her first face-to-face meeting with Chinese Vice Premier Liu He.
The countries also needed to "exchange views on how we are responding to various challenges," she said.
Yellen voiced hope that the pair, who have already met virtually on three occasions, would on Wednesday "delve deeply into topics of mutual concern, including macroeconomic cooperation and climate finance".
Speaking through an interpreter, Liu also called for "serious communication and coordination on macroeconomic affairs, climate change and other issues of mutual interest".
"In our view the China-US relationship is highly consequential," he said.
Keeping tensions in check
Wednesday's meeting comes amid heightened diplomatic efforts to keep high tensions in check between the two behemoths.
A US official confirmed Tuesday that Secretary of State Antony Blinken would visit Beijing in early February.
He will be the first US secretary of state to travel to China since a brief visit in October 2018 by his Republican predecessor Mike Pompeo, known for his blistering criticism of Beijing.
Long-simmering disputes between the two countries flared during the Donald Trump presidency and have continued — if less acutely — under President Joe Biden.
The United States and China, which are locked in a fierce strategic competition, spend more on their militaries than any other nation.
But both Biden and his Chinese counterpart Xi Jinping have said they want to reduce tensions.
When the two leaders met in November on the sidelines of the Group of 20 summit in Bali, both voiced guarded hope at preventing disputes from spiralling out of control.
They pledged "to continue responsibly managing the competition between our two countries and to explore potential areas of cooperation," the State Department said in November.
'Seek common ground'
Referring to the Bali meeting, Yellen said that "we share a responsibility to show that China and the United States can manage our differences and prevent competition from becoming anything ever near conflict."
"We have areas of disagreement, and we will convey them directly," said Yellen, who was on a brief stop in Zurich before an 11-day trip to Africa, aimed at deepening economic ties on a continent where China has become a key player.
But "we should not allow misunderstandings, particularly those stemming from a lack of communication, to unnecessarily worsen our bilateral economic and financial relationship," she said.
Liu, who on Tuesday told the World Economic Forum in nearby Davos that it was time to end a "Cold War mentality", seemed to agree.
"Right now, it seems that we do face some problems," he acknowledged Wednesday. "But as President Xi said, we all have one planet Earth, and there are always more solutions than problems."
"We must always bear in mind the bigger picture, try to manage our differences appropriately and seek common ground," he added.
"No matter how the circumstances change, we should always maintain dialogue and exchanges."
Read all the Latest News, Trending News, Cricket News, Bollywood News,
India News and Entertainment News here. Follow us on Facebook, Twitter and Instagram.  
World
Blinken has publicly warned for weeks that China is considering Russian requests for weapons to fight in Ukraine, with some reports indicating limited shipments by Chinese companies to Moscow
World
The suspension of the Pinduoduo app — mainly used in China — comes amid heightened US-China tensions over Chinese-owned apps such as TikTok, which some US lawmakers say could be a national security threat
World
The stalled imports from major Chinese panel suppliers including Trina Solar Co Ltd and Jinko Solar Holding Co Ltd caused major delays in U.S. solar project development at a time when the sector is booming - a setback to the Biden administration's climate goals.