Portugal runs on renewable energy for four days
According to data analysed from the National Energy Network (REN) by ZERO - System Sustainable Land Association in collaboration with the Portuguese Renewable Energy Association (APREN), for four days the consumption of electricity in Portugal was fully covered by renewable sources.
Portugal has made a huge headway in clean energy. The nation consumed electricity only from renewable sources for more than four days, revealed ZERO - System Sustainable Land Association. The organisation, in collaboration with the Portuguese Renewable Energy Association (APREN), analysed data provided by the National Energy Network (REN), to come to the conclusion that between 6.45 am on 7 May, and 5.45 pm on 11 May, the country did not rely on any non-renewable energy source.
According to a report by The World Economic Forum, Portugal was generating only 7.5 percent of its electricity from wind in 2013. In 2015, it increased its production to 22 percent, with clean energy sources like solar energy or wind energy contributing towards almost half of the nation's annual energy requirements.
The landmark rise in temperatures around the world, is pushing more and more nations to adopt clean sources of energy.
Germany too stepped up its game in this department when the country achieved another milestone in its goal to exit coal power before 2050. On 8 May, the solar, wind, hydro and biomass energy sources were supplying 87 percent of the total energy consumption. A Quartz report suggested that on that afternoon, these plants were supplying 55GW of the 63GW consumption owing to which the power prices went negative for several hours, meaning commercial customers were being paid to consume electricity.
A document acquired by Reuters suggested that Germany generated more than a quarter of its electricity from renewable sources — such as wind and solar power — in 2014. The document said the amount of energy produced by green sources should increase by around 75 percent by 2030.
According to a report by The Guardian, in 2015, wind power alone met 42 percent of electricity demand in Denmark, 20 percent in Spain, 13 percent in Germany and 11 percent in the UK.
In fact, in a historic turn, the amount of electricity generated from coal in the UK fell to zero several times in the first week of May 2016.
This was the first time the country had been without electricity from coal, since 1882, according to the Carbon Brief website.
The adoption of clean energy can be a huge step towards curbing global warming. Portugal is hopeful that if it can produce electricity through solar power in spring, then summer should provide it with a greater opportunity to do so.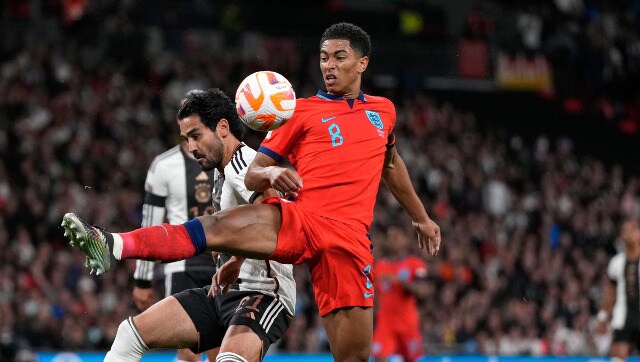 Football
Bellingham's arrival sparked a revival for the Three Lions as England managed to hold Germany to a 3-3 draw after being 2-0 down at one stage.
Football
Germany's UEFA Nations League sqaud will be without Bayern Munich stars Manuel Neuer and Leon Goretzka as the duo return COVID positive after test. The duo has left the camp already.
Photos
Beer is flowing in Germany's Munich as its largest folk festival, Oktoberfest, is back after it sustained two cancellations due to the pandemic. Cheers to that