Pope pays tribute to victims of Nazis, Soviets in Lithuania
By Philip Pullella and Andrius Sytas VILNIUS (Reuters) - Pope Francis paid tribute on Sunday to Jews killed by the Nazis and victims of murder and deportation by the Soviet KGB, in twin visits to memorials marking the darkest periods of Lithuania's history. On the 75th anniversary of the wartime liquidation of the Vilnius ghetto, Francis stopped to pray at a simple stone monument commemorating the 200,000 Lithuanian Jews killed either in the country or in Nazi concentration camps in Europe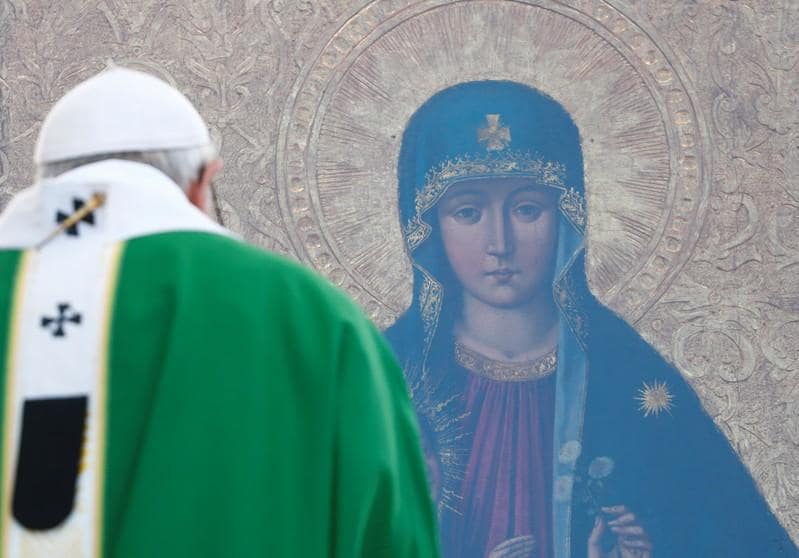 By Philip Pullella and Andrius Sytas
VILNIUS (Reuters) - Pope Francis paid tribute on Sunday to Jews killed by the Nazis and victims of murder and deportation by the Soviet KGB, in twin visits to memorials marking the darkest periods of Lithuania's history.
On the 75th anniversary of the wartime liquidation of the Vilnius ghetto, Francis stopped to pray at a simple stone monument commemorating the 200,000 Lithuanian Jews killed either in the country or in Nazi concentration camps in Europe.
Minutes later, he paid an emotional visit to the nearby Museum of Occupations and Freedom Fights, a former KGB basement jail where Lithuanians who were considered enemies of the Soviet Union were either executed or tortured before being sent to labour camps in Siberia.
A sombre-looking Francis prayed and lit a candle in a room whose walls were lined with pictures of Catholic priests and bishops either killed or tortured in the jail.
He then entered the execution chamber where, according to the Genocide and Resistance Research Centre, more than 1,000 people were killed during the Soviet period. In at least one case, nearly 50 were killed in just one night.
"Your cry, O Lord, is echoed in the cry of the innocent who, in union with you, cry out to heaven," Francis said in a prayer to a crowd outside that included several survivors in their 90s.
The jail, Francis said, evoked the "sorrow and bitterness, of abandonment and powerlessness, of cruelty and meaninglessness" that Lithuanians suffered "as a result of the unrestrained ambition that hardens and blinds the heart."
After Lithuania broke from the Soviet Union in 1991, the remains of nearly 800 people executed in the jail were found in a mass grave in Vilnius.
"This was our nation's Golgotha, a trial of our faith," Bishop Sigitas Tamkevicius, 79, who was imprisoned there in 1983 before spending six years in Soviet labour camps and who accompanied the pope to the jail, told Reuters before the visit.
About 70,000 Lithuanians died at the hands of Soviets.
On Sunday morning in Kaunas, Lithuania's second-largest city, Francis said society should be vigilant for "any whiff" of resurgent anti-Semitism, calling for new generations to be taught the horrors of the Holocaust.
"The Jewish people suffered insults and cruel punishments," Francis told a crowd of about 100,000 at an open-air Mass.
"Let us ... ask the Lord to give us the gift of discernment to detect in time any seed of that pernicious attitude, any whiff of it that can taint the heart of generations that did not experience those times," he said.
Reports of anti-Semitic acts have increased in Europe, coinciding with the rise of populist, right-wing parties in a number of countries.
(Editing by Catherine Evans)
This story has not been edited by Firstpost staff and is generated by auto-feed.
Find latest and upcoming tech gadgets online on Tech2 Gadgets. Get technology news, gadgets reviews & ratings. Popular gadgets including laptop, tablet and mobile specifications, features, prices, comparison.
Business
By Jessica Resnick-Ault NEW YORK (Reuters) - Oil prices strengthened on Wednesday, as OPEC and its allies were seen complying with a pact to cut oil supply in September, even as concerns loomed that recovery in fuel demand will be stalled by soaring global coronavirus cases. Early in the day crude was boosted by a bullish stock market. Even as equities whipsawed on pandemic worries, oil stayed higher, buoyed by expectations that OPEC could staunch a supply glut
Business
By Tina Bellon and C Nivedita (Reuters) - Tesla Inc will further cut the price of its Model S "Long Range" sedan in the United States to $69,420, the electric carmaker's chief executive, Elon Musk, announced in a tweet https://bit.ly/2H0JCP0 on Wednesday. The anticipated drop marks the second time this week Tesla has cut the price for the high-end sedan, following a 4% cut of the Model S's price in the United States on Tuesday to $71,990.
World
By Jeff Mason DES MOINES, Iowa (Reuters) - Under siege over his handling of the novel coronavirus pandemic, President Donald Trump on Wednesday cited what he said was his son's mild bout of the virus as a reason why American schools should reopen as soon as possible. Trump made the comment about his son, Barron, as the president swept into Iowa on a mission to shore up support in battleground states that he won in 2016 but is in danger of losing to Democrat Joe Biden barely three weeks before the election. First lady Melania Trump announced in a statement earlier in the day that the virus that struck both her and her husband had also infected their 14-year-old son