Pope Francis performs impromptu marriage ceremony for two flight attendants on airplane in Chile
It was all in a day's work for the ever-unpredictable Pope Francis. First, he celebrated the first-ever airborne papal wedding, marrying two flight attendants at 36,000 feet during a flight on Thursday to this northern Chilean beachside town. Then after landing, Francis came to the rescue of a policewoman who was thrown from her rearing horse as his popemobile passed by.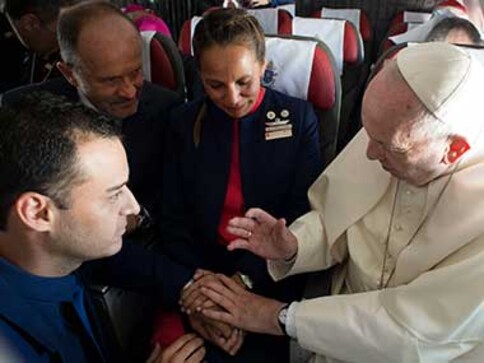 Iquique: It was all in a day's work for the ever-unpredictable Pope Francis.
First he celebrated the first-ever airborne papal wedding, marrying two flight attendants at 36,000 feet during a flight on Thursday to this northern Chilean beachside town.
Then after landing, Francis came to the rescue of a policewoman who was thrown from her rearing horse as his popemobile passed by.
In between, he did what he actually came to do: celebrate Mass for some 50,000 people in a desert-hot field near the town of Iquique.
And as a final gesture to cap a most remarkable day even by Franciscan standards, the 81-year-old Argentine set off a near-national uproar by accusing victims of Chile's most notorious pedophile priest of slander.
Welcome to the Francis papacy, five years on.
It all began with LATAM Flight 1250 from Santiago.
The crew of Chile's flagship carrier was gathering in the first-class section for the usual photo with the pope when flight attendants Paula Podest and Carlos Ciuffardi revealed that they were a married couple. Francis motioned for them to sit next to him for the photo and asked if they had been married in the church.
They told Francis that they had been wed in a civil service in 2010 but had been unable to follow up with a church ceremony because the 27 February, 2010 earthquake that rocked Chile had damaged the church.
Francis then made a proposal of his own: "I'll marry you!" and they readily agreed. The head of the airline served as the witness.
"He told me it's historic, that there has never before been a pope who married someone aboard a plane," the 41-year-old groom told journalists aboard the flight after he exchanged his "I do's" with his beaming bride.
Ciuffardi said the pope also told them: "This is the sacrament that is missing in the world, the sacrament of marriage. May this motivate others to get the sacrament of marriage. I'll do it for this reason."
Ciuffardi and the 39-year-old Podest have two children, 6-year-old Rafaela and 3-year-old Isabela. They said they plan to take a "mini-honeymoon" and return to Santiago on Friday.
The airborne wedding came about spontaneously, as is often the case with the ever-surprising Francis.
"We told him that we are husband and wife, that we have two daughters and that we would have loved to receive his blessing," Ciuffardi said. "All of a sudden he asked us if we were married in the church, too."
The couple explained that their church's bell tower had fallen during the quake, forcing the cancellation of the church service. One thing led to another, and they never followed up.
"He liked us and he asked, 'Do you want me to marry you?'" Ciuffardi said. "He asked: 'Are you sure?' 'Yes, of course!' we said."
A Vatican official then hastily drew up an official, albeit handwritten, marriage certificate, stating that the two had consented to the sacrament of marriage on 18 January, 2018, and that Francis had blessed it "aboard the papal plane from Santiago to Iquique."
Recounting the story to the 70 or so journalists who travel with the pope on his foreign trips, Podest said Francis offered a bit of advice to the not-so-newlyweds.
"He also said that the wedding rings shouldn't be too tight, because they'll torture you, but that if they're too loose, they'll fall off. So we have to be careful," she said blushing.
She said she and Ciuffardi also told the pope that when they first started dating, she was his boss at LATAM. Francis asked if she was still the boss, and both readily agreed.
"And that's why the marriage works," Ciuffardi said.
An hour after the impromptu ceremony, after the flight attendants had passed through the cabin with breakfast trays of fruit cups and warmed croissants, coffee and tea, the plane landed in Iquique and the happy couple bid the passengers farewell.
"We hope you had a good flight," Podest said.
Francis then moved on to the real purpose of his visit, celebrating Mass for the region's migrant community.
During his homily, he urged the Chilean government to continue welcoming migrants and caring for the least fortunate among them, saying, "There is no Christian joy when doors are closed."
The Argentine pope, who has frequently called on wealthy countries to welcome migrants and refugees, praised Iquique for having been a "land of dreams" for so many newcomers. And he urged Chile to continue to be a place of hospitality, employment and justice, especially for migrants, who are often exploited.
"Let us be attentive to the lack of steady employment, which destroys lives and homes," he said. "Let us be attentive to those who profit from the irregular status of many immigrants who don't know the language or who don't have their papers in order."
After the Mass, as his entourage headed back to Iquique, Francis had a scare when a police horse reared up just as his popemobile was passing by, throwing the rider and forcing the pope's driver to swerve slightly to get out of the way.
Francis, who wasn't hurt, had his driver stop so he could get out to check on the officer, described by the Vatican as a Chilean policewoman.
Francis stayed with her, bending down to speak with her, until an ambulance arrived. The Vatican said the rider remained conscious "and received some words of consolation from the Holy Father."
After she was taken away, Francis resumed his ride.
It was the second such incident in recent months. Francis got a black eye in Cartagena, Colombia, in September when his popemobile stopped short and he hit his head on the side rail. He cut his eyebrow and wore a cassock stained with a few drops of blood for the rest of the day.
Francis has insisted on using minimally covered popemobiles on his foreign visits so he can be close to his flock. But Thursday's incident again underscored his vulnerability in the open-sided vehicles that often pass through tight, crowded spaces.
Earlier in the trip, Francis was hit in the head with a flying object that someone in the crowd had thrown toward him. He wasn't hurt, and the Vatican later revealed the offending object: A rolled up canvas hat with the words "Pray for the Chilean family."
Francis' visit though ended on a sour note for many in Chile, as he was asked by a Chilean reporter about his controversial decision to appoint a bishop accused of helping keep quiet about the crimes of Chile's most prominent sexual abuser, the Reverend Fernando Karadima.
Francis said that until he sees proof that Bishop Juan Barros was complicit in covering up Karadima's crimes, accusations of complicity by the victims of against Barros are "all calumny."
Patricio Navia, political science professor at Diego Portales University in Santiago, said the comment will likely erase any good will the pope had won over the issue.
World
On Friday, a Bloomberg report stated that the Tesla CEO and other billionaires had collectively lost $1.4 trillion in the first six months of 2022. Musk saw his fortunes plummet by $62 billion in the period
Sports
India came into this match in Aquileia after haplessly going down to hosts Italy 0-7 in the opening fixture.
First Cricket News
The ICC and ECB have both approved the launch of the camera on short-leg fielder's helmet.