Pope decrees Italian judge murdered by Mafia can be beatified
VATICAN CITY (Reuters) - Pope Francis decreed on Tuesday that Italian judge Rosario Livatino, who was killed by the Mafia in Sicily in 1990, was a martyr for the faith and could be beatified, or declared 'Blessed'. Livatino, who was a devout Roman Catholic, was gunned down after a Mafia hit squad ran his car off the road as he was driving on a Sicilian highway. Known as the 'boy judge' because he looked younger than his 37 years, Livatino had led many investigations into the mob at a time when Sicilian clans were involved in a full-blown war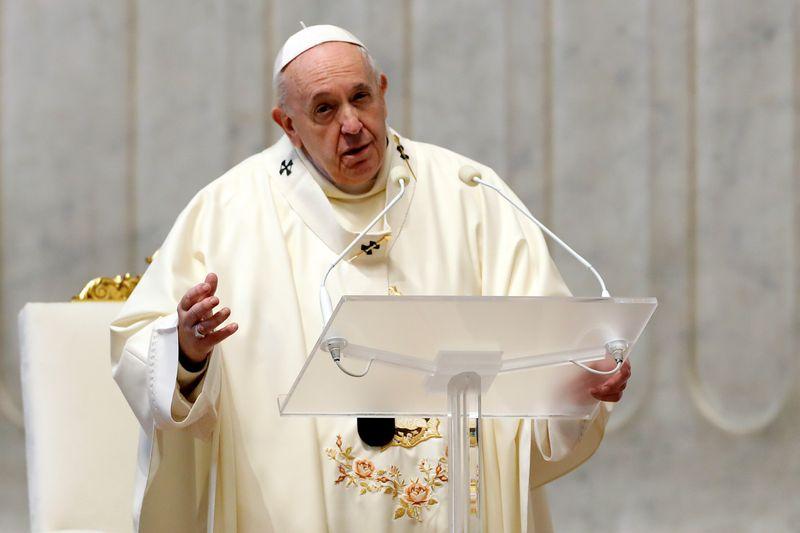 VATICAN CITY (Reuters) - Pope Francis decreed on Tuesday that Italian judge Rosario Livatino, who was killed by the Mafia in Sicily in 1990, was a martyr for the faith and could be beatified, or declared "Blessed".
Livatino, who was a devout Roman Catholic, was gunned down after a Mafia hit squad ran his car off the road as he was driving on a Sicilian highway.
Known as the "boy judge" because he looked younger than his 37 years, Livatino had led many investigations into the mob at a time when Sicilian clans were involved in a full-blown war.
The decree of martyrdom proposed by the Vatican's Congregation for the Causes of Saints and approved by the pope means there is no need for a miracle to be attributed to Livatino's intercession with God for him to be beatified.
A miracle would have to be attributed to Livatino in order for him to be declared a saint.
The Roman Catholic Church teaches that only God performs miracles, but that saints who are believed to be with God in heaven intercede on behalf of people who pray to them. A miracle is usually the medically inexplicable healing of a person.
(Reporting by Philip Pullella; Editing by Mark Heinrich)
This story has not been edited by Firstpost staff and is generated by auto-feed.
Find latest and upcoming tech gadgets online on Tech2 Gadgets. Get technology news, gadgets reviews & ratings. Popular gadgets including laptop, tablet and mobile specifications, features, prices, comparison.
World
By Kate Holton LONDON (Reuters) - The post-Brexit woes facing Scotland's fishing industry deepened on Saturday as its biggest logistics provider, DFDS Scotland, said it would halt exports to the European Union through one of its main services until at least Wednesday. Previously the company had said it would take until Monday to resume its "groupage" export service - which allows exporters to ship multiple products in a single consignment - while it tries to fix IT issues, paperwork errors and a backlog of goods. DFDS's move represents another blow for Scottish fishermen who this week warned that their businesses could become unviable after Britain shifted to a less integrated trade deal with the EU at the turn of the year
World
VATICAN CITY (Reuters) - Pope Francis said on Saturday he planned to be vaccinated against COVID-19 as early as next week and urged everyone to get a shot, to protect not only their own lives but those of others.
World
By Rich McKay (Reuters) - A man photographed carrying off the Speaker's lectern during the Capitol Hill riots was arrested late Friday, while a top Democratic lawmaker on Saturday called on mobile carriers to preserve social media content related to the riots. Dozens of people have been charged following the storming of the Capitol on Wednesday, with the FBI asking the public for help identifying participants, given the proliferation of images of the riots on the internet.