Pompeo tells Trudeau U.S. focused on release of two Canadians in China
By David Ljunggren and Steve Scherer OTTAWA (Reuters) - U.S. Secretary of State Mike Pompeo on Thursday assured Canadian Prime Minister Justin Trudeau that American officials were working to free two Canadian men who have been held by China since late last year. The pair, now facing espionage charges, were detained after Canadian police picked up Huawei Technologies Co Chief Financial Officer Meng Wanzhou in Vancouver last December on a U.S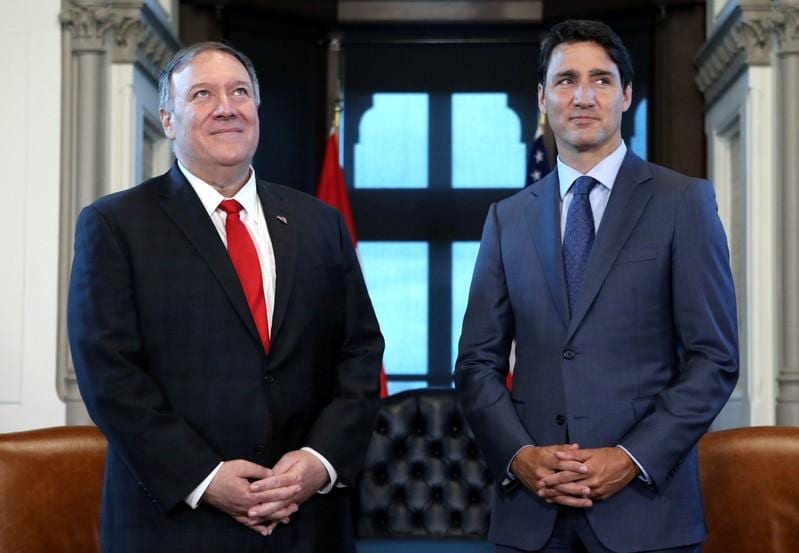 By David Ljunggren and Steve Scherer
OTTAWA (Reuters) - U.S. Secretary of State Mike Pompeo on Thursday assured Canadian Prime Minister Justin Trudeau that American officials were working to free two Canadian men who have been held by China since late last year.
The pair, now facing espionage charges, were detained after Canadian police picked up Huawei Technologies Co Chief Financial Officer Meng Wanzhou in Vancouver last December on a U.S. arrest warrant.
Trudeau's government has pressed Washington to do more for the men. Pompeo said U.S. President Donald Trump had raised the case directly with Chinese President Xi Jinping during a meeting in late June.
"Please do note that our team is focused on helping those two Canadians be released," Pompeo said at the start of a meeting in Ottawa with Trudeau and Canadian Foreign Minister Chrystia Freeland. "It's wrong that they are being held."
Pompeo later said the United States had made clear from the start that the detention of the two men had been inappropriate.
"We have engaged in other diplomatic activity, trying to help make the case for the release of these two," he told a news conference at the end of the talks.
"We will continue to do that until such time as they are home and have been returned to their families."
Pompeo was visiting Ottawa for the day ahead of a weekend summit of the Group of Seven leading industrialized nations in France where relations with China are set to be discussed.
The United States is locked in a trade war with China that is upsetting world markets.
Asked whether Washington saw Meng as a bargaining chip in the dispute, Pompeo replied "No".
Freeland reiterated Canada's position that it would not ask the United States to drop its request for Meng's extradition. She faces U.S. charges of conspiring to defraud global banks about Huawei's relationship with a company operating in Iran.
Trudeau said on Wednesday his government had no intention of backing down in the dispute with China and would defend Canada's interests.
In response, the Chinese embassy in Ottawa on Thursday blamed Canada for "gross difficulties" in bilateral ties and demanded the release of Meng.
Freeland and Pompeo also discussed the crisis in Venezuela, where President Nicolas Maduro is resisting international pressure to step down and allow elections to take place.
Freeland said she would travel to Cuba next week to discuss possible ways of ending the crisis.
Pompeo's visit is the latest indication of how bilateral ties have improved since hitting a low point in June 2018 when Trump called the Canadian leader weak and dishonest.
The United States, Mexico and Canada signed a new continental trade pact in November. But the U.S.-Mexico-Canada (USMCA) treaty still needs to be ratified by Canada and the United States, where some Democrats have expressed concerns about the pact's provisions on labour.
"I want to reiterate we need to get the USMCA wrapped up and we need our parliaments both to ratify them. It will be good for the people all across North America," Pompeo said at the start of the meeting with Trudeau.
(Reporting by David Ljunggren and Steve Scherer; Editing by Steve Orlofsky and Tom Brown)
This story has not been edited by Firstpost staff and is generated by auto-feed.
Find latest and upcoming tech gadgets online on Tech2 Gadgets. Get technology news, gadgets reviews & ratings. Popular gadgets including laptop, tablet and mobile specifications, features, prices, comparison.
Business
By Jessica Resnick-Ault NEW YORK (Reuters) - Oil prices strengthened on Wednesday, as OPEC and its allies were seen complying with a pact to cut oil supply in September, even as concerns loomed that recovery in fuel demand will be stalled by soaring global coronavirus cases. Early in the day crude was boosted by a bullish stock market. Even as equities whipsawed on pandemic worries, oil stayed higher, buoyed by expectations that OPEC could staunch a supply glut
Business
By Tina Bellon and C Nivedita (Reuters) - Tesla Inc will further cut the price of its Model S "Long Range" sedan in the United States to $69,420, the electric carmaker's chief executive, Elon Musk, announced in a tweet https://bit.ly/2H0JCP0 on Wednesday. The anticipated drop marks the second time this week Tesla has cut the price for the high-end sedan, following a 4% cut of the Model S's price in the United States on Tuesday to $71,990.
World
By Jeff Mason DES MOINES, Iowa (Reuters) - Under siege over his handling of the novel coronavirus pandemic, President Donald Trump on Wednesday cited what he said was his son's mild bout of the virus as a reason why American schools should reopen as soon as possible. Trump made the comment about his son, Barron, as the president swept into Iowa on a mission to shore up support in battleground states that he won in 2016 but is in danger of losing to Democrat Joe Biden barely three weeks before the election. First lady Melania Trump announced in a statement earlier in the day that the virus that struck both her and her husband had also infected their 14-year-old son