Pompeo sees 'bumpy' North Korea talks, but hopes for several more chances
By David Brunnstrom WASHINGTON (Reuters) - U.S.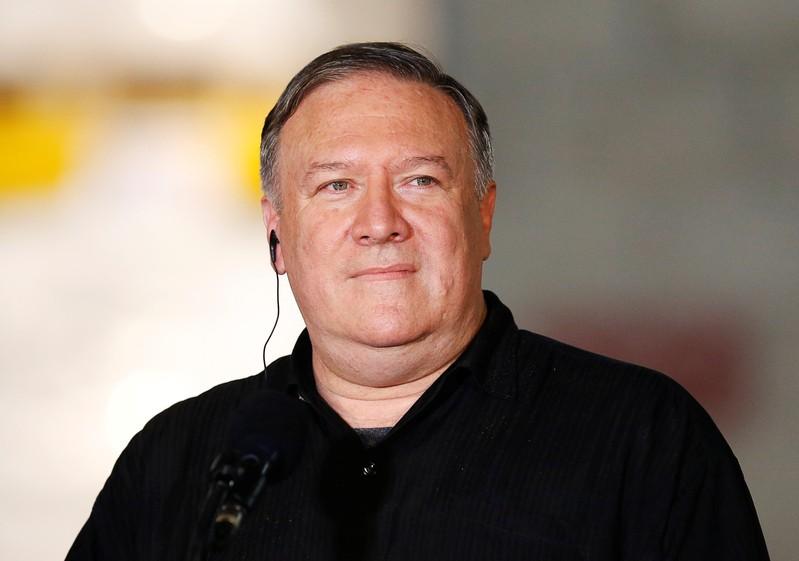 By David Brunnstrom
WASHINGTON (Reuters) - U.S. Secretary of State Mike Pompeo said on Wednesday that U.S. talks with North Korea would be "bumpy," but expressed hope there would be several more chances to discuss how to move forward to the country's denuclearisation.
In an interview with CBS News, Pompeo said North Korea's possession of nuclear weapons put it at risk rather than making it safe.
The outcome hinged ultimately on whether North Korean leader Kim Jong Un made the strategic decision to give up his country's nuclear weapons, Pompeo said.
"It's an enormous challenge for that country to make its shift," he said. "It has for an awfully long time told its people that those nuclear weapons were the thing that kept them secure. They now need to shift to the narrative to 'those are the things that put them at risk.'"
He said both sides had learned a lot from a second summit between Kim and U.S. President Donald Trump in Hanoi in February, which broke down without agreement on the denuclearisation demanded by the U.S. side and sanctions relief sought by the North Koreans.
Pompeo said that in Hanoi, "there was a lot more nuance to the conversation than just, 'Hey they had a position, we had a position; we walked away.'"
"We hope we can build on that. ... we're very focussed on getting the right set of incentives – for both sides - so we can achieve the objective. It's going to be bumpy, it's going to be challenging. I hope that we get several more chances to have serious conversations about how we can move this process forward."
The future of U.S. engagement with North Korea has appeared to be in limbo since the Vietnam summit, with no sign of direct contact between the two sides, although Pompeo has said they have discussed how to move forward.
On Wednesday, Kim arrived in Vladivostok, Russia, for a summit with Russian President Vladimir Putin.
With negotiations with Washington stalled, Pyongyang is looking for alternative sources of international support, including from Russia, and for possible relief from sanctions.
In the CBS interview, Pompeo brushed aside a call last week by a North Korea official for him to be replaced in talks by someone more mature, saying it had come from "a mid-level guy." Pompeo said last week he would remain in charge of the U.S. negotiating team.
He did not respond to reports saying his North Korean counterpart in previous talks, Kim Yong Chol, had been sidelined since Hanoi.
(Reporting by David Brunnstrom; Editing by Peter Cooney)
This story has not been edited by Firstpost staff and is generated by auto-feed.
Find latest and upcoming tech gadgets online on Tech2 Gadgets. Get technology news, gadgets reviews & ratings. Popular gadgets including laptop, tablet and mobile specifications, features, prices, comparison.
Business
By Diptendu Lahiri (Reuters) - Gold prices surged to their highest since October 2012 on Tuesday, driven by a weakness in the U.S. dollar and widespread monetary stimulus packages by central banks as a jump in coronavirus cases dents the economic outlook
Business
By David Shepardson WASHINGTON (Reuters) - India's ministry of civil aviation said on Tuesday it was considering allowing some international carrier flights to resume after Washington accused India of "unfair and discriminatory practices." The Indian ministry said in a statement posted on Twitter that as "we move from controlled and managed aviation evacuation of our citizens in different parts of the world and foreign nationals from India, we are now looking at the possibility of establishing bilateral arrangements." The U.S. Transportation Department issued an order Monday to require Indian air carriers to apply for authorization prior to conducting charter flights beginning in 30 days. The department sought "to restore a level playing field for U.S.
Business
By Devik Jain and Medha Singh (Reuters) - Wall Street's three major indexes rose on Tuesday as improving economic data and the prospect of more stimulus bolstered hopes of a swift recovery, while a jump in technology shares powered the Nasdaq to another record high. White House advisor Larry Kudlow said tax rebates and direct mail checks are on the table in the next coronavirus relief bill.