Pompeo reassures Netanyahu U.S. will ensure Israel's military advantage
By Dan Williams JERUSALEM (Reuters) - The United States will ensure Israel retains a military advantage in the Middle East under any future U.S. arms deals with the United Arab Emirates, U.S.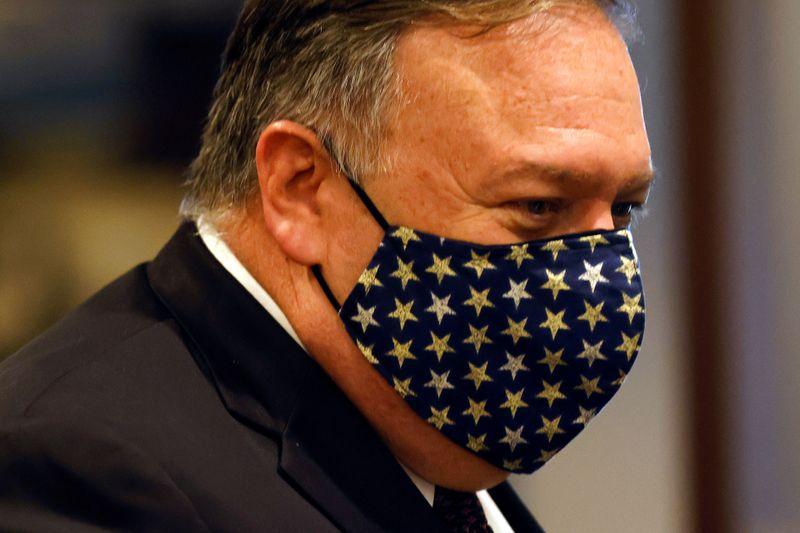 By Dan Williams
JERUSALEM (Reuters) - The United States will ensure Israel retains a military advantage in the Middle East under any future U.S. arms deals with the United Arab Emirates, U.S. Secretary of State Mike Pompeo said on Monday.
"The United States has a legal requirement with respect to qualitative military edge. We will continue to honour that," Pompeo told reporters after a meeting with Prime Minister Benjamin Netanyahu.
Netanyahu said he had been reassured on the issue by Pompeo, who began a Middle East visit in Jerusalem that will showcase U.S. support for Israeli-Arab peace efforts and building a front against Iran. It will also include Sudan, the UAE and Bahrain.
A U.S.-brokered deal on normalising relations between Israel and the UAE was announced on Aug. 13. But there has been some dissent in Israel over the prospect of the Gulf power now obtaining advanced U.S. weaponry such as the F-35 warplane.
Speaking on CNN on Saturday, senior White House adviser Jared Kushner said the UAE had been trying to get the F-35 for a long time.
"This new peace agreement should increase the probability of them getting it. But it's something we're reviewing," he said.
Pompeo said Washington had provided the UAE with military support for more than 20 years, measures he described as needed to stave off shared threats from Iran - also Israel's arch-foe.
"We're deeply committed to doing that, to achieving that and we'll do it in a way that preserves our commitment to Israel and I'm confident that objective will be achieved," Pompeo said.
Bruised by the U.N. Security Council's rejection of a U.S. draft resolution for extending an arms embargo on Iran, the Trump administration is seeking a "snapback" of U.N. sanctions that had been eased as part of a 2015 nuclear deal with Tehran.
"We are determined to use every tool that we have to ensure that they (Iran) can't get access to high-end weapons systems," Pompeo said. "We think it's in the best interest of the whole world."
The Palestinians warned the Trump administration against trying to sideline them in the Middle East diplomatic push.
"Recruiting Arabs to recognise Israel and open embassies does not make Israel a winner," Palestinian negotiator Saeb Erekat said in an interview with Reuters. "You are putting the whole region in a lose-lose situation because you are designing the road for a forever conflict in the region."
(Writing by Jeffrey Heller; Editing by Maayan Lubell and Angus MacSwan)
This story has not been edited by Firstpost staff and is generated by auto-feed.
Business
By Katanga Johnson WASHINGTON (Reuters) - Global equities set both an intraday high and record close on Tuesday as markets as investors weighed the latest U.S. economic data for signs of a rebound and rising inflation while Wall Street's main indexes wavered before ending little changed. Graphic: Global asset performance http://tmsnrt.rs/2yaDPgn Energy shares were among the best performing during the session as the OPEC+ alliance agreed to hike output in July and gave a bullish forecast.
Business
(Reuters) - Zoom Video Communications Inc reported better-than-expected quarterly revenue on Tuesday, benefiting from steady demand for its video-conferencing platform as people wary of the pandemic continued school and work from home. Zoom became a household name during the pandemic as businesses and schools switched to its video conferencing platform for virtual classes, office meetings and social catch-ups.
World
By Michele Kambas NICOSIA (Reuters) -Cyprus's ruling conservatives emerged as winners but failed to get an absolute majority in a parliamentary election on Sunday, with voters turning to smaller parties, including a right-wing party with links to Greece's now outlawed Golden Dawn.