Political cost of prosecuting Hafiz Saeed too high, says former ISI chief Asad Durrani
The cost of prosecuting Mumbai terror attacks mastermind and banned Jamaat-ud-Dawah (JuD) head Hafiz Saeed is too great, says former ISI chief Asad Durrani.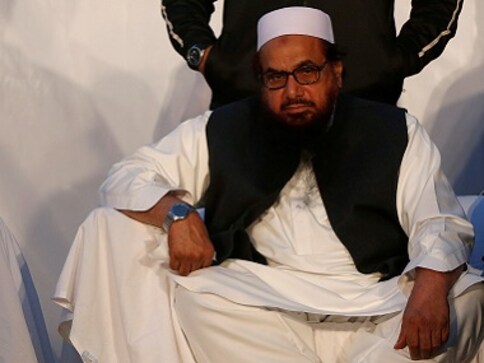 New Delhi: The cost of prosecuting Mumbai terror attacks mastermind and banned Jamaat-ud-Dawah (JuD) head Hafiz Saeed is too great, says former ISI chief Asad Durrani. "If you prosecute Saeed, the first reaction will be: it's on India's behalf, you're hounding him, he's innocent, etc. The political cost is big, now," he says. Durrani, 77, mentions this in a new book in which he features in conversation with former RAW chief A S Dulat and the two discuss topics including everything related to India-Pakistan ties: the surgical strikes, Kulbhushan Jadhav, Nawaz Sharif, Kashmir and Burhan Wani.
When Dulat asks him, what is Saeed's value to Pakistan, Durrani replies, "The cost of prosecuting him is too great."
Saeed, who carries a $10 million American bounty for his role in terror activities, was under house arrest from January to November last year. The JuD is believed to be the front organisation for the banned Lashkar-e-Taiba (LeT) which is responsible for carrying out the Mumbai attacks in 2008 in which 166 people, including six Americans, were killed.
Saeed was declared a global terrorist by the US and the UN after the Mumbai strikes and was put under house arrest in November 2008 but freed by a court some months later. "He was taken to the courts though they had nothing (new) against him. It is still possible that he was detained to let the storm blow over. In six months, he could come out," writes Durrani about Saeed's detention.
In the book, published by Harper Collins India, Dulat and Durrani are in conversation with Aditya Sinha. On asked by Dulat if Saeed's house arrest was choreographed, Durrani says, "What's new, as far as Hafiz Saeed is concerned, is more evidence available? One would expect that there's an arrangement with Hafiz Saeed.
Asked if there were any positive implications for India-Pakistan relations from Saeed's house arrest, he says, "There are very few positives on the India-Pakistan front right now. But this can provide breathing space to a country that is constantly under pressure." Meanwhile, Pakistan's powerful army has accused Durrani of 'violating' the military code of conduct and has summoned him on Monday seeking clarification over his book "The Spy Chronicles: RAW, ISI and the Illusion of Peace".
Durrani mentions in the book that Mumbai remains the only incident in which he decided that he would be available to any Indian and Pakistani channel to say that whoever has done this, be it state-sponsored, ISI-sponsored, military-sponsored, should be caught hold of and punished.
"It's not only about those 168 people dead, four days of carnage, etc. At the time Pakistan could ill afford its eastern front caught in a war. There were enough problems in the West and within the country. I don't know who did it, but there were questions that David Headley named an ISI major. It created difficulties for us," he says. On reports that Headley collaborated with Saeed, he says, people can go ahead and investigate as all these stories have floated around.
"For eight years, both of us have advocated joint investigation, joint trial, intelligence sharing, get on with the anti-terrorism mechanism, etc, for the simple reason that we can't do anything until and unless this is resolved. Till then, Hafiz Saeed, ISI, Jaish-e-Mohammed: it's possible they had nothing to do with it, that there's a third or fourth or fifth party involved," he says.
India
The two Pak-trained terrorists, who were arrested on 14 September, revealed that he had allegedly arranged their transportation to Pakistan and radicalised them to be part of the terror module
World
Shamima Begum was one of three east London schoolgirls who traveled to Syria in 2015. She has said she married an IS member from the Netherlands and had three children, all of whom have died
First Cricket News
Raja, who was formally appointed into the role on Monday, also said that PCB was in no hurry to resume bilateral ties with BCCI as their priority was the country's domestic cricket.