Polish cabinet reshuffle boosts control over state companies
WARSAW (Reuters) - Poland's nationalist Law and Justice (PiS) party announced its governing cabinet lineup on Friday after winning a parliamentary election last month, setting out plans to consolidate control over state-owned utilities and financial companies. Prime Minister Mateusz Morawiecki, a former banker, kept his job, but PiS dissolved the energy ministry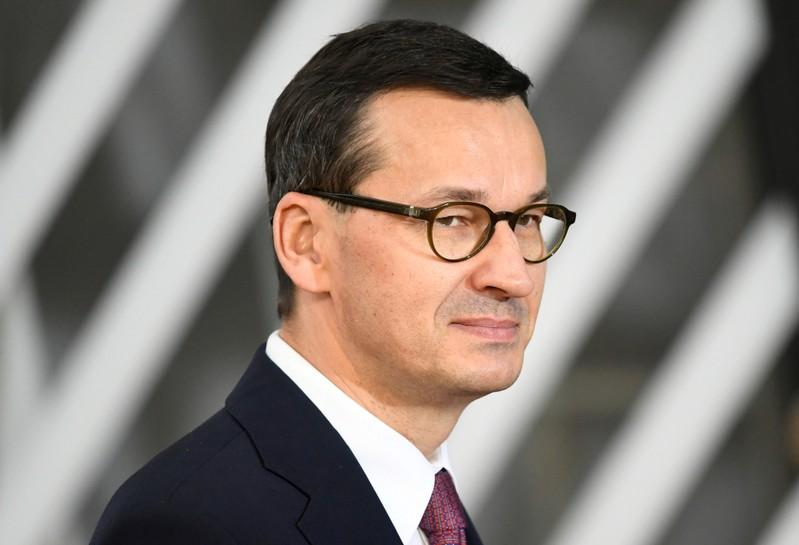 WARSAW (Reuters) - Poland's nationalist Law and Justice (PiS) party announced its governing cabinet lineup on Friday after winning a parliamentary election last month, setting out plans to consolidate control over state-owned utilities and financial companies.
Prime Minister Mateusz Morawiecki, a former banker, kept his job, but PiS dissolved the energy ministry. Its responsibilities for energy and mining companies will be transferred to a new treasury ministry to oversee state assets.
"It is about making use of all reserves, including those which are part of the state treasury, which is in our vital interest," Prime Minister Mateusz Morawiecki told reporters late on Friday.
PiS also created a new climate ministry headed by COP 24 president Michal Kurtyka, amid growing pressure for the EU to fight climate change.
PiS, a socially conservative grouping with a left-leaning economic agenda, had sought to increase the government's control over the economy after winning the previous election in 2015.
It kept large state assets such as PZU , central Europe's biggest insurer, and bank PKO BP , overseen by different ministries, controlled by competing factions within the ruling camp.
In the new cabinet, deputy prime minister Jacek Sasin will lead a treasury ministry which will manage state assets worth billions of euros.
The long-standing ally of Morawiecki - Jerzy Kwiecinski - will leave his post as finance minister and be replaced by Tadeusz Koscinski, a former deputy finance minister.
(Reporting by Marcin Goclowski, Agnieszka Barteczko, Alan Charlish, and Pawel Florkiewicz; Editing by Chris Reese, Justyna Pawlak and Chizu Nomiyama)
This story has not been edited by Firstpost staff and is generated by auto-feed.
Find latest and upcoming tech gadgets online on Tech2 Gadgets. Get technology news, gadgets reviews & ratings. Popular gadgets including laptop, tablet and mobile specifications, features, prices, comparison.
World
ANKARA (Reuters) - Turkey's daily death toll from the coronavirus hit a record high of 141 on Friday, according to data from the Health Ministry, as the country braced for nationwide measures amid a surge in cases in recent weeks. The data showed 5,103 new COVID-19 patients were recorded in the country, while the overall death toll rose to 12,084. Since July, Ankara has only reported symptomatic COVID-19 patients, a move critics say hides the true scale of the outbreak.
World
TBILISI (Reuters) - A gunman has released unharmed all nine hostages he had taken at a microfinance organisation in the Georgian capital Tbilisi on Friday, police said. According to preliminary information, the gunman was not demanding a ransom but had some social demands, including lower prices for medicines
World
By Matthias Williams KYIV (Reuters) - Thousands of people silently raised their arms in the air, held flowers aloft and broke into chants outside a church in Minsk on Friday at the funeral of a Belarusian protester. The death of 31-year-old Roman Bondarenko has become a flashpoint in months-long mass protests against President Alexander Lukashenko. Witnesses said Bondarenko was detained after a scuffle with people in plain clothes who came to a playground to remove red-and-white ribbons representing the protest movement