Police evacuating Ubisoft's Montreal office building in ongoing operation
By Allison Lampert and Christinne Muschi MONTREAL (Reuters) - Police on Friday were evacuating a building housing French video game maker Ubisoft's Montreal offices amid news media reports of a possible hostage situation, and asked people to stay away. 'No threat has been identified for now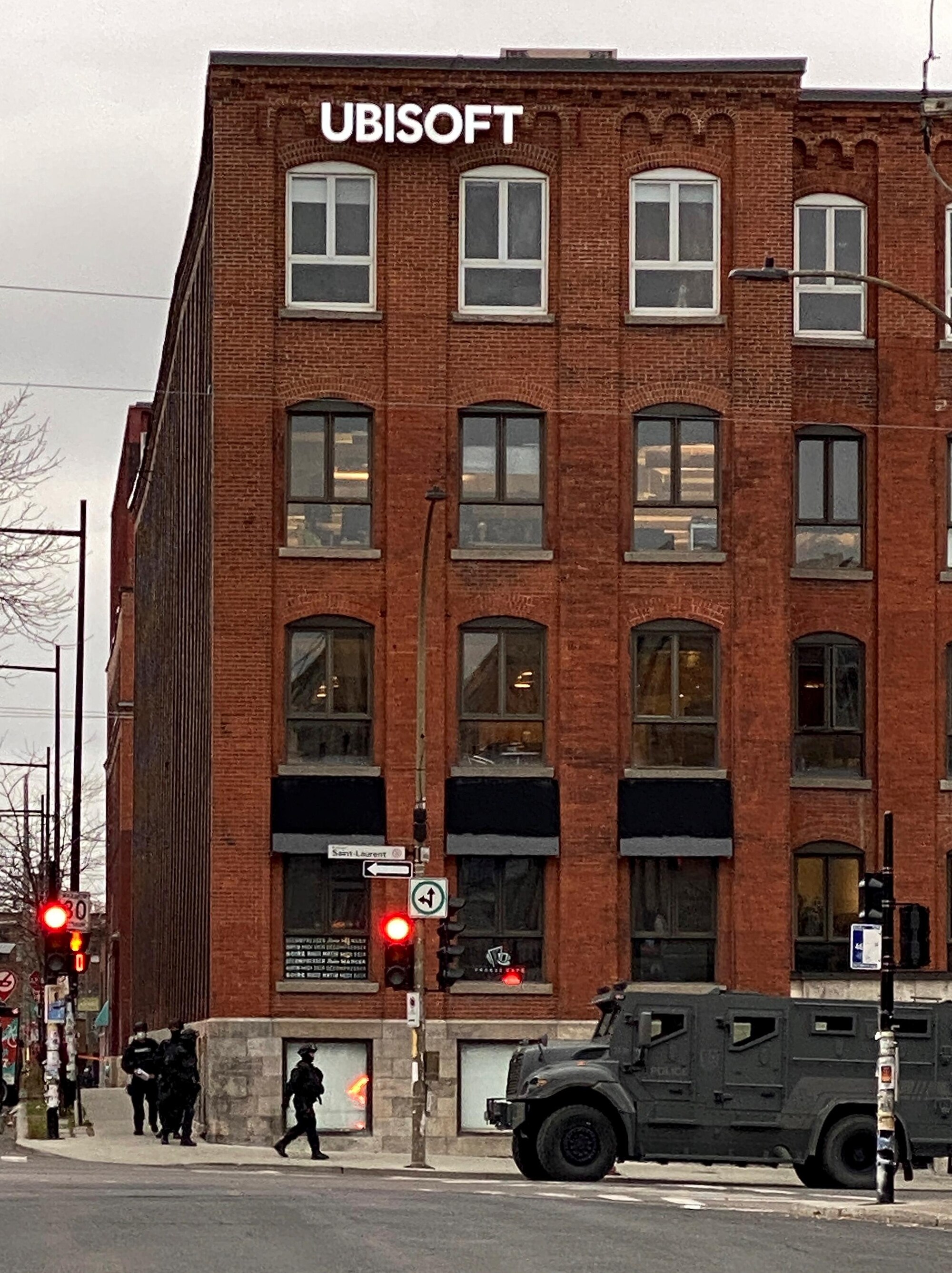 By Allison Lampert and Christinne Muschi
MONTREAL (Reuters) - Police on Friday were evacuating a building housing French video game maker Ubisoft's Montreal offices amid news media reports of a possible hostage situation, and asked people to stay away.
"No threat has been identified for now. We are currently evacuating the building," Montreal's police force posted on its official Twitter account, after announcing an ongoing operation at the corner of Saint-Laurent Boulevard and St. Viateur Street.
Officers were sent to the location after a 911 emergency call, an earlier tweet from police said, adding that no injuries had been reported.
The center of the operation is the building that houses Ubisoft's Montreal offices, among other companies.
"We are aware of the situation and we are working closely with Montreal authorities," Ubisoft spokeswoman Heather Steele said in an email to Reuters.
Aerial footage taken by the Quebec French-news chain LCN showed people gathered on the rooftop terrace of the building, along with heavy objects left at the door to block it.
A Ubisoft employee, Eric Pope, tweeted a screen grab from LCN's footage of people gathered on a rooftop.
"This is insane. This is my team on the roof," Pope wrote in the tweet. According to his LinkedIn profile, he is a senior community developer at Ubisoft Montreal. Pope did not respond to a request for comment.
A Ubisoft employee told CTV News station in Canada that employees at the office were instructed via a company memo to hide in an area that locks and to keep quiet.
Police officers in combat gear, as well as armored vehicles and ambulances, surrounded the red brick building in Montreal's Mile End neighborhood north of downtown.
(Reporting by Allison Lampert and Christinne Muschi Montreal; Writing by Moira Warburton; Editing by Denny Thomas and Jonathan Oatis)
This story has not been edited by Firstpost staff and is generated by auto-feed.
Find latest and upcoming tech gadgets online on Tech2 Gadgets. Get technology news, gadgets reviews & ratings. Popular gadgets including laptop, tablet and mobile specifications, features, prices, comparison.
World
MUNICH/FRANKFURT (Reuters) - German police fired water cannon during an anti-lockdown rally in Frankfurt on Saturday and eventually broke up the gathering as rules like wearing masks and socially distancing were not observed. About 600 people from the loosely organized Querdenker movement that opposes the government's measures to halt the rise in coronavirus infections took to the streets in Frankfurt.
World
By Christian Hartmann PARIS (Reuters) - A silk shoe that belonged to Marie Antoinette, the last queen of France who was executed during the French Revolution, will go up for auction on Sunday - with a starting price of 10,000 euros ($11,800).
World
By Juarawee Kittisilpa and Matthew Tostevin BANGKOK (Reuters) - Thailand's King Maha Vajiralongkorn told well-wishers of the importance of unity as he marked the opening of a new railway line on Saturday, after thousands of protesters had turned their backs on his motorcade as it passed through central Bangkok. Around 2,500 demonstrators had gathered at the capital's Democracy Monument in the latest of months of protests against Prime Minister Prayuth Chan-ocha, demanding changes to the constitution as well as reforms of the monarchy. The protesters draped the centrepiece of the monument, which has become a rallying point for the protests, in a cloth covered in grievances and insults