Poland's ruling nationalists signal they could weaken court reforms
WARSAW (Reuters) - Poland's ruling nationalists signalled on Thursday they plan to water down legislation allowing for judges to be disciplined for questioning judicial reforms, in an apparent attempt to ease a dispute between Brussels and Warsaw over democratic standards. The European Union has accused the ruling Law and Justice (PiS) party of politicising the judiciary ever since it came to power in 2015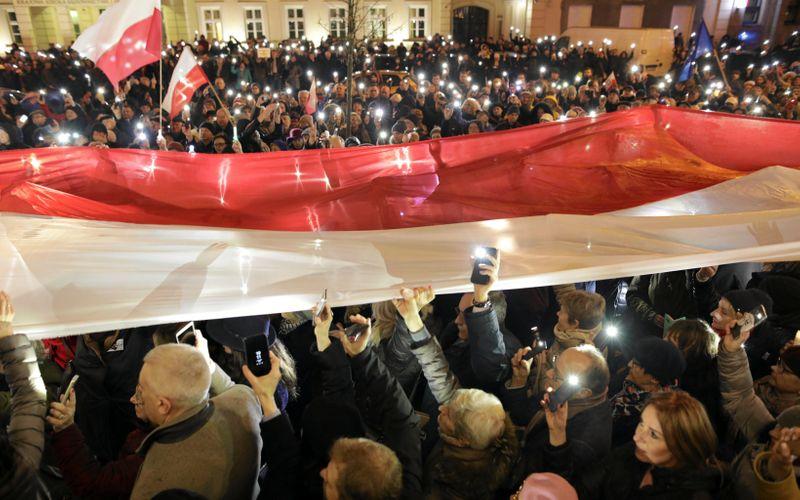 WARSAW (Reuters) - Poland's ruling nationalists signalled on Thursday they plan to water down legislation allowing for judges to be disciplined for questioning judicial reforms, in an apparent attempt to ease a dispute between Brussels and Warsaw over democratic standards.
The European Union has accused the ruling Law and Justice (PiS) party of politicising the judiciary ever since it came to power in 2015. PiS argues that the reforms are necessary to make Poland's courts more efficient.
The nationalist government has introduced draft legislation providing for the disciplining of judges who have questioned the independence of peers nominated by a panel set up under new rules drawn up by the PiS-dominated parliament.
The EU's top court said last month it was up to Poland's Supreme Court to decide whether the panel was independent, and the Supreme Court has ruled that in its view the panel was neither impartial nor independent.
One of PiS's smaller partners, Porozumienie, which depicts itself as a pro-business party, has since come under opposition pressure to partially block the reform. Porozumienie recently impeded another reform planned by the PiS.
On Thursday state news agency PAP quoted Porozumienie head Jaroslaw Gowin as saying that ruling politicians would adopt amendments to the bill aimed at removing its two most criticized parts.
These are disciplinary measures against judges questioning legitimacy of their peers appointed by the new panel, and a part of the bill that forced judges to reveal the names of social media accounts they use under pseudonyms.
"There's an agreement ... amendments (to the proposed bill) will be adopted," Gowin was quoted as saying by PAP.
On Wednesday thousands of people poured onto the streets to protest against what they saw as an attempt by PiS to further browbeat judges. On Thursday the lower house of parliament started the debate on the judicial reforms.
PiS, which won a second term in October, says it will continue the reforms to try to rid the judiciary of communist leftovers, despite EU criticism over adherence to the rule of law and threats to cut off vital EU funding.
During the parliamentary debate, opposition parties accused the PiS of using the new legislation as a tool to intimidate judges so they rule in line with the party's expectations.
"The real reason is your panic attempt to escape the accountability. You know that the time of your defeat is coming and you will be held accountable at Polish courts for all your scandals," opposition MP Borys Budka told deputies.
Parliament's Bureau Of Research on Tuesday wrote an opinion in which it said the draft law as it stood could be in breach of EU law, specifically calling into question the independence and impartiality of the court and judges.
(Reporting by Marcin Goclowski; additional reporting by Joanna Plucinska, Editing by William Maclean)
This story has not been edited by Firstpost staff and is generated by auto-feed.
Find latest and upcoming tech gadgets online on Tech2 Gadgets. Get technology news, gadgets reviews & ratings. Popular gadgets including laptop, tablet and mobile specifications, features, prices, comparison.
World
By Elena Rodriguez and Belén Carreño MADRID (Reuters) - Authorities struggled to clear ice and fallen trees from the streets of Madrid on Tuesday and temperatures in parts of Spain hit record lows after a snowstorm wrought havoc across the country at the weekend. Early jubilation at the historic snowfall, which saw skiers gliding through the streets and mass snowball fights, gave way to frustration as most public transport remained stalled and pedestrians avoided the icy streets. "You in Madrid are not ready for this," said Demetrio, a Ukrainian living in Madrid, who did not give his last name.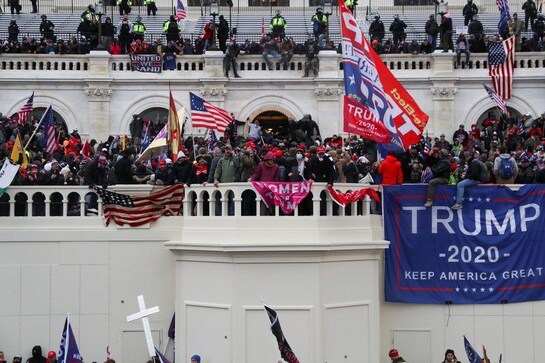 World
By Steve Holland and Andrea Shalal JOINT BASE ANDREWS, Md./WASHINGTON (Reuters) - U.S. President Donald Trump, facing impeachment on a charge of "incitement of insurrection" on Tuesday disavowed responsibility for his supporters' violent invasion of the U.S. Capitol last week and said his remarks before the siege were appropriate.
News & Analysis
PARIS (Reuters) - French carmaker Renault and U.S. hydrogen specialist Plug Power have joined forces to develop hydrogen-powered light commercial vehicles, they said on Tuesday. The companies have signed a memorandum of understanding to launch a France-based 50-50 joint venture by the end of the first half of 2021, targeting more than 30% share of the fuel cell-powered light commercial vehicle market in Europe, their joint statement said