Poland suggests 'Fort Trump' as U.S. weighs military base
By Jeff Mason WASHINGTON (Reuters) - President Donald Trump said on Tuesday the United States is considering a request from Poland for a permanent U.S. military presence in the fellow NATO country, acknowledging that he shares Poland's concerns about possible Russian aggression. Polish President Andrzej Duda asked Trump for a permanent U.S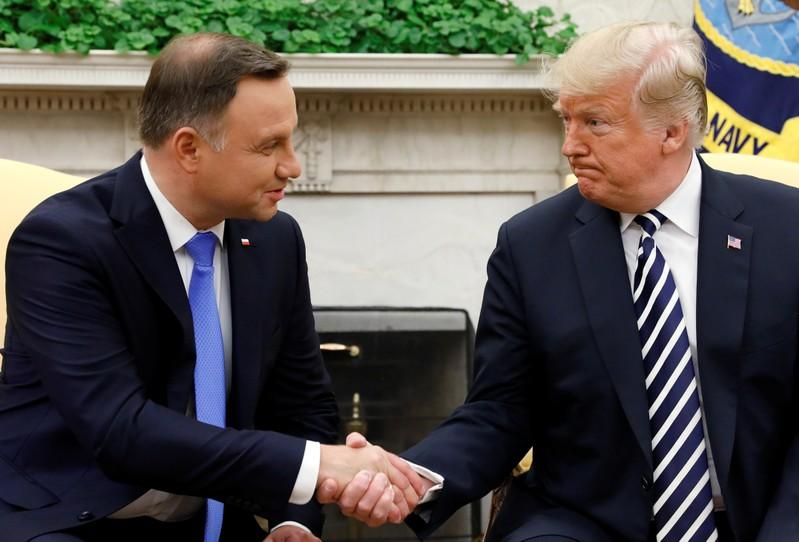 By Jeff Mason
WASHINGTON (Reuters) - President Donald Trump said on Tuesday the United States is considering a request from Poland for a permanent U.S. military presence in the fellow NATO country, acknowledging that he shares Poland's concerns about possible Russian aggression.
Polish President Andrzej Duda asked Trump for a permanent U.S. base during a White House meeting, offering to name it "Fort Trump," and explaining it would be a bulwark against what he considers a threat from Russia.
Trump said he agreed with Duda that Moscow had "acted aggressively" in the region and said the request for a base was under consideration. He said he appreciated Duda's offer to put more than $2 billion into the project.
"We're looking at it very seriously, I know Poland likes the idea very much, and it's something that we are considering, yes," Trump told reporters.
Moscow expressed concern in May over reports about Poland's request, saying NATO's expansion towards Russia's borders undermined stability in Europe.
Poland joined NATO in 1999 along with Hungary and the Czech Republic, and since then other former communist states, including Baltic republics bordering Russia, have joined despite Moscow's strong opposition.
Poland has repeatedly requested a permanent U.S. military presence on its soil. The United States currently rotates troops through Poland temporarily but permanently stationing forces there would be expensive because of costs that can include housing for families, schools and hospitals.
U.S. Defense Secretary Jim Mattis said the U.S. military was studying options with Poland but cautioned that no decisions had been made.
"It's not just about a base. It's about training ranges, it's about maintenance facilities at the base, all these kinds of things. There's a host of details we've got to study alongside the Poles," Mattis told reporters at the Pentagon.
Trump and Duda also expressed shared concerns about Russia's Nord Stream 2 gas pipeline which they said could make Europe overly reliant on Moscow for energy and expose it to the risks of what Duda called "political blackmail" with shipments.
But Trump said the United States was not looking to sanction companies that participated in the project with Russia. "We just think it's very unfortunate for the people of Germany that Germany is paying billions and billions of dollars a year for their energy to Russia," he said.
Trump also said the United States was considering a visa waiver program for Poland.
(Additional reporting by Roberta Rampton, Steve Holland and Phillip Stewart; Writing by Doina Chiacu; Editing by Alistair Bell and Grant McCool)
This story has not been edited by Firstpost staff and is generated by auto-feed.
Find latest and upcoming tech gadgets online on Tech2 Gadgets. Get technology news, gadgets reviews & ratings. Popular gadgets including laptop, tablet and mobile specifications, features, prices, comparison.
World
By Andy Sullivan (Reuters) - Wednesday night's matchup between Vice President Mike Pence and Democratic challenger Senator Kamala Harris unfolded largely free of the chaos that marred last week's debate between President Donald Trump and former Vice President Joe Biden. Here are a few standout moments from the debate: PACKING THE COURT?
World
WASHINGTON (Reuters) - The United States on Thursday slapped fresh sanctions on Iran's financial sector, targeting 18 Iranian banks in an effort to further shut Iran out of the global banking system as Washington ramps up pressure on Tehran weeks ahead of the U.S. election. In an announcement posted on its website, the U.S
Business
ZURICH (Reuters) - Swiss drugs and diagnostics group Roche is shipping supplies from Germany to help Britain's National Health Service (NHS) fill gaps caused by a logistics glitch at a Roche warehouse in southern England, it said on Thursday. Roche, a main supplier of COVID-19 and other diagnostic tests to the NHS, told UK customers on Wednesday that a switch from an old warehouse to a new automated distribution centre had caused an unforeseen technical issue that hit processing capacity. "We are confident that the plans we have put in place will deliver significant improvements by the weekend to the supply of the tests affected by these logistical issues," Roche said on Thursday, reiterating its timetable from Wednesday.