PM Modi's Israel visit without a stopover in Palestine shows shift in New Delhi's foreign policy
India and Israel have expanded their partnership into other areas like agriculture and trade. It makes little sense to jeopardise it by antagonising Tel Aviv with ineffectual moral harangues regarding Palestinians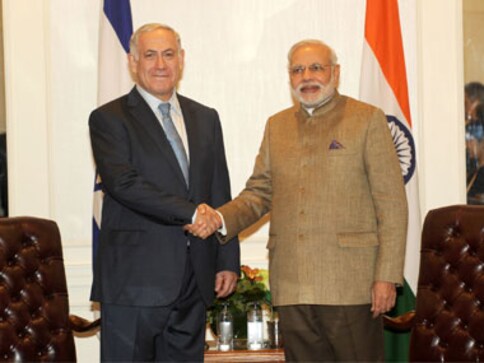 An Indian prime minister will finally be visiting Israel, as Narendra Modi heads to the Holy Land in June or early July, to celebrate 25 years of full diplomatic relations between the two countries.
Although details about the trip are still closely held, India's National Security Advisor Ajit Doval is already in Israel to prepare the ground for Modi's visit. Doval will be followed by Foreign Secretary S Jaishankar and minister of state for external affairs, MJ Akbar, in the run-up to the prime minister's visit.
Although there have been plenty of indications over the past two years that India was headed down this road, what is noteworthy about Modi's upcoming trip is that he will go to Israel without a complementary visit to Palestine, as has been the custom in the past. Modi is not the first Indian leader to do this: Home Minister Rajnath Singh visited Israel in November 2014 without stopping in Palestine. Yet, in its careful diplomatic balancing act, India sent MJ Akbar to Ramallah in November 2016 without a stopover in Tel Aviv, and it now hosts Palestinian president Mahmoud Abbas before Modi's scheduled trip. Additionally, Modi has already visited important Arab capitals such as Riyadh, Doha, and Abu Dhabi that signal no rapid shift in New Delhi's policies regarding the region.
However, the prime minister's departure from custom has irked many and Palestinian ambassador to India, Adnan Abu Alhaija, has regretted India's decision. Domestically too, there is bound to be criticism as the political class is too unimaginative to look beyond a foreign policy whose ossified principles were forged in the quarter century before independence.
However, the status quo has not served India, and Modi's gesture indicates that there may be some new thinking at Raisina Hill. But despite criticism of India's new policy towards Israel under Modi, the prime minister has not actually been bold enough to signal a real shift in policy. Nor is one necessary — the Israel-Palestinian question is not for South Block to resolve. What is required is that New Delhi desist from minor yet constant provocations of Tel Aviv in terms of symbolism and rhetoric.
The fear that a solo visit to Israel by an Indian prime minister would disrupt the fragile regional balance is a bit of self aggrandisement — India has a small footprint in the Middle East and even less in the Fertile Crescent. It does not provide military, economic, or political assistance to either party, and is not an important calculation in their politics. While both the Palestinians and Israelis would appreciate support from New Delhi, they can live without it. India does not have a Middle East policy to speak of; apart from the bland and common goals of promoting national interest, New Delhi neither sees itself as a provider to the regional commons nor does it have innovative ideas to resolve the three-quarter-century old imbroglio.
The importance given to the Palestinian question is largely a figment of the Indian imagination. Several States — the United States and China, for example — engage with both Israel and Palestine on a footing commensurate with their value to Washington or Beijing and yet maintain healthy relationships with other Arab capitals. There is no reason for India to choose a side.
One fear of not doing so is that a pro-Israel position would somehow anger Indian Muslims. This is not entirely unwarranted — the Khilafat Movement is a reminder of how many in India have an eye firmly set on the Middle East. However, treating Israel differently from Palestine does not negate support for an amicable resolution to the Palestinian situation.
There is also an irrational concern that leaning towards Israel may turn off the Arab oil spigot. It is unlikely that Arab nations would engage in such a tit-for-tat over Palestine, or they would have to first excommunicate Egypt and Jordan from their brotherhood! With the availability of Iranian oil again and the possibility of US shale, the Arab stranglehold on their black gold has slipped. Furthermore, the Indian economy now is in a far stronger position to weather an oil shock than it was in the 1970s.
It's also true that Israel maintains clandestine ties with several of the other Muslim and Arab States and in the aftermath of the Iran nuclear deal, Riyadh and Doha were seen drifting closer towards Tel Aviv themselves.
Another worry is that Arab States may strike back at India by ejecting Indian workers in the Gulf who remit some $33 billion back to India. Such a response would not only be mutually destructive but would also require a high degree of cooperation among the various States. It is not to be overlooked that those States also have labour requirements that cannot be immediately addressed.
On the other hand, India relies on Israel for invaluable security cooperation and the two countries have expanded their partnership into other equally beneficial areas such as agriculture and high-tech trade. It makes little sense to jeopardise such an important relationship by antagonising Tel Aviv with ineffectual moral harangues in international fora or a misplaced sense of equivalence between Israelis and the Palestinians. There is no need to hyphenate the two countries.
Indeed, India has itself struggled with the US to dehyphenate itself from Pakistan, and New Delhi would not take it kindly if every US leader who visited India stopped by in Pakistan as well. Israel would hardly feel differently.
While much is being made of Modi's visit as a departure from tradition, the balancing act the Bharatiya Janata Party continues to play belies this accusation. Rather, Modi has jettisoned empty symbolism in favour of genuine relations — for this trip, with Israel, but potentially with both States — that are sustained by mutual worth. This sense of realism may be a welcome first step in India becoming a more mature and engaging partner in its region.
India
Rajnath Singh said the Indo-Pacific region remains important for the economic development of not only the regional but also the wider global community
Opinion
Against the backdrop of waning US influence, Israel, similar to India, seeks to stake its claim on the continent. Despite lacking clear direction, at least since the Netanyahu administration, Africa has begun to receive sufficient attention in Israel's foreign policy
World
The Israeli military said troops came under fire and shot back during a Jenin-area raid to arrest suspected militants