PM Modi woos Nepal with HIT mantra, shows expert diplomatic skills
Modi struck the right notes and made the right moves aimed at wooing Nepal, a country that has for decades played the China card with India and the India card with China.
Prime Minister Narendra Modi's ongoing bilateral visit to Nepal (the first by an Indian PM in 17 years though there were six Heads of State and nine prime ministerial visit from Nepal to India during this period) needs to be seen in two ways: bilateral diplomacy and strategic diplomacy. Let's take up the bilateral diplomacy first.
Modi struck the right notes and made the right moves aimed at wooing Nepal, a country that has for decades played the China card with India and the India card with China; a country that is increasingly seen to be getting into the Chinese orbit at the expense of India.
He announced a $1 billion (10,000 crore Nepali Rupees) line of credit to Nepal, which is over and above the hundreds of millions of dollars worth Indian assistance that has been extended to Nepal for infrastructure projects in diverse areas over the past several years.
He reiterated India's resolve of launching a SAARC satellite for sharing India's expertise in space and benefiting SAARC countries in areas such as health, medicine, agriculture and flood control.
He offered India's rock solid support to Nepal to build highways, Infoways and Transways for spurring Nepalese economic growth, improving infrastructural connectivity and bettering people-to-people connectivity. He coined a new catchphrase for this – the H-I-T formula, focusing on Highways, Infoways and Transways.
In his address to the Nepalese Constituent Assembly in Hindi, he took a dig at previous Indian governments, including his own party's government of Atal Behari Vajpayee, when he successfully played on the Nepali psyche by saying that though India and Nepal are so close geographically, it took an Indian PM 17 years to undertake a bilateral visit to Nepal. He promised that this mistake would never happen again and reminded the audience that he would be in Nepal again in a few months for the SAARC Summit. He also told the Constituent Assembly that in his next trip he would be paying obeisance to the birthplaces of King Janak and Lord Buddha.
Throughout his public engagements, addresses and bilateral meetings with his Nepalese interlocutors, he stressed on symbols of Nepali pride and ancient heritage: Pashupatinath temple, Janakpur and Lumbini.
While he said all this, he also emphatically added that by helping Nepal, India was not extending any charity to its smaller neighbour but only performing the duty of India as a bigger power.
At the same time, Modi also cleverly roped in subtle references to the importance of the Constitution, as Nepal has been struggling to draft a new one for more than four years. "A Constitution always unites, it never divides… A Constitution is not merely a book. It integrates the past, present and the future," he said.
He said India's relations with Nepal are as old as the Himalayas and the Ganga and pointed to Nepal's rich cultural heritage by saying that Nepal is a land where Lord Buddha was born.
During Modi's meeting with his Nepalese counterpart Sushil Koirala, the two sides signed three bilateral agreements, including a Rs69 million grant to Nepal to supply iodated salt to curb iodine deficiency diseases and another pertaining to cooperation between Nepal Television and Doordarshan.
Now let's talk about the strategic aspects of Modi's Nepal visit.
The event should be seen against the backdrop of increasing Chinese influence in India's immediate neighbourhood, including Nepal. Modi has already visited Bhutan and will be visiting Myanmar a few months later.
His touching base with these three countries – Bhutan, Nepal and Myanmar, all of which share border with both India and China – is Modi's way of telling India's contiguous neighbours that these countries come first and foremost in his foreign policy.
While Modi can do nothing about Chinese engagements with these countries, he can at least take firm steps in convincing these neighbours that India means business in expanding all-round cooperation with them, whatever it takes.
This is the right approach. The only way to make an already drawn line smaller without wiping it off is to draw a longer line alongside. This is precisely what Modi seems to be doing in his diplomatic outreach to those Indian neighbours which also share a border with China.
Therefore, the crucial sub-text in Modi's visits to contiguous neighbours also sharing border with China is to enlarge India's strategic footprints in these countries without overly taking on China.
Modi's Nepal visit demonstrates that Modi the Diplomat has arrived!
The writer is Firstpost Consulting Editor and a strategic analyst who tweets @Kishkindha.
Subscribe to Moneycontrol Pro at ₹499 for the first year. Use code PRO499. Limited period offer. *T&C apply
Politics
Azad's remarks come a day after he and other 'G-23' Congress leaders, pressing for a leadership change and organisational overhaul, at an event in Jammu said the party is 'weakening'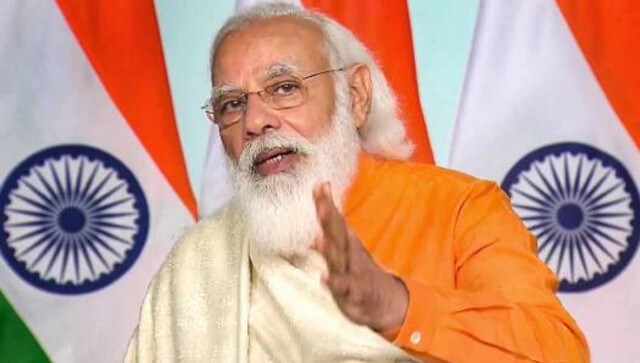 India
The prime minister said there is a need to make science more popular across the country and asserted that science cannot be limited to physics and chemistry, and labs
India
If lodged in the barrack, Modi likely to get three square meters of personal space, where a cotton mat, pillow, bedsheet and blanket will be provided, Arthur Road jail officials said