Play predicts chilling future for Britain's prized health service
EDINBURGH (Reuters) - A desperate mechanic driven to operate on his sick wife is the subject of a disturbing play which looks at the future of Britain's prized public health service, shown at the Edinburgh Fringe. 'After the Cuts' is the dystopian story of Jim, a retired mechanic, and his wife Agnes who cannot afford medical treatment when she is diagnosed with cancer. Years into the future, healthcare in Britain is no longer free
EDINBURGH (Reuters) - A desperate mechanic driven to operate on his sick wife is the subject of a disturbing play which looks at the future of Britain's prized public health service, shown at the Edinburgh Fringe.
"After the Cuts" is the dystopian story of Jim, a retired mechanic, and his wife Agnes who cannot afford medical treatment when she is diagnosed with cancer. Years into the future, healthcare in Britain is no longer free.
The performance coincides with the celebration of the seventieth anniversary of Britain's National Health Service (NHS) and its "cradle to grave" care. The anniversary has provoked public reflection on its integrity as tight government budgets put pressure on services. 
Cost restraints amid the growing demands of an ageing population have compounded anxiety over the consequences of Britain's exit from the European Union next year, and the potential impact on the supply of medicines and staff.
The subject is close to the public's heart, director Beth Morton told Reuters at the world's biggest arts and culture festival in Edinburgh.
"The audiences react so differently (...) some laugh a lot, in serious places too, perhaps because of discomfort. People cry, because they feel the human connection," she said.
"The message is not to take the NHS for granted."
Accompanied by dim lighting and a soundtrack that is by turns mournful and menacing, the setting in a small performing space creates a charged atmosphere.
The drama culminates a scene where Jim operates on his wife to a backdrop of metallic, violent sound effects.
Despite the grim topic, the play is also peppered with bittersweet jokes: the couple laugh over the costs of a hospital trip where they are billed for electricity, water and toilet trips and Agnes is continually compared to the broken vacuum cleaner, which Jim haphazardly mends.
A recent poll found the NHS is a principle concern of British voters, with 77 percent of the public backing an increase in public spending on healthcare.
The show will tour Britain in spring 2019.    
(Reporting by Grace van der Wielen; Editing by Elisabeth O'Leary and Ros Russell)
This story has not been edited by Firstpost staff and is generated by auto-feed.
Find latest and upcoming tech gadgets online on Tech2 Gadgets. Get technology news, gadgets reviews & ratings. Popular gadgets including laptop, tablet and mobile specifications, features, prices, comparison.
Business
SHANGHAI (Reuters) - Tesla is planning to export Model 3 vehicles made in China to Asian and European markets, two sources familiar with the matter told Reuters on Friday. The U.S.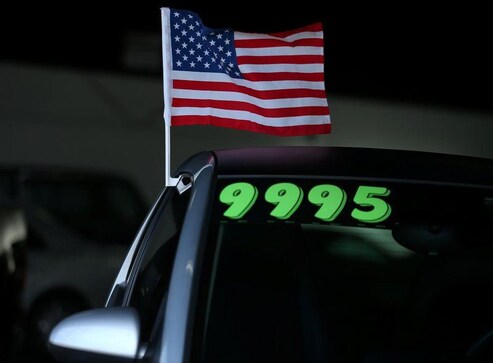 Business
By Lucia Mutikani WASHINGTON (Reuters) - U.S. consumer prices rose solidly in August, with the cost of used cars and trucks accelerating by the most in more than 51 years likely as Americans shunned public transportation because of fears of contracting COVID-19
Business
By Tanishaa Nadkar and Pushkala Aripaka (Reuters) - Life and general insurer Aviva is offloading its Singapore business to a consortium led by Singapore Life, for S$2.7 billion ($1.98 billion), as the London-listed firm sharpens its focus on Britain, Ireland and Canada.