Plasma from recovered patients shows little benefit in those hospitalized with COVID-19 - study
By Vishwadha Chander (Reuters) - Using blood plasma from COVID-19 survivors to treat patients with severe pneumonia caused by the novel coronavirus showed little benefit, according to data released on Tuesday from a clinical trial in Argentina. The therapy know as convalescent plasma, which delivers antibodies from COVID-19 survivors to infected people, did not significantly improve patients' health status or reduce their risk of dying from the disease any better than a placebo, the study published in The New England Journal of Medicine found
COVID-19
- study" src="https://images.firstpost.com/wp-content/uploads/reuters/11-2020/25/2020-11-24T220342Z_1_LYNXMPEGAN1OY_RTROPTP_2_HEALTH-CORONAVIRUS-PLASMA.jpg" alt="Plasma from recovered patients shows little benefit in those hospitalized with COVID19 study" width="300" height="225" />
By Vishwadha Chander
(Reuters) - Using blood plasma from COVID-19
survivors to treat patients with severe pneumonia caused by the novel coronavirus
showed little benefit, according to data released on Tuesday from a clinical trial in Argentina.
The therapy know as convalescent plasma, which delivers antibodies from COVID-19
survivors to infected people, did not significantly improve patients' health status or reduce their risk of dying from the disease any better than a placebo, the study published in The New England Journal of Medicine found.
Despite limited evidence of its efficacy, convalescent plasma, which U.S. President Donald Trump touted in August as a "historic breakthrough," has been frequently given to patients in the United States.
In October, a small study from India suggested convalescent plasma improved symptoms in COVID-19
patients, such as shortness of breath and fatigue, but did not reduce the risk of death or progression to severe disease after 28 days.
The new Argentine study involved 333 hospitalized patients with severe COVID-19
pneumonia who were randomly assigned to receive convalescent plasma or a placebo.
After 30 days, researchers found no significant differences in patients' symptoms or health. The mortality rate was nearly the same at 11% in the convalescent plasma group and 11.4% in the placebo group, a difference not deemed statistically significant.
It is still possible that convalescent plasma might help less-sick COVID-19
patients, study leader Dr. Ventura Simonovich of the Hospital Italiano de Buenos Aires said, but more studies would be needed and supplies of the treatment are not scalable.
For patients with severe disease, like the ones in this study, "other therapies based on antibodies could have a role," he said.
(Reporting by Vishwadha Chander in Bengaluru; Editing by Nancy Lapid and Bill Berkrot)
This story has not been edited by Firstpost staff and is generated by auto-feed.
Find latest and upcoming tech gadgets online on Tech2 Gadgets. Get technology news, gadgets reviews & ratings. Popular gadgets including laptop, tablet and mobile specifications, features, prices, comparison.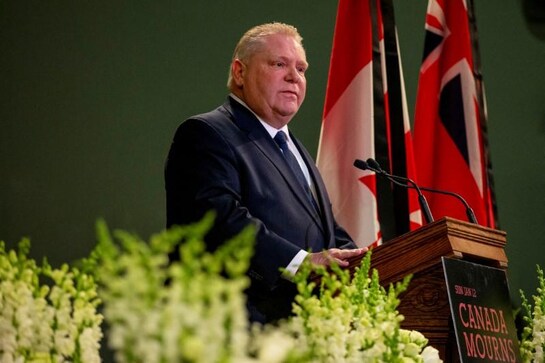 World
By Moira Warburton TORONTO (Reuters) - The Canadian province of Ontario will keep elementary schools in its southern regions closed for in-person learning until Jan.
World
By David Brunnstrom and Gabriel Crossley WASHINGTON/BEIJING (Reuters) -Washington may sanction those involved in the arrest of over 50 people in Hong Kong and will send the U.S. ambassador to the United Nations to visit Taiwan, Secretary of State Mike Pompeo said on Thursday, drawing anger and the threat of retaliation from Beijing.
World
CARACAS (Reuters) - An Iranian ship arrived at the Venezuelan port of La Guaira on Thursday, according to Refinitiv Eikon data, in what appeared to be a continuation of the commercial alliance between the two countries targeted by U.S. sanctions. Iran has been supplying gasoline to ease fuel shortages in Venezuela caused by decay of the South American nation's refineries and worsened by sanctions.