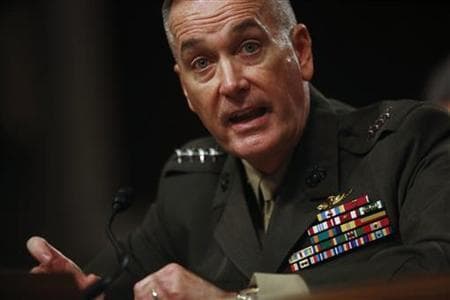 WASHINGTON (Reuters) - The general chosen to lead U.S. forces in Afghanistan during the transition to Afghan security control in 2014 avoided on Thursday saying how quickly American troops could withdraw from the country.
Pressed by lawmakers on whether he was willing to keep U.S. troops levels at the current 68,000 for the next two years to reassure Afghans and U.S. allies, Marine General Joseph Dunford avoided a direct answer. Dunford said before deciding on a drawdown pace, he wanted to assess the "capabilities and capacities" international forces will need to maintain through 2014.
But Dunford, who earned the nickname "Fighting Joe" in Iraq and is the current No. 2 in the Marine Corps, acknowledged under questioning by Republican Senator John McCain that he had not been included in ongoing talks about troop levels in Afghanistan.
General John Allen, the current commander of international forces in Afghanistan, and the Obama administration have been in discussion about troop levels for 2013 as well as the period after 2014, when Afghan forces are to take full security responsibility for the country.
Defense Secretary Leon Panetta said on Monday that a decision is expected in the next few weeks.
Dunford's confirmation hearing took place against the backdrop of a scandal involving former CIA Director David Petraeus, who resigned Friday after acknowledging an extramarital affair, and Allen, whose allegedly inappropriate email communications with a Tampa socialite are being reviewed by the Pentagon's inspector general.
Several senators paid tribute to Allen's work in commanding troops in Afghanistan, without directly mentioning the scandal.
Some conservative lawmakers have expressed concern about the White House push to withdraw U.S. combat forces from Afghanistan by 2014, fearing it is eroding gains international forces have made in the fight against the Taliban. They say uncertainty about the long-term U.S. commitment is causing a rise in instability.
In addition, a surge in deadly insider attacks by Afghan soldiers against NATO troops has raised further questions about whether local security forces are ready to take over from the international military alliance.
"The president's repeated emphasis on withdrawal without laying out what would constitute a successful and sustainable transition has only fed the belief in Afghanistan that the United States is committed to getting out regardless of conditions on the ground," McCain, the committee's ranking Republican, told the hearing.
Dunford testified that U.S. strategic objectives in Afghanistan were "within reach" and said he was "encouraged" by the increasing skill of Afghan forces, whose training is key to the U.S. strategy.
Dunford told senators he was concerned about having adequate forces to ensure the security during two important milestones: the transition to Afghan security lead during 2013 and presidential elections in April 2014.
Afghan security forces are expected to take the lead in security matters across the country sometime next summer, with international troops stepping back and mainly providing training and assistance where necessary.
Dunford said the elections were strategically important to the success of the Afghanistan mission. He said without a successful vote, Afghans would not see the government as legitimate and international coalition members might be unwilling to provide the financial support they have pledged.
(Editing by Warren Strobel and Jackie Frank)
Updated Date: Nov 16, 2012 01:30 AM