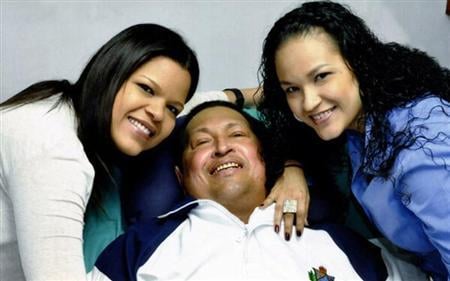 CARACAS (Reuters) - President Hugo Chavez's supporters joyfully brandished first photographs of him since cancer surgery two months ago while opposition activists said the images were worrying evidence of Venezuela's political vacuum.
In a first proof of life since his six-hour operation in Cuba on December 11, authorities published four photos on Friday showing Chavez lying in a hospital bed smiling next to his daughters.
Underlining the gravity of his situation, however, an accompanying statement said the 58-year-old socialist leader was breathing through a tracheal tube and struggling to speak.
Within hours, the photos were on sale in Caracas streets, where some of Chavez's passionate supporters clutched them to their hearts as if they were a religious icon.
"It doesn't matter that he can't talk. We understood his message," said Aniluz Serrano, 57, selling prints in colonial Bolivar Square, named for Venezuela's independence hero and Chavez's idol, Simon Bolivar.
"When I saw this photo, I thought how beautiful, here he is calling on the people to keep fighting. When I see this smile, I can see Christ, I can see Simon Bolivar."
The photos and new medical details confirmed what most Venezuelans already assumed - that Chavez is seriously ill and may not be able to return to the presidency.
He has ruled the South American OPEC nation since 1999, maintaining huge popularity among the poor thanks to oil-financed welfare policies and his common touch, while alienating private business with nationalizations and taking an authoritarian line on opponents.
Vice President Nicolas Maduro and other allies say Chavez remains the head of state, signing decrees and giving instructions - sometimes in writing - from Havana.
"President Chavez in full recovery," was the headline of various state media. "He's alive ... he will be back," said Idan Sotto, 24, buying one of the photos in downtown Caracas.
PICKING OVER THE PHOTOS
Opposition politicians believe such optimism is misplaced, given Chavez's obvious frailty, and are renewing demands for more detailed information on his condition and ability to rule.
Should he be formally declared unable to govern, an election would be called within 30 days, probably pitting Maduro against opposition leader and state governor Henrique Capriles.
Capriles lost an October presidential election, and the opposition coalition is struggling to remain united, with some pushing for a more militant approach to Chavez's absence.
"Venezuelan sovereignty is being given away to the Cuban government," one of the most strident opposition leaders, Maria Corina Machado, told Reuters in reaction to the photos.
"It is obvious the photos were to make the world believe Hugo Chavez is in charge of government but what they've done is precisely the opposite ... I'd like to ask a question to any democratic citizen in the world: could you imagine a situation in which you have 69 days with no word from your president?"
As well as predictable political bickering, the photos spawned a plethora of online scrutiny and theories.
Some hunted for evidence of image editing. Others simply mocked the photos as the typical recourse of an autocratic and secretive government trying to spin a dire situation.
"It's hard to see why reading the dreadfully boring Granma would generate smiles," said columnist Andres Canizalez, in an opposition newspaper, referring to the Cuban Communist Party's daily newspaper that Chavez is clutching in the photos.
Many Venezuelans commented on the irony of Chavez's voice loss given his famously garrulous and bombastic rhetoric - from a thundering denunciation of then-U.S. President George W. Bush as the "devil" at the United Nations, to hours-long, meandering speeches that have been a staple of political life at home.
Though it is impossible to predict what the next few months may hold for Venezuela, all sides agree Chavez will leave a lasting imprint on the country.
"Chavismo will probably last generations. It will not die," Goldman Sachs analyst Alberto Ramos said, seeing a parallel with 1950s populist Argentine leader Juan Peron whose memory and ideology remain highly influential.
"The death of Peron was not the death of Peronism in Argentina."
(Editing by Vicki Allen)
Firstpost is now on WhatsApp. For the latest analysis, commentary and news updates, sign up for our WhatsApp services. Just go to Firstpost.com/Whatsapp and hit the Subscribe button.
Updated Date: Feb 16, 2013 23:00:08 IST