Philippine typhoon survivors beg for help as rescuers struggle
TACLOBAN, Philippines (Reuters) - Dazed survivors begged for help and scavenged for food, water and medicine on Monday after a super typhoon killed an estimated 10,000 in the central Philippines. President Benigno Aquino declared a state of national calamity and deployed hundreds of soldiers in the coastal city of Tacloban to quell looting
TACLOBAN, Philippines (Reuters) - Dazed survivors begged for help and scavenged for food, water and medicine on Monday after a super typhoon killed an estimated 10,000 in the central Philippines.
President Benigno Aquino declared a state of national calamity and deployed hundreds of soldiers in the coastal city of Tacloban to quell looting.
The huge scale of death and destruction from Friday's storm become clearer as reports emerged of thousands of people missing and images showed apocalyptic scenes in one town that has not been reached by rescue workers.
One of the most powerful storms ever recorded, typhoon Haiyan levelled Basey, a seaside town in Samar province about 10 km (6 miles) across a bay from Tacloban in Leyte province, where at least 10,000 people were killed, according to officials.
About 2,000 people were missing in Basey, said the governor of Samar province.
"The situation is bad, the devastation has been significant. In some cases the devastation has been total," Secretary to the Cabinet Rene Almendras told a news conference.
The United Nations said officials in Tacloban, which bore the brunt of the storm on Friday, had reported one mass grave of 300-500 bodies. More than 600,000 people were displaced by the storm across the country and some have no access to food, water, or medicine, the U.N. says.
Flattened by surging waves and monster winds up to 235 mph (378 kph), Tacloban, 580 km (360 miles) southeast of Manila, was relying almost entirely for supplies and evacuation on just three military transport planes flying from nearby Cebu city.
Dozens of residents clamoured for help at the airport gates.
In a nationwide broadcast, Aquino said the government was focusing relief and assistance efforts on Samar and Leyte provinces, which acted as "funnels for the storm surges".
The declaration of a state of national calamity should quicken rescue, relief and rehabilitation efforts.
It will also allow the government to use state funds for relief and rehabilitation and control prices. Aquino said the government had set aside 18.7 billion pesos, Citi Research said in a report, with "massive losses" for private property.
Bodies litter the streets of Tacloban, rotting and swelling under the sun. People walked covering their noses with rags or old clothes to mask the stench.
International aid agencies said relief resources in the largely Roman Catholic Philippines were stretched thin after a 7.2 magnitude quake in central Bohol province last month and displacement caused by a conflict with Muslim rebels in southern Zamboanga province.
Twenty-one countries pledged to send relief, including Indonesia, United States, Britain, Japan, Singapore, New Zealand and Hungary, Aquino said.
The Italian bishops conference pledged 3 million euro in emergency aid, adding to $150,000 given by Pope Francis and 100,000 euro by Catholic charity Caritas. On Sunday, Pope Francis led thousands in a silent prayer outside St. Peter's Basilica for the victims.
Tacloban's administration appeared to be in disarray as city and hospital workers focused on saving their own families and securing food.
Operations were further hampered because roads, airports and bridges had been destroyed or were covered in wreckage.
EXASPERATION
Awelina Hadloc, 28, the owner of a convenience store, foraged for instant noodles at a warehouse that was almost bare from looting. She said her store had been washed away by a 3-metre (10-foot) storm surge.
"It is so difficult. It is like we are starting again," said Hadloc. "There are no more supplies in the warehouse and the malls."
Aquino, facing one of the biggest challenges of his three-year rule, deployed 800 soldiers and police to restore order in Tacloban after looters rampaged through several stores.
Aquino, who before the storm said the government was aiming for zero casualties, has shown exasperation at conflicting reports on damage and deaths. One TV network quoted him as telling the head of the disaster agency that he was running out of patience.
Graphics:
Predicted path of Typhoon Haiyan
Latest reported death toll
Rainfall and population density in the Philippines/Vietnam
Deadliest storms worldwide since 1990
Wind speeds of Haiyan compared to other big storms
Past 10 years of typhoons in Northwest Pacific basin
The official death toll is likely to climb rapidly once rescuers reach remote parts of the coast, such as Guiuan, a town in eastern Samar province with a population of 40,000 that was largely destroyed.
"The only reason why we have no reports of casualties up to now is that communications systems ... are down," said Colonel John Sanchez, posting on the Armed Forces Facebook page.
About 400 people were confirmed dead in Samar province, according to provincial governor Sharee Ann Tan. Baco, a city of 35,000 in Oriental Mindoro province, was 80 percent under water, the United Nations said.
U.S. aid groups also launched a multimillion-dollar relief campaign. An official from one group, World Vision, said there were early reports that as much as 90 percent of northern Cebu had been destroyed. An aid team from Oxfam reported "utter destruction" in the northern-most tip of Cebu.
Thirteen people were killed and dozens hurt during heavy winds and storms in Vietnam as Haiyan approached the coast, state media reported, even though it had weakened substantially after hitting the Philippines. (Additional reporting by Rosemarie Francisco and Karen Lema in Manila, Ho Binh Minh and Hanoi and Phil Stewart and Charles Abbott in Washington.; Writing by Stuart Grudgings; Editing by Nick Macfie and Robert Birsel)
This story has not been edited by Firstpost staff and is generated by auto-feed.
Entertainment
The K-pop industry is accused of consuming young hopefuls with only a tiny minority surviving to stardom.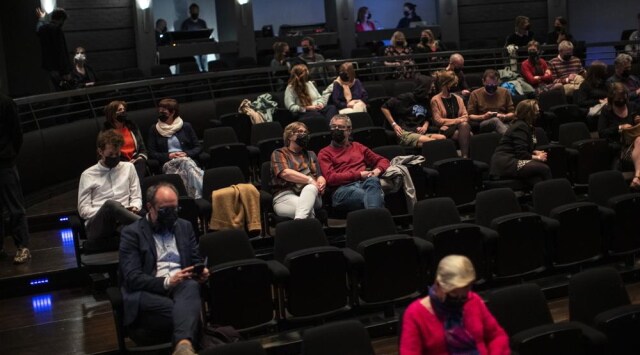 World
Belgian authorities are organising test events but have not yet given venues and their workers a solid green light to reopen.
Entertainment
A massive 79 percent of respondents reported that COVID-19 had a negative impact on their mental health, with increased feelings of anxiety or depression.