Philadelphia police probe alleged plot to attack vote counting venue
By Kanishka Singh (Reuters) - Philadelphia police said on Friday they were investigating an alleged plot to attack the city's Pennsylvania Convention Center, where votes from the hotly contested U.S.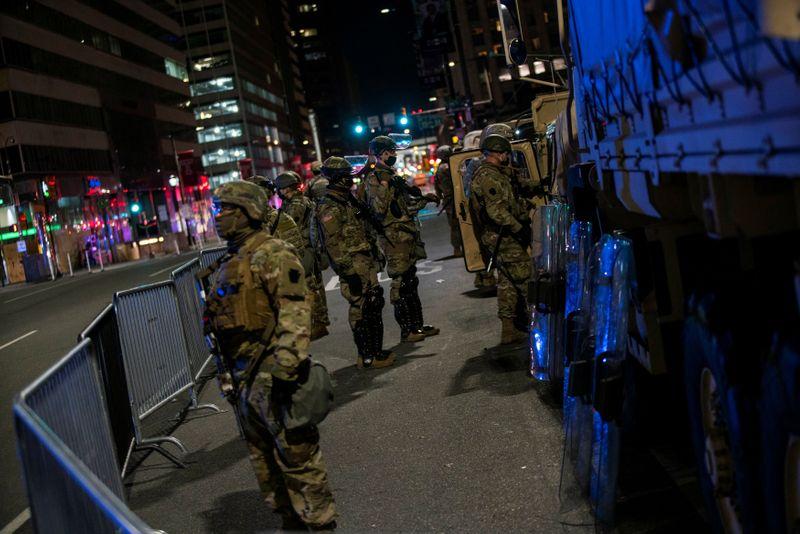 By Kanishka Singh
(Reuters) - Philadelphia police said on Friday they were investigating an alleged plot to attack the city's Pennsylvania Convention Center, where votes from the hotly contested U.S. presidential election were being counted.
Local police received a tip about a Hummer truck with people armed with firearms driving toward the vote counting venue late on Thursday, a Philadelphia Police spokesman said in an emailed statement.
Police arrested two men and seized their firearms as well as the Hummer truck about which they had received the tip, the spokesman said, adding the probe was being conducted by the police and the FBI.
"The males acknowledged that the silver Hummer was their vehicle, and an additional firearm was recovered from the inside the Hummer," the spokesman added.
No injuries were reported and no further details about the alleged plot were disclosed.
Video footage https://6abc.com/7689932 broadcast by Action News, an ABC affiliate, showed a number of police officials at the scene late in the night.
On Thursday, supporters of both Republican President Donald Trump and Democratic challenger Joe Biden held rallies in Philadelphia as election staffers slowly counted thousands of mail-in ballots that could decide Pennsylvania's crucial 20 Electoral College votes.
A state appellate court ruled on Thursday that more Republican observers could enter the building in Philadelphia where poll workers were counting ballots.
The U.S. Postal Service said about 1,700 ballots had been identified in Pennsylvania at processing facilities during two sweeps late on Thursday and were being delivered to election officials.
Trump has said repeatedly without evidence that mail-in votes are prone to fraud, although election experts say that is rare in U.S. elections.
A federal judge in Philadelphia denied an emergency request from Trump's campaign to stop ballot counting in Philadelphia so long as Republican observers were not present. The campaign had sued Philadelphia County's Board of Elections on Thursday to seek an emergency injunction.
(Reporting by Kanishka Singh in Bengaluru; Editing by Lincoln Feast and Jonathan Oatis)
This story has not been edited by Firstpost staff and is generated by auto-feed.
Find latest and upcoming tech gadgets online on Tech2 Gadgets. Get technology news, gadgets reviews & ratings. Popular gadgets including laptop, tablet and mobile specifications, features, prices, comparison.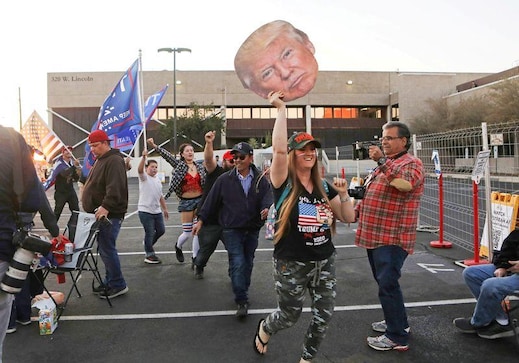 World
By Jarrett Renshaw and Joseph Tanfani (Reuters) - As President Donald Trump seeks to discredit last week's election with baseless claims of voter fraud, his team has bombarded his supporters with requests for money to help pay for legal challenges to the results: "The Left will try to STEAL this election!" reads one text. But any small-dollar donations from Trump's grassroots donors won't be going to legal expenses at all, according to a Reuters review of the legal language in the solicitations
World
RIYADH (Reuters) - Saudi Arabia's King Salman bin Abdulaziz urged the world on Thursday to take "a decisive stance" to address efforts by Iran to develop nuclear and ballistic missile programs, in an annual address to the top government advisory body. "The kingdom stresses the dangers of Iran's regional project, its interference in other countries, its fostering of terrorism, its fanning the flames of sectarianism ..
World
By Jose Sanchez BELIZE CITY (Reuters) - Belizeans headed to the polls on Wednesday to replace a veteran prime minister, with many in the tiny Central American country saying they were ready for change to repair an economy battered by pandemic-driven shutdowns. Dean Barrow, the outgoing prime minister, ran Belize for more than a dozen years.