Persecuted in Myanmar, chased away by India and Saudi Arabia, Rohingya seek elusive home in cramped camps of Bangladesh
Persecuted, killed and gang -raped, Rohingya fled in thousands from Myanmar to neighbouring countries of India, Bangladesh and Saudi Arabia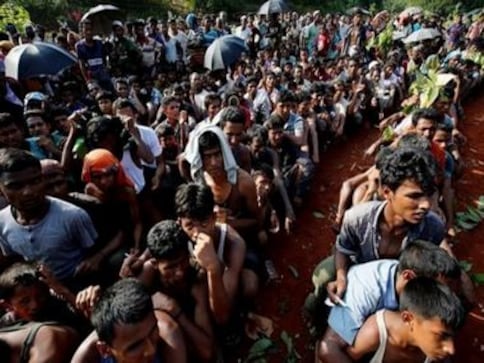 Myanmar had stripped Rohingya of citizenship in 1982 and the community is not recognised as one of the country's ethnic groups

More and more Rohingya have taken refugee in camps at Bangladesh's Cox Bazar area

Around 1,300 Rohingya from India have fled to Bangladesh instead since the start of this year
For the Rohingya, considered to be the 'most persecuted community in the world', the comforts of home are elusive. Starting August 2017, more than 700,000 Rohingya have fled Myanmar to escape a brutal army-led crackdown in its Rakhine state, their erstwhile home. Myanmar had stripped them of citizenship in 1982 and the community is not recognised as one of the country's ethnic groups, thereby restricting their rights to study, work, travel, marry, vote, practice their religion or access health services. Thousands have taken shelter in neighbouring countries of India, Bangladesh and Saudi Arabia.
Of late, however, both India and Saudi Arabia have deported these migrants back to Myanmar and Bangladesh, respectively. Will Bangladesh then become the Rohingya's new home, if any semblance to it can ever be achieved by a community facing persecution?
India's stand
While Bangladesh looked at India for support to tackle the 'Rohingya issue', New Delhi had in 2018 issued an official statement saying the country wishes a "speedy, safe and sustainable return of displaced persons to Rakhine state".
Not surprising then that seven Rohingya men were deported to Myanmar in October 2018. Several rights groups have slammed India for not sticking to the principle of non-refoulement that prohibits deportation of refugees to places where their lives and freedom seem threatened.
The deportation of these seven men had sparked an exodus. Around 1,300 Rohingya from India have fled to Bangladesh since the start of this year, reports Al Jazeera.  
"Some 1,300 individuals from 300 families have arrived from India to Bangladesh until 16 January," Nayana Bose, spokeswoman for the Inter Sector Coordination Group (ISCG), which includes United Nations agencies and other foreign humanitarian organisations, was quoted by AFP as saying.
The latest detention of 61 Rohingya refugees in Assam and Tripura , who were on their way to Bangladesh, leaves little room for doubt about India's intention. In 2018, the country had arrested 230 Rohingya — the highest number in years.
"India's approach to the Rohingya situation has been shockingly callous," Meenakshi Ganguly, South Asia director at Human Rights Watch, had told Al Jazeera.
According to various aid agencies, around 40,000 Rohingya live in India, spread in places such as Delhi, Hyderabad, the North East, Jammu and Kanpur. But their precarious existence can be gauged from the fact that none of these refugees have any agency whatsoever anywhere they go.
A report published in Firstpost pinpoints to ways in which many of these refugees have suffered amidst bureaucratic hurdles. On 29 January, 2012, three Rohingya were arrested near the India-Myanmar border in Manipur's Churachandpur district on charges of entering the country without valid documents. Four days later, six more Rohingya men were also arrested in the district. The chief judicial magistrate of Churachandpur convicted all nine of them and sentenced them to six months of simple imprisonment under Section 14 of The Foreigners Act, 1946. They had already served their prison term by the time the verdict was announced. But more than five years have passed and they still remain behind bars.
Fresh deportation from Saudi Arabia
The year has only started but Saudi Arabia has already made two deportations of Rohingya from the country. Early this year, the country deported dozens of Rohingya to neighbouring Bangladesh in ways that almost made them look like criminals. Some were even put in handcuffs after they resisted the deportation. A poignant video of the deportation saw a man claiming that those who have been locked up in a Saudi detention camp for nearly six years were being sent away.
An activist group told Al Jazeera that the country was planning to deport another batch of 250 Rohingya men to Bangladesh. The country is home to more than 300,000 Rohingya refugees. "Majority of these Rohingya have residency permits and can live in Saudi Arabia legally. But these detainees, who are being kept in the Shumaisi detention centre (in Jeddah), have not been treated like their fellow Rohingya. Instead, they are being treated like criminals," Nay San Lwin, campaign coordinator for the 'Free Rohingya Coalition' was quoted by Al Jazeera.
Faced with forced deportation, many Rohingya held a silent protest on Tuesday inside a Bangladesh refugee camp urging visiting United Nations to help fellow members of their in Saudi Arabia be allowed to live indefinitely.
Can Bangladesh bear the burden?
More and more Rohingya have taken refugee in camps at Bangladesh's Cox Bazar area. But questions have been raised if the overpopulated country can bear the burden of more people, give them security and basic rights of life with its limited resources. Bangladesh has played host to a staggering one million Rohingya since August 2017.
The Bangladesh and Myanmar governments have had talks for the repatriation of refugees. But a bilateral deal to begin the process by 15 November, 2018, fell apart because Bangladesh could not find any Rohingya willing to return.
The question here arises not only if Bangladesh and other neighbouring nations can give the Rohingya a homeland but also whether Myanmar is actuality creating conditions conducive for their return. Till then, it seems, the Rohingya would only feel safe in the cramped camps of Bangladesh — their elusive home.
World
The IMF had termed Pakistan as the weakest economy in South Asia. According to the World Bank's Global Economic Prospects report, Pakistan's economic growth rate this year will be only 1.7%
World
Electricity consumers in Karachi will now have to pay Rs 43 per unit. Apart from this, the tariff has been increased in the range of Rs 1.49 to Rs 4.46 per unit for different consumer categories
Opinion
To claw out of the deep economic ditch, Pakistan needs to scrape off its jihadi DNA and hatred of the other. That leads us to the bigger question: If it gives up its Islamist instincts, will it still be Pakistan?