Pelosi takes big step towards reclaiming U.S. House speaker's job
By Richard Cowan and Susan Cornwell WASHINGTON (Reuters) - Nancy Pelosi on Wednesday was nominated by fellow Democrats to be speaker of the U.S. House of Representatives, as expected, but her level of support may fall short of what she needs for a sure win in January's election for speaker.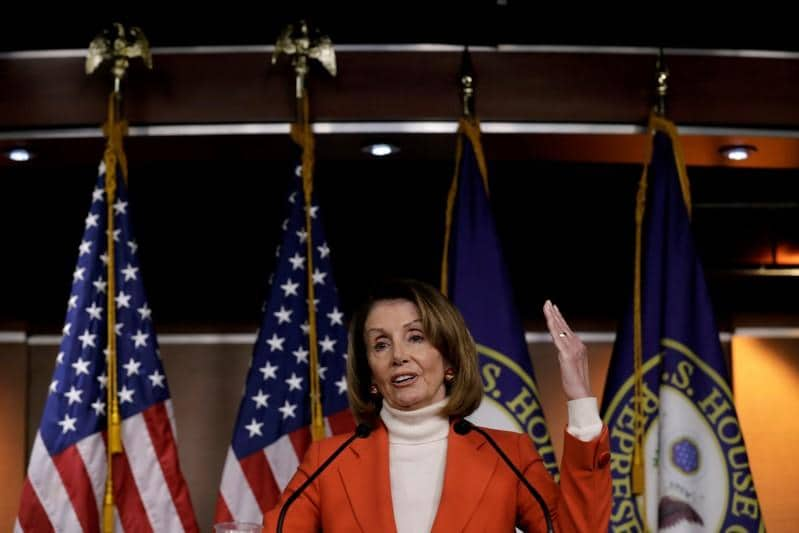 By Richard Cowan and Susan Cornwell
WASHINGTON (Reuters) - Nancy Pelosi on Wednesday was nominated by fellow Democrats to be speaker of the U.S. House of Representatives, as expected, but her level of support may fall short of what she needs for a sure win in January's election for speaker.
Pelosi, who held the speakership from January 2007 until January 2011, won the Democratic nomination by a vote of 203-32, putting her in contention in the early January contest in which both Democrats and Republicans will vote. She will need about 218 votes to claim the job as Democrats will take control of the House in January after their gains in the Nov. 6 congressional elections.
After the secret ballot voting concluded, Pelosi said, "I'm proud to be the nominee of the House Democratic caucus once again for speaker of the House."
The small faction of Democrats opposing the 78-year-old San Francisco liberal has argued that the party needs new, younger leadership, but the anti-Pelosi group has failed to produce a rival candidate to challenge her.
Over the next few weeks, Pelosi will try to win over enough naysayers to nail down a victory in January. On Wednesday she made progress when some of the potential renegades announced their support for her.
"We're in pretty good shape" for January, she said.
If Pelosi does come up short, Democrats will have to scurry before the January House vote to find an acceptable replacement and avoid a messy floor fight at the start of the year.
Republicans, who next year will be in the minority in the House for the first time since 2010, are expected to vote against any Democratic nominee for speaker.
TAKING ON TRUMP
Pelosi, currently the House Democratic leader and a national political fixture for decades, wants to lead the party's challenge to President Donald Trump's political and legislative agendas.
Pelosi was the first female speaker in U.S. history and is attempting the rare feat of securing the speaker's gavel for a non-consecutive term.
The powerful House speaker sets the chamber's legislative agenda and is second, behind the vice president, in the line of emergency succession to the president.
Representative Gerry Connolly said Pelosi's opponents lacked a game plan for vanquishing her. "Meanwhile, we have a very skilled, tested experienced leader who doesn't need on-the-job training," he said, referring to Pelosi.
Her detractors have argued that they could control just enough votes to topple Pelosi during the vote by the full House.
When the new Congress convenes in January, Democrats will hold at least 233 of the House's 435 seats. Assuming that all Republicans oppose Pelosi for speaker, just 17 or 18 Democratic opponents could be enough to block her from becoming speaker.
Democrats clamouring for fresh faces in leadership got a boost on Wednesday when Representative Hakeem Jeffries, 48, beat Representative Barbara Lee, 72, to head the Democratic caucus.
Pelosi has pledged to pursue an agenda next year that includes investing in infrastructure projects, lowering prescription drug prices and changing campaign finance laws to give small donors more sway in elections.
Pelosi also has promised to hold investigations into Trump administration activities following two years of lax oversight by Republicans who will still hold their majority in the Senate.
(Reporting by Richard Cowan, Susan Cornwell, Amanda Becker and Ginger Gibson; Editing by Kevin Drawbaugh, Chizu Nomiyama and Bill Trott)
This story has not been edited by Firstpost staff and is generated by auto-feed.
Business
By Mike Spector and Jeffrey Dastin (Reuters) - The National Labor Relations Board has begun reviewing ballots from Amazon.com Inc's workers in Alabama, who have voted on whether to form a union, with momentum for future labour organizing at America's second-largest private employer hanging in the balance. Agents from the labour board began sifting through ballots sent to more than 5,800 workers at Amazon's Bessemer, Alabama-based warehouse at 10 a.m
News & Analysis
By Elizabeth Culliford NEW YORK (Reuters) - Spotify Inc said on Tuesday it has purchased Betty Labs, the company behind sports-focused social audio app Locker Room, to accelerate its move into live audio. New voice-based platforms, including invite-only social app Clubhouse, have seen rapid growth in recent months during the COVID-19 pandemic.
Business
By Devika Krishna Kumar NEW YORK (Reuters) - Oil prices slid on Tuesday as the Suez Canal reopened to traffic and the dollar rallied, while focus turned to an OPEC+ meeting this week, where analysts expect an extension to supply curbs to offset dim demand prospects. Brent crude fell $1.20, or 1.9%, at $63.78 a barrel by 1:12 p.m.