Passenger plane crashes in Cuba, killing more than 100 people
By Sarah Marsh and Nelson Acosta HAVANA (Reuters) - More than 100 people were killed in a fiery crash of a Boeing 737 passenger plane in Cuba on Friday, with just three seriously injured survivors in hospital after being pulled from the wreckage, officials and state media said. The aircraft, on a domestic flight to Holguin in eastern Cuba, crashed shortly after taking off from Havana at 11 a.m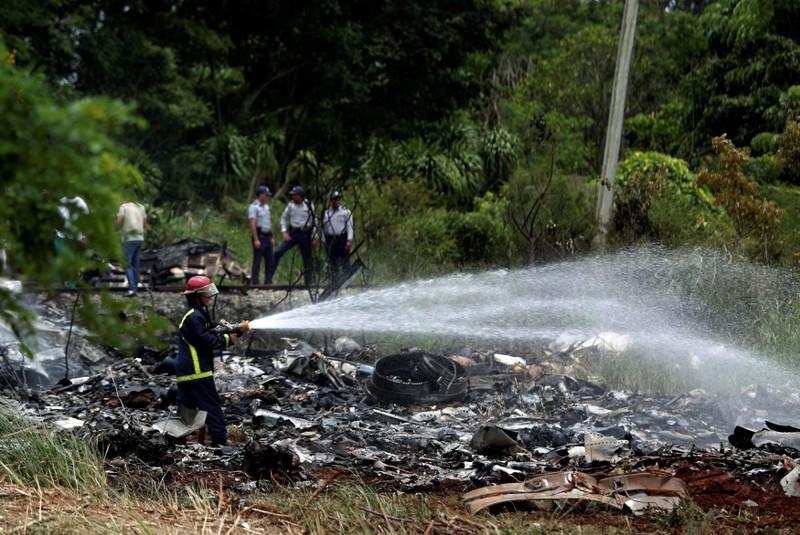 By Sarah Marsh and Nelson Acosta
HAVANA (Reuters) - More than 100 people were killed in a fiery crash of a Boeing 737 passenger plane in Cuba on Friday, with just three seriously injured survivors in hospital after being pulled from the wreckage, officials and state media said.
The aircraft, on a domestic flight to Holguin in eastern Cuba, crashed shortly after taking off from Havana at 11 a.m. (1500 GMT). There were either 104 or 105 passengers, including five children, plus nine crew members, various state media said.
Five of the passengers plus the crew were foreign, media reports said. The Mexican government said Mexicans citizens were among the dead, without providing further details.
"We should expect that the news will not be good, as there are a high number of people who appear to have been killed," President Miguel Diaz-Canel said in broadcast comments.
The fire from the crash had been put out and authorities were identifying bodies, the president said. The cause of the crash was not immediately known and Diaz-Canel said authorities were investigating.
"We heard an explosion and then saw a big cloud of smoke go up," said Gilberto Menendez, who runs a restaurant near the crash site in the agricultural area of Boyeros.
The Boeing 737-201 aircraft was built in 1979 and leased by Cuban airline Cubana from a small Mexican firm called Damojh, according to the Mexican government. That would make it significantly older than most planes in service.
Damojh in Mexico said it did not immediately have any more information. Cubana declined to comment.
Cubana has been the subject of complaints over service and delays in recent months.
Blackened wreckage of Flight CU972 was strewn over the crash site area 20 km (12 miles) south of Havana, a Reuters witness said. Its destination Holguin is the capital of a province that is popular with tourists for its pristine beaches.
Carlos Alberto Martinez, the director of Havana's Calixto Garcia hospital, told Reuters that four victims of the accident had been brought there. One had died and three others, all women, were in a serious condition, he said.
"She is alive but very burnt and swollen," said a distressed relative of one of the survivors at the hospital.
The reason for the plane going down was unclear. "During take-off (the plane) apparently suffered a problem and dived to the ground," the Mexican transport department said on its website.
Most aircraft accidents take months of investigation to explain and are typically caused by a cocktail of different factors, according to aviation experts.
CUBANA COMPLAINTS
Boeing Co said in a statement its technical team stood "ready to assist as permitted under U.S. law and at the direction of the U.S. National Transportation Safety Board and Cuban authorities". The United States has a decades-old trade embargo on the island.
Boeing 737 aircraft use engines made by CFM International, the supplier of the world's most-used engines, built by a joint venture of GE and France's Safran .
On Thursday, Cuba's First Vice President Salvador Valdés Mesa had met with Cubana bosses to discuss public complaints about its service, according to state-run media. Problems included the cancellation of numerous domestic flights this year, and long delays which the company said were caused by technical problems with its aircraft.
Earlier this month, the company was ordered to suspend flights by its six Russian built AN-158 aircraft, of which most had reportedly already been grounded.
The last fatal crash in Cuba was in 2017, the Aviation Safety Network said. It was a military flight that killed all eight on board. In 2010, a commercial Aero Caribbean plane crashed in central Cuba. All 68 people on board were killed.
The latest available information on Cuba from U.N. safety aviation agency ICAO, dating back to 2008, ranks it above the global average, though that preceded the latest three crashes.
(Reporting by Sarah Marsh, Nelson Acosta and Marc Frank in Havana; additional reporting by Anthony Esposito, Julia Love, Christine Murray, Dave Graham and Lizbeth Diaz in Mexico, Writing by Rosalba O'Brien; editing by Grant McCool)
This story has not been edited by Firstpost staff and is generated by auto-feed.
World
Reports suggest that they captured President Alpha Conde and dissolved the government, bust the ground situation remains unclear
News & Analysis
NEW YORK (Reuters) -The price of cryptocurrencies plunged and crypto trading was delayed on Tuesday, a day in which El Salvador ran into snags as the first country to adopt bitcoin as legal tender. Shares of blockchain-related firms also fell as crypto stocks were hit by trading platform outages. But the major focus was on El Salvador, where the government had to temporarily unplug a digital wallet to cope with demand.
News & Analysis
By Joseph White and Sanjana Shivdas (Reuters) -The head of Apple Inc's car project, Doug Field, is going to work for Ford Motor Co to lead the automaker's advanced technology and embedded systems efforts, a hiring coup for Ford Chief Executive Jim Farley.