Paris Live: After sealing Rafale deal, PM now visits Airbus headquarters
LIVE NEWS and UPDATES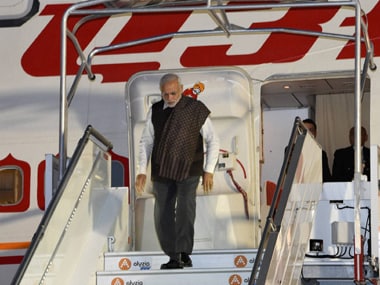 14:06 (IST)

PM Modi arrives in Toulouse to inspect Airbus factory, to pay respects to World War I martyrs

PM Modi has begun day 2 of his Europe tour with a visit to Toulouse to visit the Airbus headquarters in the city. He'll be headed to pay respects to Indian soldiers who died during World War 1 later today

22:45 (IST)

France informs India of decision to implement a scheme for expedited 48 hours visa issuance for Indian tourists.

— Syed Akbaruddin (@MEAIndia) April 10, 2015

22:44 (IST)

Be it Paris or Mumbai, India, France have understood each others pain, says PM Modi

Now PM Modi talks about terrorism across the world. He says, " Be it Paris or Mumbai, India and France have understood each others pain."

"India and France will now deepen defence relations to fight terrorism," announces Modi.

He also thanks France for backing India's membership bid for the UN Security Council.

22:40 (IST)

Rafale deal sealed, India buys 36 aircraft from France, says PM Modi

Speaking of the much awaited Rafalde deal, PM Modi says, "India has bought 36 aircraft from France in flying condition."

He also says, "In Jaitapur we have decided to build six nuclear plants."

"Areva and L&T has also decided to make forgings in India," PM Modi says.

The PM also announced a joint postal stamp between the two countries.

PM Modi highligting the importance of tie-ups in space technology between the two countries, PM Modi says, "France and India will work together for planetary explorations."

22:36 (IST)

France is one of the closest and trusted partners of India, says PM Modi

Now, Prime Minister Narendra Modi address the press and thanks French President Hollande.

"France is one of the closest and trusted partners of India," says PM Modi.

"France has stood by India during good times and bad, and supported and endored India in the world," he says.

Speaking of the relations between the two countries, "Today there is no area where India and France don't have tie-ups. From air to sea, now we have decided to work on cyber technology as well."

22:33 (IST)

We would like co-operation in field of cinema, says Francois Hollande

Highlighting the importance of the relationship between the two countries, Francois Hollande says, "We would like to invite more Indian students into our country."

Speaking of tourism and culture, "We would like to have exemplary co-operation in the field of cinema."

Hollande says being two big democraciesm, the two countries need to be exemplary in the fields of politics and culture.

22:28 (IST)

Numerous joint projects with India to ensure peace, says Francois Hollande

French President Francois Hollande after holding talks with PM Modi says that the two countries would conduct new projects over and above the existing ones.

"In order to ensure stability and peace we have numerous joint projects in the field of missiles and aircrafts. All of you are aware of the Rafale deal," says Hollande.

He says," Make in India is not just a programme, it is a mission."

Hollande says, "Our partnership is not confined to economy, but we want growth."

22:17 (IST)

France to invest 2 million euros in India, says Hollande

During talks between Prime Minister Narendra Modi and French President Francois Hollande, the country thanked India for its successful evacation operation in strif-torn Yemen.

The French President has also told India that France will invest 2 billion Euros in India.

According to CNN-IBN reports after discussions 17 deals are likely to be signed between the two countries.

Hollande also made a comment on the release of alleged 26/11 Mumbai attacks mastermind Zaki-ur-Rehman Lakhvi's release, calling it unfortunate.

21:56 (IST)

Modi, Hollande hold talks, Rafale deal on the table

Prime Ministert Narendra Modi has now met French President Francois Hollande and reports suggest that the Rafale deal is on the table.

The Ministry of External Affairs reports that the two leaders reviewed relations and discussed defence, nuclear, economy, cultural and
educational ties.

16:31 (IST)

We must do more to harness science for human welfare in some of the most vulnerable parts of world–especially for health & food security: PM

— PMO India (@PMOIndia) April 10, 2015

16:29 (IST)

In India faith and nature have had a deep link, says PM Modi

Now PM Modi speak on climate change.

"In India faith and nature have had a deep link since ancient time. We make this choice with the natural instinct of our tradition, but also do this for sustainable future," he says.

Speaking of emmission cuts, "Often our argument is on emmission cuts..."

16:26 (IST)

Culture must connect and not divide, says PM Modi at UNESCO

Prime Minister Narendra Modi says in UNESCO, "Culture must connect and not divide."

"In India we are retracing our culture to form closer bonds," he says.

16:22 (IST)

UNESCO's initiatives to preserve the world's cultural heritage, including in India are inspiring: PM @narendramodi

— PMO India (@PMOIndia) April 10, 2015

16:21 (IST)

Programme to educate girl child closest to my heart, PM Modi at UNESCO

Prime Minister Narendra Modi also said that he will fight for equality of women. He spoke of how educating the girl child was an initiative close to his heart.

The programme to educate and support the girl child in India is one that is closest to my heart: PM. Read more at http://t.co/qfBEz1NKM9

— Firstpost (@firstpost) April 10, 2015

16:18 (IST)

Every culture, religion has place in our society, says PM Modi at UNESCO

While speaking at the UNESCO head quarters Prime Minister Modi also reiterated that he stands for tolerance in society

"We will protect and defend the right of every citizen. Every faith culture and religion has space in our society," Prime Miniter Narendra Modi said.

16:15 (IST)

United Nations keeps world together, says PM Modi

Prime Minister Narendra Modi speaking at the UNESCO head quarters today said that it was the United Nations that keeps the world together.

He said, "No organisation serves our cause more than United Nations."

13:02 (IST)

Breakthrough in Rafale deal expected

TV reports said that Rafale deal will be on the table when PM Modi and French President Francois Hollande meet later on Friday.

India's government has been in negotiations since 2012 to buy 126 Rafale jets from France's Dassault Aviation, but the estimated $12 billion dollar deal has hit roadblocks over cost and assembly of the planes.

Reports said ahead of talks between Modi and French President Francois Hollande on Friday that the government was considering a direct purchase of a smaller number of jets to accelerate the acquisition and replace its ageing stock.

Reports said that the government was "seriously considering a strategic purchase of up to 60 Rafales for the Indian Air Force" due to "operational necessity", with further purchases later.

According to a report in the CNN-IBN, the deal is worth over $4 billion and it overrides the MMRCA process in which Dasault Rafale was lowest bidder for 126 aircraft. The final signing of the MMRCA deal has not yet taken place as India and France have some differences over the final amount.

It quoted an unnamed source as saying a new deal could be worked out this year, with the exact number of planes depending on the final price.

12:48 (IST)

Modi recieves ceremonial reception at Elysee Palace

PM Modi will soon meet French President Francois Hollande. A lot is on agenda for Modi on his three-nation tour.

CNN-IBN reported that France and India might clinch the Rafale deal during PM Modi's four-day stay in France. According to reports, India considering direct purchase of two squadrons of the French Rafale fighter plane to avoid the mire of price negotiations that the deal for 126 of these aircraft has been stuck in since January 2012.

Paris (France): PM Narendra #ModiInFrance, receives ceremonial reception pic.twitter.com/xGg0Qa2Tt9

— ANI (@ANI_news) April 10, 2015

12:43 (IST)

Modi's welcome ceremony begins

Prime Minister Narendra Modi's convoy arrived at the Elysee Palace on Friday and Modi will recieve the ceremonial reception with the French foreign minister Laurent Fabius.

Paris (France): PM Narendra #ModiInFrance, to receive ceremonial reception shortly pic.twitter.com/xwYNU8KKaO

— ANI (@ANI_news) April 10, 2015

08:31 (IST)

France is a strategic partner, says MEA spokesperson

Calling France a strategic partner, External Affairs Ministry spokesman Syed Akbaruddin said that India expects French companies to participate in 'Make in India' programme in the field of defence as well as civil nuclear energy, "where India can make some nuclear installations with France."

08:12 (IST)

Modi and Hollande on a boat

The highlight of PM Modi's France trip is going to be the much-talked about naav pe charcha or a discussion on a boat.

Narendra Modi's chai pe charcha made it to headlines after the Indian PM and US President Barack Obama had a one on one over tea during his trip to India in January.

07:35 (IST)

PM Modi arrives in Paris

Prime Minister Narendra Modi arrived in Paris late on Thursday on the first leg of his three-nation tour.

During his four-day stay, Modi will hold talks with Hollande and meet business leaders. The focus of the talks will be civil nuclear, defence and trade.

Landed.... pic.twitter.com/aZA1pBP0Pk

— Indian Embassy Paris (@Indian_Embassy) April 9, 2015

From Paris airport. pic.twitter.com/b19mHNetPC

— PMO India (@PMOIndia) April 9, 2015
Paris: Prime Minister Narendra Modi arrived in Paris on Thursday night on the first leg of his three-nation tour during which he will hold talks with French President Francois Hollande and meet business leaders.
During his four-day stay, Modi will hold talks with Hollande and meet business leaders. The focus of the talks will be civil nuclear, defence and trade.
A highlight of his stay in France will be a boat ride with Hollande, which is being described as 'naav pe charcha' (chat on boat). Earlier, Modi has had 'chai pe charcha' with foreign leaders, including President Barack Obama during his visit to New Delhi in January.
In France, the Prime Minister will also visit the World War-I memorial and pay tributes to about 10,000 Indians who lost their lives while fighting alongside France.
He will also visit UNESCO headquarters, Airbus facility and French space agency office.
India is hoping that French companies will participate in the 'Make in India' programme initiated by Modi.
After wrapping up the first leg of his tour, Modi will head to Germany, where business and technology will be the focus his engagements aimed at attracting participation in the 'Make in India' campaign.
In the third and last leg of his tour, Modi will travel to Canada, marking the first standalone visit by an Indian Prime Minister in over 42 years.
Ahead of talks with French President Francois Hollande, India on Friday said it expects "movement" on a proposal for setting up French nuclear reactors in Jaitapur in Maharashtra as well as Rafale fighter deal, both of which are pending for long.
These issues, along with trade, will be high on the agenda of substantive discussions between the two leaders amid India's keen interest to get participation of French companies in the 'Make in India' programme. Terrorism, against the backdrop of an attack here three months back, will also be discussed.
"India and France are strategic partners. In this context, the issues of civil nuclear and defence cooperation will be discussed. The issues you referred to will also be discussed. We expect movement on these issues," External Affairs Ministry spokesman Syed Akbaruddin said here when asked whether the two leaders will talk about Jaitapur nuclear project and multi-billion dollar Rafale deal. There will be substantive discussions on defence and nuclear issues. Wait for the outcome," he added.
The spokesman said India expects French companies to participate in 'Make in India' programme in the field of defence as well as civil nuclear energy, "where India can make some nuclear installations with France."
The Jaitapur project, where French company Areva is to set up six nuclear reactors with total power generation capacity of about 10,000 MW, is stuck for long because of differences over the cost of electricity to be generated.
Similarly, the deal to supply 126 Rafale fighter planes is also deadlocked because of differences over price.
Modi, who arrived here today on a four-day visit, will also address two meetings with French CEOs – one on infrastructure and another on defence.
He will also have 'Naav pe Charcha' (chat on boat) with Hollande when they go for a cruise on Seine river which passes through Paris.
PTI
Find latest and upcoming tech gadgets online on Tech2 Gadgets. Get technology news, gadgets reviews & ratings. Popular gadgets including laptop, tablet and mobile specifications, features, prices, comparison.
Updated Date: Apr 11, 2015 14:07:50 IST