Panama Papers Verdict: Pakistan SC's split decision in favour of Nawaz Sharif will keep PM from being disqualified
In a temporary relief to Pakistan prime minister Nawaz Sharif, a five-judge bench of the country's Supreme Court on Thursday ordered a probe into the money trail in the Panama papers scandal. However, the 3-2 split verdict meant that the prime minister is safe from being disqualified.
In a temporary relief to Pakistan Prime Minister Nawaz Sharif, a five-judge bench of the Supreme Court on Thursday ordered a extensive probe into the money trail in the Panama Papers scandal citing "insufficient evidence", The Express Tribune reported. However, the verdict was split 3-2, which meant that Sharif is safe and will not be disqualified as the prime minister.
Nevertheless, Sharif's problems have not ended. The five-judge bench comprising Justice Asif Saeed Khosa, Justice Gulzar Ahmed, Justice Ejaz Afzal Khan, Justice Azmat Saeed and Justice Ijazul Ahsan ordered the government to constitute a Joint Investigation Team (JIT), involving members of Military Intelligence, Inter-Services Intelligence (ISI), National Accountability Bureau (NAB), SECP to investigate the case in the next sixty days, Pakistan media reported.
The Supreme Court also asked the authorities to name the members of the team in the next seven days. While investigations would go on, Sharif and his sons — Hasan and Hussain — have to appear before the JIT.
The court also noted that it is important to probe how money was transferred to Qatar. The five bench also criticised the NAB Chairman who failed to carry out his duty. It said that he was unwilling to perform his duties. It also said DG Federal Investigation Agency (FIA) failed to probe white collar crimes.
Immediately after the verdict, Defence Minister Khwaja Asif told the media that Sharif will remain the prime minister and asserted that he will also be re-elected in 2018 election.
The ruling party PML-N also slammed the opposition for "dharna politics" and added that their loses in every election across Pakistan is the testimony to Sharif's popularity. Maryam Sharif, his daughter, tweeted immediately after the verdict.
Praise & glory be to Allah alone. Shukrana & mubariks 😍 pic.twitter.com/yM92bIJJoc

— Maryam Nawaz Sharif (@MaryamNSharif) April 20, 2017
Background
Over a month after concluding marathon hearings in the Panama Papers case, the verdict of the Supreme Court of Pakistan is being eagerly and anxiously awaited - with the suspense heightened as Prime Minister Nawaz Sharif's fate hanged in the balance.
Last year, the Panama Papers scandal rocked several governments worldwide, exposed high-profile personalities, including Prime Minister Sharif and his family, triggered scores of investigations around the world and dealt a blow to Panama as an offshore financial hub. In anticipation of the verdict, Islamabad's Red Zone had been put on "red alert". Police officials, including Special Branch officials, had been deployed for intelligence gathering and timely responses in advance.
Only individuals with passes were allowed into the court premises.
Ordinarily, there are about 60 to 70 reporters at the apex court on a daily basis, but on Thursday hundreds were expected to turn out to hear the historic verdict in the case, probing allegations of corruption and wrongdoing by Sharif and his family members in the case.
Sharif, in his address to the nation earlier this week, said he will resign and go home if proven guilty.
"I challenge all those who allege tax fraud to come forward and present evidence. If charges are proved against me, I will resign immediately," vowed Sharif.
Sharif's alleged wrongdoing came to light as part of a massive leak of secret files from a Panamanian law firm that specialises in setting up offshore companies in tax havens. A trove of 11.5 million digital records from the Panamanian law firm Mossack Fonseca last year revealed how many of the world's wealthy used offshore companies to stash assets.
According to the Panama Papers, three of Sharif's four children— daughter Maryam and sons Hasan and Hussain — were owners of offshore companies and "were owners or had the right to authorise transactions for several companies". But Sharif and his family have dismissed the allegations of money laundering and denied any wrongdoing.
Since the Panama Papers leak in June 2016, opposition parties have been jumping at every opportunity to register their protest and mobilise supporters against Sharif.
"I can say with surety that... not a single penny went out of Pakistan," emphasised Sharif on the floor of Parliament on May 16, 2016, soon after details emerged in the case. The opposition staged a walkout as Sharif proposed a parliamentary commission to probe the allegations.
In the aftermath of the leaks, Iceland's Prime Minister Sigmundur David Gunnlaugsson had been forced to resign after it was revealed that his family sheltered assets offshore.
The petitioners in the case against Sharif -- Advocate Tariq Asad, Jamaat-i-Islami (JI) chief Sirajul Haq, Pakistan Tehreek-e-Insaaf chief Imran Khan and Awami Muslim League head Sheikh Rashid Ahmed — have sought disqualification of the Prime Minister and his close family members for their alleged investment in offshore companies.
A five-member apex court bench, led by Justice Asif Saeed Khosa, took up petitions on October 20, 2016, and concluded its hearing on February 23, 2017.
"The Supreme Court's verdict will change the future of Pakistan," said the PTI chairman in January.
Justice Khosa observed that 26,000 pages were submitted in the case and the judges will read "each word" of it. He observed that it was not a case wherein a short order could be passed.
"The court will decide the case only after considering the material submitted in the court and will announce its verdict in accordance with the law and Constitution," Justice Khosa said earlier this year.
"We will decide this case only by the law; such that people will say, 20 years down the line, that this judgement was made by the book," Justice Khosa said.
With inputs from agencies
First Cricket News
The two boards were forced into the alteration to the scheduled tour dates after West Indies' current ODI series against Australia was rocked by a positive Covid-19 test which saw Thursday's second match suspended.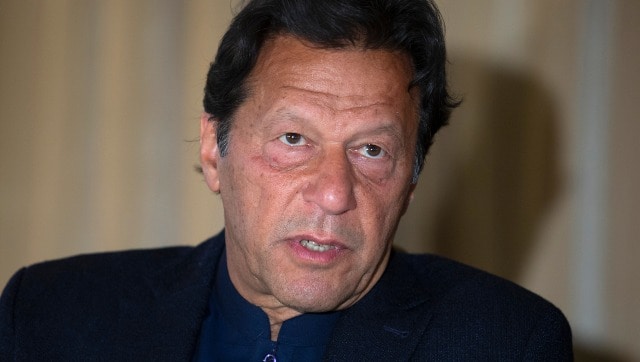 World
Last month, the Pakistani prime minister's comments on sexual violence drew severe backlash after he suggested that avoiding 'temptation in society' is the way to prevent sexual violence against women
First Cricket News
According to Kashmir Premier League, four players from England and one each from South Africa and Sri Lanka have refused to play in the KPL after being pressured by the BCCI.