Panama Papers probe: Pakistani interior minister Chaudhry Nisar Ali Khan to resign after SC verdict
Pakistan's interior minister Chaudhry Nisar Ali Khan on Thursday said that he would resign and quit politics after the Supreme Court judgement on the Panamagate case.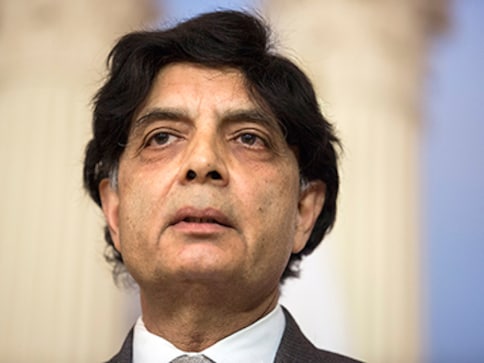 Islamabad: Pakistan's interior minister Chaudhry Nisar Ali Khan on Thursday said that he would resign and quit politics after the Supreme Court judgement on the Panamagate case in which embattled Prime Minister Nawaz Sharif and his family have been named for alleged corruption.
His announcement, which comes a day before the verdict in the high-profile case, stunned his supporters and the ruling Pakistan Muslim League-Nawaz (PML-N) party.
Khan expressed serious disappointment over the way he was kept away from Sharif by his rivals.
"I have decided to resign from the cabinet and Parliament after the (Panama) decision, whether it is in favour of the prime minister or against him," he told reporters.
Khan, who has 33 years of association with Sharif, did not target the prime minister but criticised some of the party leaders who have been speaking against him (Khan) in presence of Sharif with an objective to create differences.
"I had no one-to-one meeting with the prime minister during the last about six weeks," Khan said as he complained that he was kept out of the crucial consultations on t
The Panama case which now hangs over Sharif's head like a sword.
Khan, known as a hardcore ideologue within the party, rejected the impression that he may join a new party, saying he can not even think of joining any other political outfit.
Speaking on civil-military relations, Khan said he had "never compromised on civilian supremacy" even though he had strong ties with the military.
"Ask any military or intelligence leader if I have ever attempted to undermine the government for political gain," said Khan whose grandfather, father, elder brother, nephews and several other relatives have been in army.
He said that he always supported civilian supremacy over armed forces and occasionally ran into troubles for criticising senior generals.
He also ruled out speculation that he was hoping to become the prime minister in case Sharif was disqualified.
"I am not in this race," Khan said.
Khan, respected for his outspokenness, puts Sharif in an awkward situation at a time when he is passing through the toughest time of his political career.
Sharif critics are using the press conference to portray that demise of PML-N had started even before the court verdict.
"It shows the internal rift in the party," said Skeikh Rashid Ahmad, a former associate of Sharif and now his fierce critic.
Earlier, Sharif's younger brother and Punjab chief minister Shehbaz Sharif met Khan for the second time today in as many days to win him back but failed.
A six-member joint investigation team (JIT) set up by the court to investigate the charges the 67-year-old Sharif and his family submitted its report to the court on July 10. It has said the lifestyle of Sharif and his children were beyond their known sources of income, and recommended filing of a new corruption case against them.
World
Federal Investigation Agency former director Mohammad Rizwan, 47, went on long leave just before the formation of the PMLN-led coalition government and was later transferred from the office of FIA Lahore director
World
Addressing a media briefing, FO spokesperson Asif Iftikhar said that the country will pursue all avenues to defeating the scourge of terrorism and ensure the attainment of peace and stability in the region
First Cricket News
The PCB chairman Ramiz Raja had in principle agreed to a 25 to 30 per cent increase in the monthly retainers of the players who will be given contracts.