Panam Papers verdict: Nawaz Sharif says he is proud to not be disqualified on corruption allegations
Ousted Pakistan prime minister Nawaz Sharif on Saturday said he was proud that his disqualification from office was not due to allegations of corruption brought against him
Islamabad: Ousted Pakistan prime minister Nawaz Sharif on Saturday said he was proud that his disqualification from office was not due to allegations of corruption brought against him.
"I am proud that my disqualification was not because of allegations of corruption," Sharif told a meeting attended by his party's top parliamentarians, a day after the Supreme Court disqualified him due to "dishonesty" in the Panama Papers case.
The former prime minister said that not a single charge of corruption was proven against him and expressed his disbelief at the grounds for his dismissal.
"I still do not understand the grounds for my dismissal," said Sharif.
He said that he had a clear conscience as he had not taken anything from the country which was not his. "I would have felt guilty if I had done something wrong."
Questioning his disqualification, Sharif stated he had nothing to declare as he had not taken any salary from the company which was setup by his son during the years they were in exile.
"You are in trouble if you take something and in trouble if you do not."
Sharif also emphasised that there should be accountability for everyone, not just one family or political party.
"Should only my family be held accountable?"
Sharif resolved that he would continue the struggle for the supremacy of the Constitution and the rule of law in the country.
He also said that if the history was any indication, the previous assemblies were dissolved and prime ministers were ousted one way or another.
He urged that he needs support in order to put the country on the right track.
"The first sit-in, the second sit-in and then the Panama scandal wasted a significant amount of time of the country," he said.
The country was now in a much better state, he said, and added that the backbone of terrorism has been broken and the isolated incidents of terrorism will eventually cease.
Lauding the country's economy, he said, it had improved during his tenure and the growth rate was at 5.3 percent, but the stock market suffered due to the instability caused by the Panama Papers case.
Sharif asked the members to support his brother, Shahbaz Sharif as the next prime minister.
"If you support anyone after me, I ask you to support Shahbaz Sharif."
"It will take Shahbaz Sharif around 50-55 days to take over as Prime Minister. He will have to contest elections," he said.
Sharif also announced that former Petroleum minister, Shahid Khaqan Abbasi, will be made interim prime minister.
"For the interim period, I am recommending Shahid Khaqan Abbasi for the position of Prime Minister," said Sharif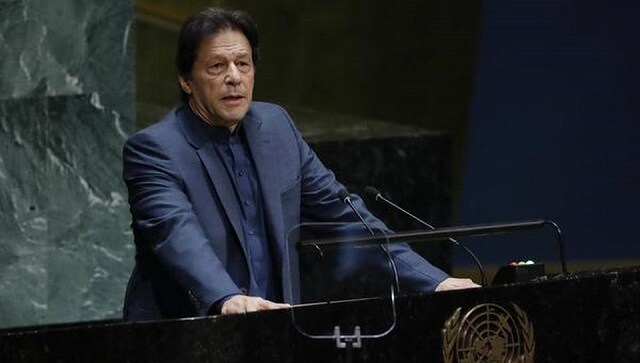 World
In a weekend interview on live television, Oxford-educated Khan said an increase in rapes indicated the "consequences in any society where vulgarity is on the rise"
Sports
Pakistan Hockey Federation officials will be taking up the issue of resuming bilateral series against India at neutral venues on the sidelines of the 47th International Hockey Federation (FIH) Statutory Congress.
Arts & Culture
Participants in the Duke of Edinburgh's Award must complete volunteer work, improve their physical fitness, learn new skills, and go on expeditions to earn each of three progressively more difficult levels of achievement — bronze, silver and gold.