Palestinian teen freed from Israel jail will continue resistance - as lawyer
By Ali Sawafta and Dan Williams NABI SALEH, West Bank (Reuters) - A Palestinian teenager released by Israel on Sunday after completing a prison term for kicking and slapping an Israeli soldier said she wanted to become a lawyer so she could continue her struggle against the occupation of the West Bank. Ahed Tamimi, 17, became a hero to Palestinians after the incident last December outside her home in Nabi Saleh, a village that has for years campaigned against land seizures by Israel, leading to confrontations with the Israeli military and Jewish settlers. Israelis regarded the incident, which Tamimi's mother relayed live on Facebook, as a staged provocation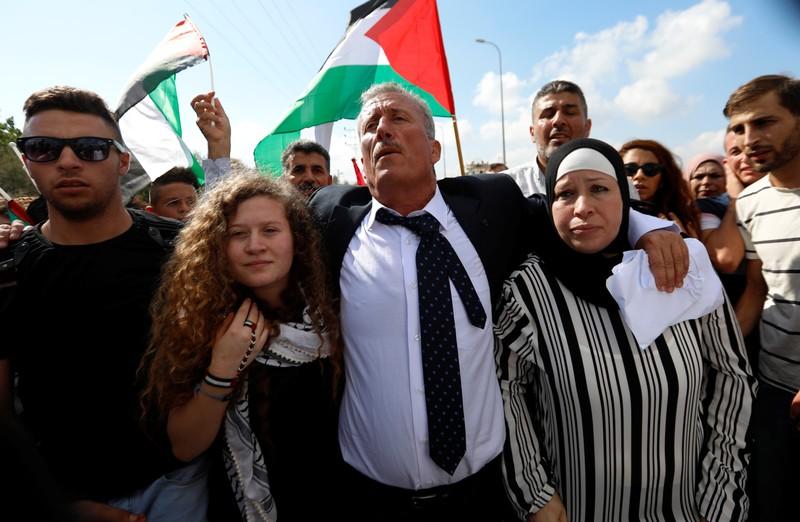 By Ali Sawafta and Dan Williams
NABI SALEH, West Bank (Reuters) - A Palestinian teenager released by Israel on Sunday after completing a prison term for kicking and slapping an Israeli soldier said she wanted to become a lawyer so she could continue her struggle against the occupation of the West Bank.
Ahed Tamimi, 17, became a hero to Palestinians after the incident last December outside her home in Nabi Saleh, a village that has for years campaigned against land seizures by Israel, leading to confrontations with the Israeli military and Jewish settlers.
Israelis regarded the incident, which Tamimi's mother relayed live on Facebook, as a staged provocation.
Palestinian President Mahmoud Abbas described Tamimi as "a model of peaceful civil resistance ..., proving to the world that our Palestinian people will stand firm and constant on their land, no matter what the sacrifice".
He made the statement published by the official news agency Wafa after he met Tamimi and her mother.
Wearing her trademark black-and-white chequered Arab scarf when she returned home, Tamimi greeted dozens of well-wishers. Outside the home of a villager killed by Israeli forces, she urged continued struggle against Israel's occupation.
At a news conference later, she spoke in front of a bare two-pronged tree that had been shaped like a giant slingshot, with the trunk covered in a Palestinian flag and with a tyre at its base.
"I will continue my university tuition and I will study law so that I can address the cause of my country in all of the international forums and to be able to represent the prisoners' cause," Tamimi said.
"Prison taught me a lot of things, I was able to figure out the right way to deliver the message of my homeland."
Tamimi, who was 16 at the time of her detention, faced 12 charges but in March pleaded guilty to a reduced charge sheet that included assault. She was sentenced to eight months, dating back to her arrest in December.
Palestinians want the West Bank for a future state, along with East Jerusalem and the Gaza Strip. Most countries consider Israeli settlements in the West Bank to be illegal, something Israel disputes.
U.S.-sponsored negotiations on founding a Palestinian state alongside Israel have been stalled since 2014.
Tamimi's case drew global attention and Amnesty International said her sentence was at odds with international law.
Separately on Sunday, an Israeli naval vessel intercepted a civilian boat bound for the Gaza Strip that had set off from Europe. Israel maintains a maritime blockade of the Strip and said the boat was being towed to the port of Ashdod.
(Additional reporting by Rami Amichay; Writing by Dan Williams and Ori Lewis; Editing by Matthew Mpoke Bigg)
This story has not been edited by Firstpost staff and is generated by auto-feed.
Find latest and upcoming tech gadgets online on Tech2 Gadgets. Get technology news, gadgets reviews & ratings. Popular gadgets including laptop, tablet and mobile specifications, features, prices, comparison.
World
By Paul Carrel BERLIN (Reuters) - European Union sanctions against 40 officials in Belarus are "a small victory" but should be widened, opposition leader Sviatlana Tsikhanouskaya said on Monday, adding she would press Germany's Angela Merkel to do more at a meeting on Tuesday. Tsikhanouskaya fled her homeland for Lithuania amid a police crackdown in Belarus following an Aug. 9 presidential election, which official results said incumbent Alexander Lukashenko won, but which Tsikhanouskaya's supporters say was rigged
World
WASHINGTON (Reuters) - White House Press Secretary Kayleigh McEnany said on Monday she tested positive for COVID-19, while several U.S. media outlets reported that a number of other White House staff members also were confirmed to have been infected with the novel coronavirus
World
WASHINGTON (Reuters) - U.S.