Palestinian officer jailed after criticizing Abbas for attending Peres funeral | Reuters
GAZA A Palestinian court in the occupied West Bank on Wednesday sent a military officer to jail for criticising President Mahmoud Abbas after he attended the funeral of former Israeli president Shimon Peres, the officer's lawyer said.Lieutenant-Colonel Osama Mansour was jailed for a year for breaking the military code of conduct which forbids uniformed officials from expressing political opinions and he was also discharged from the service, lawyer, Ghandi Ameen, told Reuters.'They found him guilty of disobeying orders and the explanation of the verdict was that he had expressed a political opinion. He was sentenced to a year and was dismissed from his job
GAZA A Palestinian court in the occupied West Bank on Wednesday sent a military officer to jail for criticising President Mahmoud Abbas after he attended the funeral of former Israeli president Shimon Peres, the officer's lawyer said.Lieutenant-Colonel Osama Mansour was jailed for a year for breaking the military code of conduct which forbids uniformed officials from expressing political opinions and he was also discharged from the service, lawyer, Ghandi Ameen, told Reuters."They found him guilty of disobeying orders and the explanation of the verdict was that he had expressed a political opinion. He was sentenced to a year and was dismissed from his job. The court's ruling was tough and unexpected ... and we will appeal," Ameen said.While supporters defended Abbas as making a diplomatic and a good-will gesture in attending Peres's funeral in Jerusalem earlier this month, critics in the West Bank and in the Gaza Strip said he betrayed national principles.
Peres, 93, shared a Nobel prize for interim peace deals with the Palestinians but many social media postings in Arabic focused on a view of his legacy that jarred with his world acclaim as an architect of the landmark Oslo accords in the 1990s.Peres's state funeral was attended by U.S. President Barack Obama and dozens of dignitaries from around the world. Abbas's visit was his first to Jerusalem since 2010.
Before the funeral, Mansour called on Abbas on his Facebook page to reconsider his decision to participate and said it would be "wrong" for the Palestinian leader to attend.
"If it was your decision to take part in the funeral of the killer of our children, you were wrong, and if you made the decision on the recommendation (of your advisers), you were misled," Mansour wrote. (Writing by Nidal Almughrabi, Editing by Ori Lewis and Ralph Boulton)
This story has not been edited by Firstpost staff and is generated by auto-feed.
World
Russia is set to host the Taliban and other Afghan factions for talks Wednesday in a move that reflects Moscow's efforts to expand its clout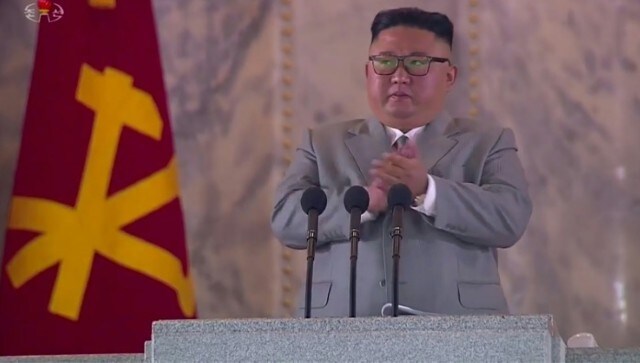 World
Kim also accused South Korea of hypocrisy because it criticises North Korea's weapons development as provocations while spending heavily to increase its own military capabilities
World
Their comments came as Iran has hinted it's ready to return to indirect negotiations with the US in Vienna but has not committed to a date