Palestinian leadership tensions flare amid Arafat death anniversary | Reuters
By Nidal al-Mughrabi | GAZA GAZA Days after the 12th anniversary of the death of Yasser Arafat, Palestinian leaders descended into new recriminations over who may have been involved in the demise of the former president.Coming two weeks before a meeting that is expected to overhaul the leadership of Fatah, the party of Arafat and President Mahmoud Abbas, the accusations underscore a growing animosity that threatens the movement's stability.Speaking at a memorial on Thursday in the West Bank city of Ramallah, Abbas said he knew who was behind Arafat's death and that an investigating panel would soon reveal its findings.'The result will come out in the nearest time possible and you will be surprised to know who did it,' Abbas said. Although he stopped short of naming suspects, Abbas's comments were widely seen as referring to his main political rival - Mohammad Dahlan, a former Fatah security chief
By Nidal al-Mughrabi
| GAZA
GAZA Days after the 12th anniversary of the death of Yasser Arafat, Palestinian leaders descended into new recriminations over who may have been involved in the demise of the former president.Coming two weeks before a meeting that is expected to overhaul the leadership of Fatah, the party of Arafat and President Mahmoud Abbas, the accusations underscore a growing animosity that threatens the movement's stability.Speaking at a memorial on Thursday in the West Bank city of Ramallah, Abbas said he knew who was behind Arafat's death and that an investigating panel would soon reveal its findings."The result will come out in the nearest time possible and you will be surprised to know who did it," Abbas said. Although he stopped short of naming suspects, Abbas's comments were widely seen as referring to his main political rival - Mohammad Dahlan, a former Fatah security chief. Dahlan, a fierce Abbas critic who lives in self-imposed exile in the United Arab Emirates, took to Facebook on Saturday to point the finger at Abbas."He (Abbas) is not qualified to make accusations and he personally is in the circle of accusation and the sole beneficiary of Abu Ammar disappearance," Dahlan wrote, referring to Arafat by his nickname.
Abbas's office could not be reached for comment.Officials within Fatah are growing increasingly impatient with Abbas's leadership and rival groups have been emerging ahead of a party congress, the first since 2009, set to take place this month. Dahlan, 55, retains influence within Fatah's revolutionary council and central committee - the equivalent of Fatah's parliament.
Abbas, 81, is expected at the party congress to push for the election of a new central committee and revolutionary council that would be free of Dahlan loyalists.Saudi Arabia, Egypt and other Arab states have been pressuring Abbas to resolve divisions in Fatah and with the rival Hamas movement. Neighbouring states and diplomats fear the festering divisions could lead to conflict. Arafat, who signed the 1993 Oslo interim peace accord with Israel but led a deadly uprising after subsequent talks broke down in 2000, died in 2004 aged 75 in a French hospital four weeks after falling ill.
The official cause of death was a massive stroke, but French doctors were unable at the time to determine the origin of the illness and no autopsy was carried out. Palestinian leaders have blamed Israel. Israel denies involvement.A French investigation was opened in 2012 at the request of Arafat's widow, and his remains were exhumed for tests that were examined separately by French, Russian and Swiss experts.The Swiss reported their results were consistent with but not proof of poisoning by reactive polonium. The French concluded he did not die of poisoning and Russian experts were reported to have found no traces of polonium in his body. The investigation was closed in 2015. (Additional reporting by Ali Sawafta in Ramallah; Writing by Nidal Almughrabi; Editing by Maayan Lubell, Luke Baker and Dale Hudson)
This story has not been edited by Firstpost staff and is generated by auto-feed.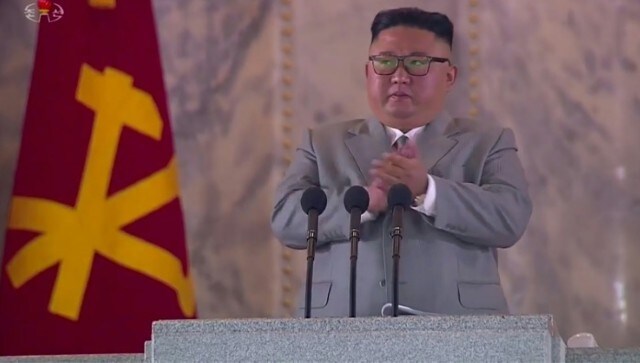 World
Kim also accused South Korea of hypocrisy because it criticises North Korea's weapons development as provocations while spending heavily to increase its own military capabilities
World
Their comments came as Iran has hinted it's ready to return to indirect negotiations with the US in Vienna but has not committed to a date
Sports
The victory by 1.33 seconds was Verstappen's eighth of the season at a track where Hamilton had won five times.