Palestinian girls compete in a rare Gaza boxing contest
By Nidal al-Mughrabi GAZA (Reuters) - Trading jabs and punches, young Palestinian girls competed in a female boxing tournament on Friday in the Gaza Strip, where the sport is mostly popular with men. Friday's contest featured female boxers as young as seven years old, and was attended by dozens of spectators. One boxer, Hala Ayoub, said she hoped the contest would show people that boxing is not only a man's sport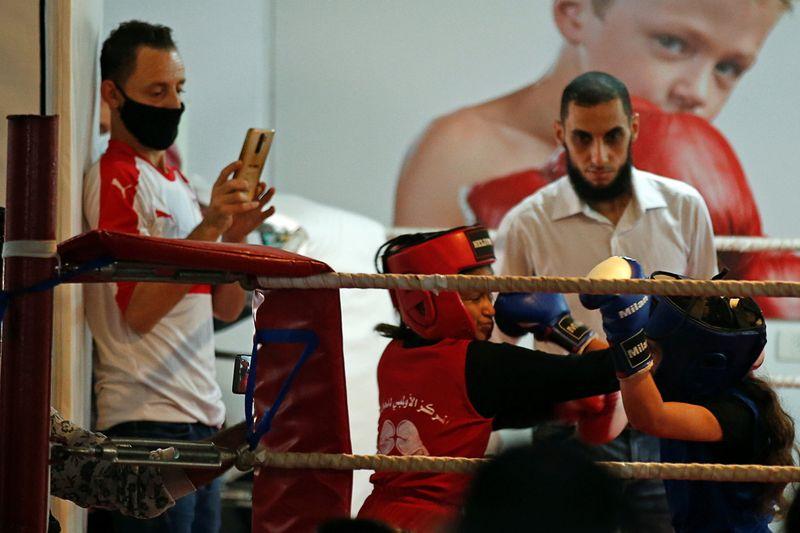 By Nidal al-Mughrabi
GAZA (Reuters) - Trading jabs and punches, young Palestinian girls competed in a female boxing tournament on Friday in the Gaza Strip, where the sport is mostly popular with men.
Friday's contest featured female boxers as young as seven years old, and was attended by dozens of spectators.
One boxer, Hala Ayoub, said she hoped the contest would show people that boxing is not only a man's sport.
"My ambition is to become a famous boxer and to raise the flag of Palestine and fight in local and international contests," said Ayoub, 15.
"It (boxing) taught me how to defend myself, and how to release bad energy," she said.
The number of female boxers in Gaza has doubled in the past six months since an initial 18-member all-girl team was formed. It now has 45 athletes, according to captain Osama Ayob.
Ali Abdel-Shafi, deputy chairman of the Palestinian Boxing Federation, said some of the girls from Friday's competition would be selected to join the Palestinians' boxing team and take part in a competition in Kuwait in February.
"This is the first championship I've taken part in...There is tension because of the audience and the noise but I am excited as well," said Malak Mesleh, 15.
Women make up half of the Gaza Strip's two million people.
Citing security concerns with Gaza's ruling Islamist group Hamas, Israel and Egypt have long maintained border restrictions.
(Reporting by Nidal Almughrabi; Editing by Mike Collett-White)
This story has not been edited by Firstpost staff and is generated by auto-feed.
Find latest and upcoming tech gadgets online on Tech2 Gadgets. Get technology news, gadgets reviews & ratings. Popular gadgets including laptop, tablet and mobile specifications, features, prices, comparison.
Business
WASHINGTON (Reuters) - U.S. job openings increased moderately in September and layoffs appeared to abate, pointing to a gradual labor market recovery from the COVID-19 pandemic.
Business
By Balazs Koranyi and Francesco Canepa FRANKFURT (Reuters) - Taking a break from fighting the coronavirus crisis, the world's top central bankers will attempt to resolve the existential questions of their profession this week as they tune into the European Central Bank's annual policy symposium. Having struggled to lift anaemic inflation for years, officials including the heads of the ECB, the U.S. Federal Reserve and the Bank of England will attempt to figure out why monetary policy is not working as it used to and what new role they must play in a changed world - be it fighting inequality or climate change.
Business
By Lawrence Delevingne BOSTON (Reuters) - Asian shares rose on Wednesday as hopes for a successful coronavirus vaccine lifted expectations of a swift reopening of the global economy, which would help the region's heavily trade-dependent markets.