Pakistan's soil will not be used against any country: Pak Army chief Qamar Bajwa
Pakistan Army chief General Qamar Bajwa on Monday in a meeting with US Ambassador David Hale reiterated their nations commitment to a secure, stable, and prosperous Afghanistan
Islamabad: Pakistan Army chief General Qamar Bajwa on Monday in a meeting with US Ambassador David Hale reiterated their nations commitment to a secure, stable, and prosperous Afghanistan, a statement issued by the US Embassy Islamabad said.
Ambassador Hale, the statement said, reiterated US President Donald Trump's call during his recent speech at the Arab—Islami summit for a vision of peace, security, and prosperity, and unity in conquering extremism and terrorism.
"Ambassador Hale affirmed Pakistan's role and great sacrifices in this effort", it said.
A similar statement was released by the Inter-Services Public Relations (ISPR), which said that the US ambassador acknowledged Pakistan Army's efforts in securing control of areas on Pakistan side of the border.
"Both the countries can carry forward the work done towards enduring peace and stability in the region through enhanced coordination and cooperation", the military media wing quoted Hale as saying.
The Army chief also made it clear that no cross-border attack shall be tolerated by Pakistan.
Islamabad blames Kabul for hosting Jamaat—ul—Ahrar and other militants responsible for carrying out a wave of attacks in February that killed over 130 people across the country and prompted fears of a militant resurgence.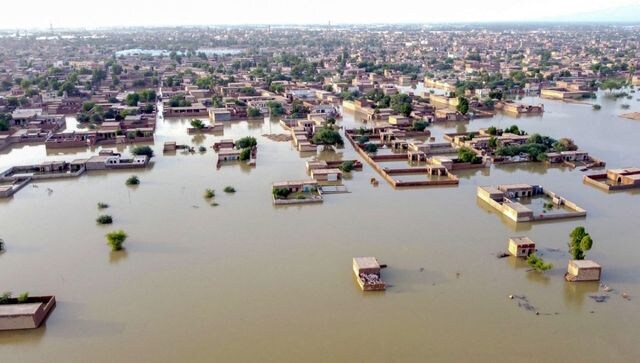 World
The devastation from the floods is taking place in some of the country's poorest and politically repressed regions, such as Balochistan, where an armed insurgency against state oppression is ongoing.
World
The declaration stated that the member states believe that it is critical to have an inclusive government in Afghanistan "with representatives from all ethnic, religious and political groups of Afghan society," reported Tolo News
World
Highlighting the rising costs of vegetables and daily essentials in Kabul, the residents asked the Islamic Emirate to put a cap on the price