Pakistani Hindus rejoice, as Islamabad gets its first temple and community centre
In a rare first, Hindus living in the Pakistani capital would soon have their major demands met, after a decision by authorities to allocate land for a temple, community centre and cremation ground
Islamabad: In a rare first, Hindus living in the Pakistani capital would soon have their major demands met, after a decision by authorities to allocate land for a temple, community centre and cremation ground.
The decision was taken on Friday in a meeting of Capital Development Authority (CDA), which is responsible for development and civil amenities in Islamabad. The Express Tribune reported that CDA approved the allocation of a half-acre plot of land in Sector H-9 of the capital for a Hindu temple, community centre and cremation ground in the federal capital.
"It was a longstanding demand of the Hindu community which has finally been fulfilled," the paper reported.
There are around 800 Hindus living in Islamabad, and in the absence of a temple, they were forced to celebrate Diwali and other religious festivities at home. As there was no crematorium in the city, they also had to take the bodies either to Rawalpindi or to their hometowns for cremation.
The only large temple in the twin cities of Islamabad and Rawalpindi is Krishna Mandir in Saddar, although a few smaller ones exist in residential parts of Rawalpindi cantonment.
The CDA board allocated the plot close to one that had already been allocated to the All Pakistan Buddhist Society.
World
President Asif Ali Zardari had formed the committee after a large number of Hindus began to leave for India. Members of the community fled Sindh blaming the law and order situation and fear of forcible conversions.
World
Pakistan President Asif Ali Zardari has directed the Sindh government to frame a draft law to amend the Constitution to prevent the forced conversion of minority communities in the southern province.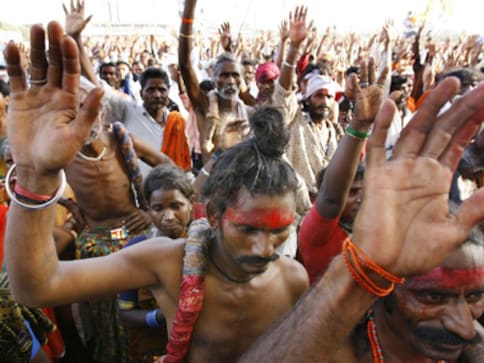 India
As a first step to grant Indian nationality to nearly two lakh refugees from neighbouring countries, the NDA government has given citizenship to around 4,300 Hindus and Sikhs from Pakistan and Afghanistan in one year.