Pakistan to share dossier of Indian brutalities in Kashmir with UN: PM Sharif at UNGA
Pakistan Prime Minister Nawaz Sharif addressed the 71st UN General Assembly session at New York on Wednesday.
Prime Minister Nawaz Sharif on Wednesday conveyed to the world community that Pakistan accords martyr status to killed Hizbul Mujahideen commander Burhan Wani while expressing concern over excessive use of force by the Indian military.
"The men, women and children come out to demand freedom everyday and Pakistan stands with the people of Kashmir," Sharif said in his address at the 71st UN General Assembly session in New York. The Pakistan PM went to the extent of calling Wani as a symbol of the latest Kashmiri "Intifada."
Giving a free hand to his vitriol against India, Sharif talked about Pakistan's anti-terrorism plan and said that the country will not allow foreign forces to destablise the development of Pakistan. It is no rocket science that the reference to "foreign forces" was aimed at India. Sharif even said that Pakistan has been the principal victim of terrorism including that supported, sponsored, financed from abroad.
"We will not win the fight of terrorism and violent extremism without addressing the root causes," he said. He added that the the international community must take collective efforts to combat terrorism.
While raising the issue of Kashmir, Sharif said that Pakistan has gone the extra mile to ensure peace with India. He, however, said peace between India and Pakistan is not possible without addressing the Kashmir dispute.
He said that a new generation of Kashmiris has emerged against India's occupation in the state.
Sharif further said that Pakistan will share dossier with the UN Secretary General on Indian brutalities in Kashmir. He also demanded an independent inquiry into the extrajudicial killings in Kashmir and demanded an end to the curfew.
"India posed unacceptable pre-conditions to engage in dialogue. Talks are in the interest of both countries," the Pakistani PM said.
The Pakistan Prime Minister demanded demilitarisation of Kashmir and said that India's unprecedented arms build-up cannot be ignored. He also said that Pakistan is ready to hold talks on Nuclear Test Ban Treaty.
Calling for peace in war-torn Afghanistan, he said there is no military solution and the only solution is through dialogue.
However, Afghanistan's Second Vice-President Mohammad Sarwar Danish, who is also at the UNGA said that attacks on protesters and American University of Afghanistan in Kabul were plotted on the Pakistani soil and added that Pakistan has failed to take action against the terrorists in their country.
World knows where Taliban leaders live,asked Pak to hit terrorists on their soil,but it dint happen:Afghan VP Sarwar Danish #UNGA (TOLOnews)

— ANI (@ANI_news) September 21, 2016
Attacks on protesters and American University in Kabul was plotted on Pakistani soil: Afghanistan VP Sarwar Danish #UNGA

— ANI (@ANI_news) September 21, 2016
Earlier, PTI had reported that Sharif raised the Kashmir issue with world leaders on the sidelines of the UNGA. He held talks with the US, the UK, Japan and Turkey and sought their intervention. He also held a meeting with his Chinese counterpart.
Excellent meeting this morning between PMs of Pakistan and China. Both called relations that between iron brothers pic.twitter.com/TuoUb253OS

— Maleeha Lodhi (@LodhiMaleeha) September 21, 2016
Chinese Premier Li Keqiang said his country would stand with Pakistan. "We support Pakistan and will speak for Pakistan at every forum," he said, reported IANS.
Stating that Pakistan was a victim of terrorism, the Chinese Premier hoped the situation between India and Pakistan would not escalate. "We are ready to play constructive role in improvement of relations between Pakistan and India," he added.
"Sharif briefed Japanese PM about the grave turn that the situation in occupied Kashmir is taking. Reminded him about UNSC resolutions," Pakistan's envoy to the UN Maleeha Lodhi had tweeted on Tuesday.
"PM Nawaz Sharif also apprised his Japanese counterpart of the human rights violations being committed by Indian occupation forces in Kashmir," Lodhi had said in another tweet.
Erdogan and Sharif "agreed that OIC (Organisation of Islamic Cooperation) Commission on Human Rights should send a fact-finding mission" to Kashmir, Lodhi said.
PM Nawaz Sharif also apprised his Japanese counterpart of the human rights violations being committed by Indian occupation forces in Kashmir

— Maleeha Lodhi (@LodhiMaleeha) September 20, 2016
PM Sharif and President Erdogan agreed that OIC Comm on Human Rights should send a fact finding mission to occupied Kashmir

— Maleeha Lodhi (@LodhiMaleeha) September 20, 2016
On Monday, Sharif held bilateral talks with US Secretary of State John Kerry and UK Prime Minister Theresa May. Ahead of his speech at the UNGA, reports also suggested that Sharif consulted Pakistan Army Chief General Raheel Sharif over Jammu and Kashmir.
The Pakistan prime minister and the Army Chief reportedly discussed proposals that the former intends to make during his speech for de-escalating the situation and moving to a dialogue on the Kashmir dispute.
After his meeting with Sharif, the US Secretary of State asked Pakistan to prevent terrorists from using Pakistani territory as a safe haven. Kerry also expressed strong concern over the violence in Kashmir particularly the terror attack on the Indian Army base in Uri.
According to a readout of his meeting with Kerry by the Pakistan mission, Sharif told him that over 107 people have been "assassinated" in Kashmir, thousands injured and "worst human rights violations are being committed at the state level."
"I expect the US administration and Kerry to use his good offices to help in resolving bilateral issues between Pakistan and India," he added, according to PTI.
Meanwhile, Foreign Secretary S Jaishankar summoned Pakistani High Commissioner Abdul Basit on Wednesday to discuss the Uri terror attack, which claimed the lives of 18 Indian soldiers. According to a statement issued by the Ministry of External Affairs, Basit was reminded that the Pakistan's government "had made a solemn commitment in January 2004 to not allow its soil or territory under its control to be used for terrorism against India".
"The persistent and growing violation of this undertaking is a matter of very serious concern," the statement said.
We demand that Pakistan lives up to its public commitment to refrain from supporting & sponsoring terrorism against India #UriAttack pic.twitter.com/fytV5fcgl2

— Vikas Swarup (@MEAIndia) September 21, 2016
The statement also listed the items recovered from the terrorists, including GPS, with coordinates that indicate the point and time of infiltration across the LoC and the subsequent route to the terror attack site; grenades with Pakistani markings; communication matrix sheets; communication equipment; and other stores made in Pakistan, including food, medicines and clothes.
"If the government of Pakistan wishes to investigate these cross-border attacks, India is ready to provide finger prints and DNA samples of terrorists killed in the Uri and Poonch incidents," it stated.
"We now expect a response from the government of Pakistan," it added.
With inputs from agencies
India
Like many of his generation, Mehrajuddin Halwai, a Hizb-ul-Mujahideen operative who was killed earlier this week, appears to have been radicalised in the course of the large-scale, Islamist-led street protests which tore across Kashmir from 2006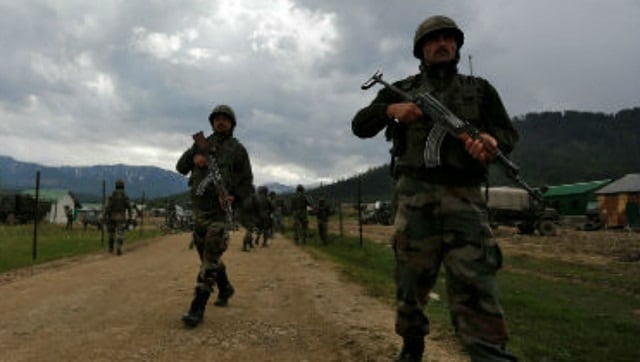 India
The police said that one of the militants, identified as Fayaz War, was involved in several attacks and killings of civilians and security personnel. He was the last perpetrator of violence in north Kashmir
India
An official statement said that a blinking red light was observed by the troops at a height of 200 metres but the object went back across the border after personnel fired at it