Pakistan suspends bilateral talks, visits with US after Donald Trump blames Islamabad for harbouring terrorists
Days after Donald Trump criticised Pakistan for nurturing terrorism, Pakistan on Tuesday suspended bilateral talks and visits with the United States.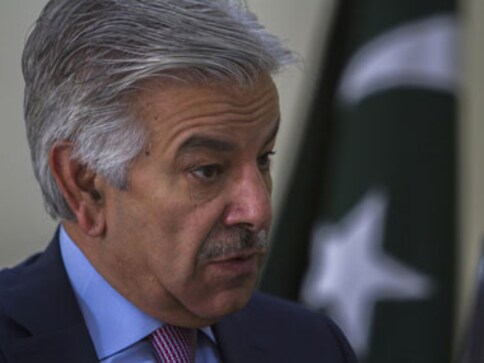 Days after Donald Trump criticised Pakistan for nurturing terrorism, Pakistan on Tuesday suspended bilateral talks and visits with the United States, media reports said.
According to The Nation, Pakistan foreign minister Khawaja Asif informed a Senate committee that the government had to take such a decision as a protest against Donald Trump"s comments against Pakistan, during his speech on US' Afghanistan-Pakistan policy.
According to the report, Khawaja told the committee that Donald Trump was not willing to accept Pakistan's stance that India is harbouring terror havens in Afghanistan to destabilise the country.
Khawaja's statement is significant as he was supposed to visit the US last week but backed out, CNN-News18 reported.
A top US official's visit to Islamabad was also postponed at the request of the Pakistan government amid anti-American protests in Karachi.
Pakistan's Dawn on Sunday quoted US Embassy spokesman Rick Sinelsine as saying that the trip by Alice Wells, the Acting Assistant Secretary of State in-charge of South and Central Asia, was "postponed until a mutually convenient time" at the request of the Pakistani government.
On 22 August, President Donald Trump hit out at Pakistan for providing safe havens to "agents of chaos" that kill Americans in Afghanistan and warned Islamabad that it has "much to lose" by harbouring terrorists.
"For its part, Pakistan often gives safe haven to agents of chaos, violence, and terror. The threat is worse because Pakistan and India are two nuclear armed states whose tense relations threaten to spiral into conflict. And that could happen," Trump said.
He said after a "comprehensive review", it was decided that the American strategy in Afghanistan and South Asia will change dramatically.
Trump said a pillar of his new strategy was a change in America's approach to Pakistan.
"We can no longer be silent about Pakistan's safe havens for terrorist organisations, the Taliban, and other groups that pose a threat to the region and beyond," Trump said.
"Pakistan has much to gain from partnering with our effort in Afghanistan. It has much to lose by continuing to harbour terrorists," he said, in a warning to Pakistan.
The US president also reached out to India, seeking an enhanced role for New Delhi, especially in the economic field, to bring peace and stability in Afghanistan.
"We appreciate India's important contributions to stability in Afghanistan, but India makes billions of dollars in trade with the United States, and we want them to help us more with Afghanistan, especially in the area of economic assistance and development," Trump said.
Pakistan's military brushed off speculation on Monday that a new US strategy for neighbouring Afghanistan could include taking a stronger line against Islamabad, insisting the country has done all it can to tackle militancy.
A Pakistani military spokesman said no group had been spared in ongoing offensives against militants, telling a press conference in the garrison city of Rawalpindi "there is no organised infrastructure of any terrorist organisation in Pakistan".
"Let it come," army spokesman Major General Asif Ghafoor told reporters, referring to Trump's decision. "Even if it comes... Pakistan shall do whatever is best in the national interest."
Reacting to Trump's criticism, Khawaja said that Afghan Taliban is a problem of Afghanistan and the US, and not Pakistan's.
"If the US doesn't trust us, it should repatriate Afghan immigrants in Pakistan itself," The Express Tribune quoted him as saying.
"Pakistan has been a partner of the US in the war against terrorism and such statements undermine our efforts," the report further quoted Khawaja.
With inputs from agencies
World
US District Judge Aileen Cannon empowered the newly named special master, Raymond Dearie, to review the entire tranche of records taken in the 8 August, 2022, search of Mar-a-Lago and set a November deadline for his work
World
Malpass was nominated to the position by former President Donald Trump in 2019. His five-year term ends in April 2024
World
New York Attorney General Letitia James has accused former US president Donald Trump and his three children of fraud. The civil lawsuit claims the Trumps' lied to lenders and insurers about billions of dollars' worth of assets