Pakistan received criticism from all quarters on Sunday after the country's envoy to the United Nations Maleeha Lodhi allegedly showed 2014 Gaza war victim's photograph as an image of Indian atrocities at the UN General Assembly. Lodhi showed the photograph terming it as the face of "Indian democracy".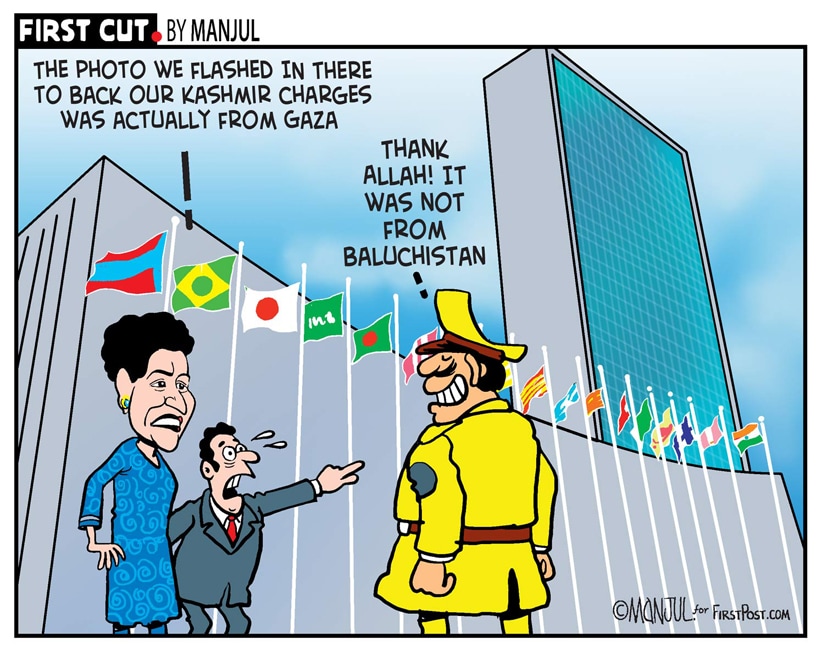 The envoy to United Nations was seen confidently raising a poster of an injured girl at the UNGA, slamming Prime Minister Narendra Modi, accusing him of killing Muslim people in Gujarat and adding that no minority is safe, the Outlook reported.
#BREAKING - Pakistan envoy caught lying. Shows Gaza picture as Jammu and Kashmir's. pic.twitter.com/oUv7hziz4E

— News18 (@CNNnews18) September 24, 2017
Though Lodhi didn't categorically mention "pellet gun injury" in her response, however, she referred to Indian atrocities. The official Twitter handle of Pakistan office at United Nations said:
In her reply to Indian FM's speech in UNGA, Amb. Lodhi showed a pic of pellet gun injured women frm Kashmir saying this is the face of India pic.twitter.com/StuG3arPoN — Pakistan Mission UN (@PakistanUN_NY) September 24, 2017
Interestingly, the image of the Gaza airstrike victim, Rawya abu Jom'a, was taken by Jerusalem-based award-winning photojournalist Heidi Levine when she was covering Gaza war for The National and was published as a collection by the Guardian in 2014.
Jom'a was one of the many young people who had been injured by shrapnel during an airstrike by Israeli forces.
According to News 18, the photo was also tweeted on 27 March, 2015, by Dr Ramy Abdu, whose bio on his verified Twitter account says he is the founder of Euro-Mediterranean Human Rights Monitor.
Rawya Abu Jom'a was wounded during the 2014 war in #Gaza. Credit: Heidi Levine راوية ابو جمعة من #غزة عقب اصابتها pic.twitter.com/WGCctdCZwS

— Dr. Ramy Abdu (@RamAbdu) March 27, 2015
However, Pakistan seems to have refused to accept the mistake. According to India Today, when Pakistan defence expert Qamar Cheema was questioned about the fraudulent incident, he said that even Israelis haven't been as brutal as Indians have been to Kashmiris.
On Saturday, Lodhi had also borrowed the standard lines of a section of Indian secularists who describe Modi and his government as "fascist" and Uttar Pradesh chief minister Yogi Adityanath as a "fanatic".
Terming India as the "mother of terrorism" in South Asia, Lodhi had accused India of sponsoring terrorism in various parts of Pakistan. Lodhi alleged that "in her vitriol she (External Affairs Minister Sushma Swaraj) deliberately ignored the core issue" of Kashmir while exercising its right of reply to Swaraj.
In her address the same day, Swaraj had termed Pakistan as the "world's greatest exporter of havoc, death and inhumanity" and accused Islamabad of being "only engaged in fighting us (India)" and rejecting peace and dialogue.
Speaking at the high-level session of the UN General Assembly on Saturday, Swaraj also accused Pakistan's leadership of spurning the hand of friendship, choosing instead to fight and sponsor terrorism, IANS reported.
It was a speech marked by fiery remarks, responding the unusually virulent attacks by Pakistan prime minister Shahid Khaqan Abbasi on Thursday.
Lodhi, who is quite active on social media, including on Twitter, was silent after it emerged that she posed with a fake picture the UN General Assembly.
The Permanent Mission of Pakistan to the UN also did not immediately respond to a PTI query on Lodhi's apparent use of such a picture.
This, however, wasn't Lodhi's first brush with controversy. According to The Times of India, in February, Lodhi had deleted a congratulatory tweet about Oscar winner Muslim actor Mahershala Ali after being criticised for promoting an Ahmadi, considered to be non-Muslims in Pakistan.
The 43-year-old actor had won the Oscar for his portrayal of a drug dealer in coming-of-age drama "Moonlight", becoming the first Muslim actor ever to win the prestigious award.
With inputs from agencies
Your guide to the latest election news, analysis, commentary, live updates and schedule for Lok Sabha Elections 2019 on firstpost.com/elections. Follow us on Twitter and Instagram or like our Facebook page for updates from all 543 constituencies for the upcoming general elections.
Updated Date: Sep 25, 2017 11:25:25 IST