Pakistan ready for nuclear non-testing agreement with India: Sartaj Aziz
Pakistan was ready for an agreement with India on bilateral moratorium on nuclear non-testing, the country's top diplomat said on Friday
Islamabad: Pakistan was ready for an agreement with India on bilateral moratorium on nuclear non-testing, the country's top diplomat said on Friday.
"We have declared a unilateral moratorium on further testing. Pakistan is prepared to consider translating its unilateral moratorium into a bilateral arrangement on non-testing with India," the Prime Minister's Advisor on Foreign Affairs Sartaj Aziz said.
Briefing the media about the Envoys' Conference held last week, Aziz said the meeting noted that Pakistan consistently supported the Comprehensive Test Ban Treaty (CTBT) and voted for it when it was adopted by the UN General Assembly in 1996.
Noting that the conference held detailed talks on the Pakistan's application for the Nuclear Suppliers Group (NSG) and regional nuclear stability issue, Aziz said Pakistan is one of the applicants, along with India, for NSG membership.
"While Pakistan's formal application for NSG membership was submitted on 19 May, 2016, we had been preparing for it for quite some time. Our efforts to upgrade our export controls, nuclear safety and security long pre-date our application," he said.
He said Pakistan's candidacy is based on a desire to strengthen global non-proliferation regimes; the need for strategic stability and level playing field in South Asia; priority for socio-economic development and technological advancement of the country; and capability to supply items on NSG lists Part 1 and 2.
"Our strong lobbying efforts have yielded positive results. Our arguments for criteria-based approach, and the impact of any India-specific exemption on the strategic stability in South Asia and on the future of non-proliferation regime, have been accepted by several NSG countries," he said.
He said Pakistan is confident of the merits of its membership application as its export controls were harmonized with those of the Nuclear Suppliers Group (NSG), Missile Technology Control Regime (MTCR) and Australia Group.
"We have taken extensive measures to strengthen nuclear safety and security. More recently, Pakistan has taken three significant steps i.e. (i) public statement on nuclear test moratorium, (ii) ratification of the 2005 amendment to the Convention on Physical Protection of Nuclear Material (CPPNM) and (iii) declaring adherence to NSG Guidelines," Aziz said.
Aziz said Pakistan is committed not to transfer nuclear weapons to other states or assist others to acquire nuclear weapons and consistently supported the goal of a nuclear weapons free world through the commencement of negotiations on nuclear disarmament at the Conference on Disarmament.
He said the issue of NSG membership cannot be separated from the consideration of strategic stability in the region.
"We will continue to project Pakistan's solid credentials based on its technical experience, capability and well-established commitment to non-proliferation, nuclear safety and security," he said.
He added that Pakistan would formally invite NSG Troika to visit the country for a detailed briefing on its credentials.
science
This pledge came as delegates from about 195 countries gathered in Kunming for the first of a two-part summit on safeguarding plants, animals and ecosystems.
World
According to the WHO, around 13.7 million deaths a year are linked to the environment, caused by air pollution, chemical exposure, etc.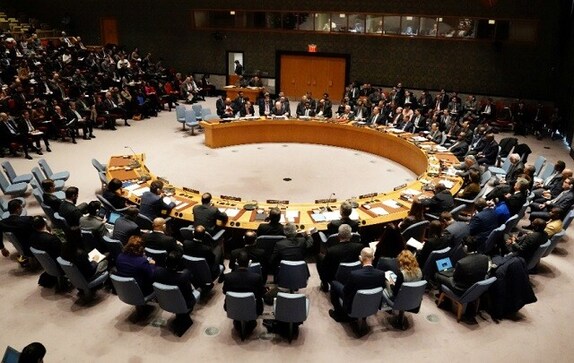 World
The day was announced to "be devoted to making known to the people of the world the aims and achievements of the United Nations and to gaining their support for" its work