Pakistan Prime Minister Shehbaz Sharif travelling around the world with 'begging bowl', says Imran Khan
Khan's comments came weeks after Sharif's two-day visit to the UAE during which the Gulf emirate agreed to extend an existing loan of $2 billion and provide an additional loan of $1 billion to help cash-strapped Pakistan tackle its economic woes, including the fast depleting foreign exchange reserve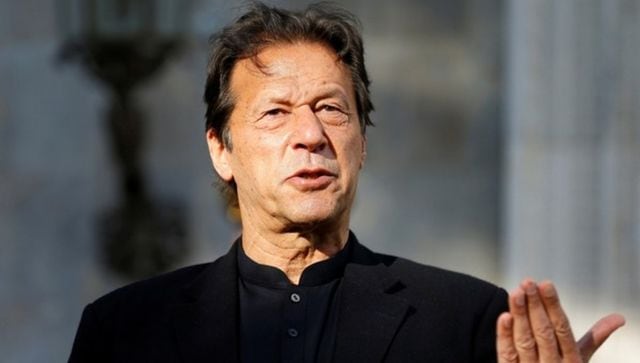 Lahore: Pakistan Prime Minister Shehbaz Sharif is travelling to different countries around the world with a "begging bowl" but none of them is giving him a penny, ousted premier Imran Khan said on Sunday.
"See what this imported government has done to Pakistan," Khan, the Pakistan Tehreek-e-Insaf party chairman, said in an interview with a local news channel.
"Shehbaz Sharif is travelling to different countries with a begging bowl but none of them is giving him a penny," Khan said, commenting on the prime minister's recent foreign visits.
Sharif is "even begging India for holding talks, but New Delhi is asking him to first end terrorism (then it may consider talking to Pakistan)," Khan said, referring to a recent interview of the Prime Minister with a UAE media outlet in which he expressed a desire for talks with India.
Commenting on the development, India had said it always wanted normal neighbourly ties with Pakistan but there should be an atmosphere free from terror and violence for such a relationship.
Khan's comments came weeks after Sharif's two-day visit to the UAE during which the Gulf emirate agreed to extend an existing loan of $2 billion and provide an additional loan of $1 billion to help cash-strapped Pakistan tackle its economic woes, including the fast depleting foreign exchange reserves.
His UAE trip came on the heels of the Geneva Conference where the international community pledged to provide nearly $10 billion to help Pakistan rebuild from the summer's devastating catastrophic floods.
Sharif's government has also requested the IMF to conclude a long-awaited agreement to revive the bailout programme, as it conveyed its willingness to accept all the four major conditions set by the global lender.
Cash-strapped Pakistan revived a stalled $6 billion International Monetary Fund (IMF) programme last year which was initially agreed upon in 2019 but is finding it hard to meet the tough conditions of the Washington-based global lender. There are reports that the IMF may not release more funds under the programme until the pledges made by the government are met.
The IMF board in August approved the seventh and eighth reviews of Pakistan's bailout programme, allowing for a release of over $1.1 billion.
Khan, 70, further said that he is 100 per cent sure that Shehbaz Sharif, Interior Minister Rana Sanaullah, and ISI Counter Intelligence Wing head Maj-Gen Faisal Naseer were behind the assassination attempt on his life.
"Now I am 100 per cent sure that Shehbaz and the other two I named in the FIR, which couldn't be registered, made a plan to kill me. It was a perfect plan as three trained shooters were sent to assassinate me. But it was God's will that I survived," he said.
Khan was hit by three bullets on the container-mounted truck during his party's rally in the Wazirabad area of Punjab province (some 150 km from Lahore) on 3 November, last year.
Asked if the military establishment became neutral after the retirement of army chief Gen Qamar Javed Bajwa, Khan said: "No, the military establishment is still not neutral."
Khan asked the military establishment to learn from past mistakes and stay away from politics.
"If the military continues to interfere in politics and no free and fair polls are held there will be chaos and anarchy in the country which no one has imagined," Khan warned.
The powerful Army, which has ruled the coup-prone country for more than half of its 75-plus years of existence, has hitherto wielded considerable power in matters of security and foreign policy.
Khan, who was ousted as prime minister in April last year after a no-confidence motion was passed in the National Assembly, is seeking fresh general elections in Pakistan.
Read all the Latest News, Trending News, Cricket News, Bollywood News,
India News and Entertainment News here. Follow us on Facebook, Twitter and Instagram.
Politics
The raft of arrests was the latest amid the mounting cases filed against Imran Khan, the chief of the main opposition party Pakistan Tehreek-e-Insaf (PTI)
Opinion
Imran's speeches, like any cult leader, are filled with narcissism, grandeur and promises to change Pakistan into a Medina state
World
Out of the total number of people who left Pakistan in January and February, 52,398 were laborers and 29,989 were drivers. Besides them, 1,396 were engineers, 1,257 accountants, 549 doctors, and 241 teachers